Queen Rania Launches New Children's Cartoon, Commends Efforts to Bring East and West Together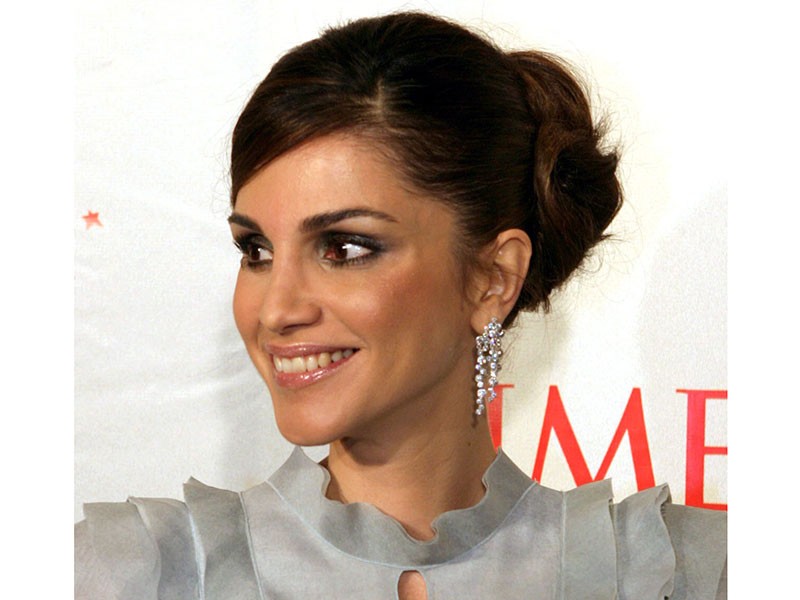 (Office of Her Majesty, Press Department—New York) Their Majesties King Abdullah II and Queen Rania Al-Abdullah have long been supporters of cross-cultural dialogue, and have been working hard to increase understanding and tolerance all over the world. On Monday night, Queen Rania took the podium at the launch of the new animated Rubicon-produced TV series, Ben and Izzy, and spoke of the reasons she has supported the unique cartoon from the start.
"This cartoon uses a language that modern children understand- a language that unites them, whatever their background or beliefs, and makes them realize that you don't have to be alike to get along," she said.
The series documents two 11-year-old boys, one Arab and the other American, as they travel through time and explore different cultures.
"Even though the program looks to the past, it is rooted in modern times—designed to appeal to 21st century children," affirmed the Queen in her keynote address.
Their Majesties King Abdullah and Queen Rania have supported the Ben and Izzy project from the start. Along with the producers, they hope the show will help children from different cultures bridge their differences, allowing them to focus on their similarities instead.
Highlighting the importance of intercultural partnerships in endeavors such as Ben and Izzy, Queen Rania lauded the efforts of the production team, telling the audience that "by focusing on the future of our children, by complementing each others strengths, and by harnessing creative know-how, they [the team] have not only overcome challenges but they have created a modern treasure… they are sharing this precious gift with the children of the world – helping young people to see common humanity within our rich cultural diversity ".
The Queen went on to add that "…whether we are Muslims, Christians or Jews… whether we live in the Middle East or the Upper West Side… we all want our children to be able to make the most of their potential in a secure, peaceful and just world."
"There is no magic pearl we can rub to make all the people in the world get along," she said, "but projects like Ben and Izzy go a long way to ensuring that the next generation grows up with a mindset geared towards trust and tolerance."
The Jordanian company Rubicon collaborated with Fat Rock Entertainment in 2003 to develop Ben and Izzy. The hard work of the joint Arab and American production team finally came to life on Monday evening at the Metropolitan Museum of Art as Her Majesty played a clip of the first episode for the first time.
Queen Rania said she was excited to be celebrating the launch of Ben and Izzy, which she called "a magical feat of children's animation which has united Arabs and Americans in [the] joint quest for mutual understanding."
"In a year when we have seen cartoons used to fuel misunderstanding and division, I am delighted to see this new cartoon explicitly designed to bring people together," she added.
"[Ben and Izzy] opens the doors to great compassion and it strengthens bonds of friendship among the children of the world. To my mind, that is one of the greatest legacies we can give them," she said, before giving the floor to Randa Ayoubi, CEO of Rubicon, and David Pritchard, founder and CEO of Fat Rock Entertainment.
Earlier that evening Her Majesty attended a reception hosted by TIME magazine to honor their selection of the 100 most influential people for 2006. His Majesty King Abdullah II and Her Majesty Queen Rania were selected as one of the Power Couples on the TIME 100 list for 2006. Queen Rania was also selected as one of the most influential people of 2004 by TIME.


Queen Rania's official website
This website does not support old browsers. To view this website, Please upgrade your browser to IE 9 or greater
Your browser is out of date. It has known security flaws and may not display all features of this and other websites. Learn how to update your browser