"We Can Make Global Education Football's Greatest Goal of All," Says Queen Rania after Receiving FIFA Presidential Award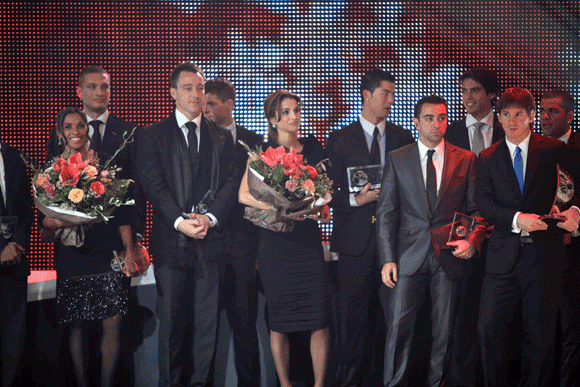 (Office of Her Majesty, Press Department- Zurich) Queen Rania of Jordan's commitment to the 1GOAL: Education for All campaign was recognized at the highest levels, Monday, when she was honored with the prestigious 2009 FIFA Presidential Award.
Speaking at the annual FIFA World Player Gala in Zurich, Switzerland, Queen Rania reiterated the importance of investing in education to give every child hope for a better life, and the opportunity to break out of cycles of poverty.
"In her tireless work to ensure that every child has access to an education, she proves that we can build a better future if we all work together," said FIFA President Joseph S. Blatter, welcoming Her Majesty on stage.
"It's an honor to be here with football giants, heroes to children everywhere," the Queen told FIFA executive committee members, footballers, and coaches attending the mostprominent yearly award ceremony in the world of football.

Ten years after the UN Millennium Development Summit, 72 million children worldwide are still denied an education. Many cannot afford school fees; others work to support their families. This is why, Queen Rania pointed out, 1GOAL is working urgently to "put these children back into the game, back into school."

In partnership with the Global Campaign for Education (GCE), 1GOAL was launched last August in Wembley Stadium, London, in the presence of Her Majesty Queen Rania Al Abdullah, its global co-founder, and a host of sporting stars.

As the official campaign of the 2010 FIFA World Cup, 1GOAL seeks to get every child into school by 2015, rallying support from footballers and fans across the world.

The initiative spotlights the lack of education in Africa and the world's poorest countries, and, next June, will remind world leaders of their commitment to universal education.

"When new world champions are crowned next year, we can make the World Cup's crowning achievement echo beyond the final whistle. We can make global education football's greatest goal of all," Her Majesty said. "That's the power of football: to fuel our dreams and feed our belief in a larger cause," she added.

Since the launch of 1GOAL, Queen Rania has played an active role in encouraging politicians, musicians, footballers and supporters to commit to the cause, signing their names on a virtual petition at www.join1goal.org

At the end of the 2010 World Cup, hosted for the first time in South Africa, the aim is that 30 million signatures will be presented to global leaders to inspire greater commitment to global education.

In practical terms, getting all children in developing countries into primary school, would take $11 billion per year -- a sum which might seem daunting, but is, in fact, equivalent to the annual commercial revenue of five major European football leagues.

1GOAL represents a starting point for governments, the private sector, and society as a whole to offer solid commitments of support, while remaining true to the values of universal equality as well as the values of football, a sport which is often described as the 'school of life'.

"So, before you return to your own teams, sign your name and make us believe we are all part of something bigger. Sign your name and make us believe we are all part of one team: 1 GOAL," concluded the Queen.
Since its August launch, 1GOAL has already attracted a large number of political heavyweights as well as sports stars and celebrities. They include UK Prime Minister Gordon Brown, US Secretary of State Hillary Clinton, Spanish Prime Minister Jose Luis Rodriguez Zapatero, South African President Jacob Zuma, Ghanian President Atta MiIlls, FIFA President Sepp Blatter, Bono, Mia Hamm, Nicole Kidman, Rio Ferdinand, Gary Lineker, Marcel Desailly and Zinedine Zidane amongst others.

For a list of all 1GOAL supporters, log on to www.join1goal.org/supporters

Queen Rania's official website
This website does not support old browsers. To view this website, Please upgrade your browser to IE 9 or greater
Your browser is out of date. It has known security flaws and may not display all features of this and other websites. Learn how to update your browser