Queen Rania Chairs the Al Aman Fund Board of Trustees Meeting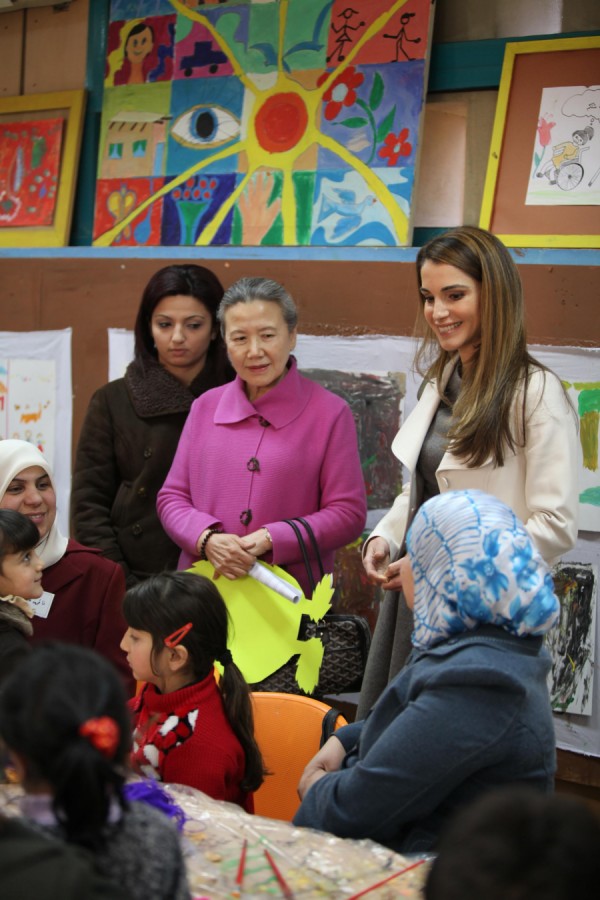 (Office of Her Majesty, Press Department - Amman) Her Majesty Queen Rania Al Abdullah, on Sunday, discussed the achievements, activities and future programs of the Al Aman Fund for the Future of Orphans, chairing the fund's Board of Trustees meeting.
Addressing the participants, Queen Rania commended the progress achieved and highlighted the importance of boosting the fund's financial resources to absorb a growing number of beneficiaries.
During the meeting, Queen Rania also expressed the need to establish a mechanism to track graduate employment. With the premise that education is the foundation for progressive communities, the fund was established by Queen Rania in 2003 to provide orphaned youth with the necessary skills to become successful, self-reliant and productive members in the community. Today, the Al Aman fund ensures beneficiaries no longer face an uncertain future upon graduation from orphan care centers across the Kingdom. With 61 scholarships granted from Jordanian Universities in 2009, the fund also assures orphaned youth focus on their education and fulfill their highest potential.
In addition to paying for students' tuition fees, Al Aman covers cost of living expenses, food, clothing, transportation, housing and health insurance as well as providing beneficiaries with academic, psychological and social counseling services. The fund also offers internships, training and facilitates employment after graduation. Addressing the negative perceptions attributed to Vocational Training (VT) schemes vis-à-vis university-level degrees, Queen Rania emphasized the importance of raising awareness around the benefits associated with VT programs, noting the importance of achieving a balanced equation between the two.
During the meeting, Al Aman Fund Executive Director Maha Saqqa said that the number of beneficiaries currently stands at 820, up from 120 in 2007. Minister of Finance Bassem Salem, Minister of Social Development Hala Latouf, Central Bank of Jordan Governor Umayya Touqan, the fund's board members, including private sector representatives were also present at the meeting. Also today, participants reviewed the fund's achievements over the past year, examining its financial report and seeking new ways to raise funds from the donor community to ensure sustainability of training and guidance programmes for graduates. A not-for-profit institution that officially became a charity organization in 2006, Al Aman Fund, now operates in all Governorates including poverty pockets across the Kingdom.

Queen Rania's official website
This website does not support old browsers. To view this website, Please upgrade your browser to IE 9 or greater
Your browser is out of date. It has known security flaws and may not display all features of this and other websites. Learn how to update your browser