Queen Rania Fulfills a Group of Children's Wishes to Visit Madaba Mosaic Institute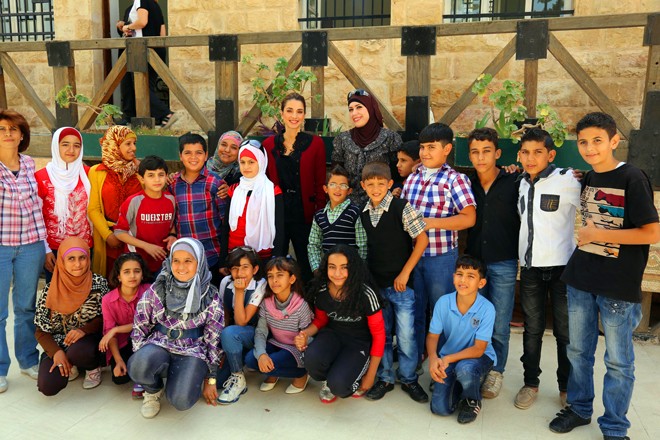 (Office of Her Majesty, Press Department - Madaba) Her Majesty Queen Rania Al Abdullah joined a group of children from Aqaba during their visit to the Madaba Institute for Mosaic Art and Restoration (MIMAR) today. The visit comes after the children had expressed to Her Majesty a keen interest in mosaics when they met her during a visit to the Queen Rania Al Abdullah Community Development Center in Aqaba.
Her Majesty spoke with the children about the art form, stressing the importance of vocational skills, especially those that preserve the identity and culture of a place, such as the mosaic art and restoration skills that the institute provides.
As they learnt to make shapes out of the mosaics, the children told Her Majesty how impressed they are that simple rocks can create beautiful pieces of art and how grateful they are for the Queen's support.
The Dean of MIMAR, Dr. Ahmad Amaireh, accompanied the Queen on a tour of the institute during which she met with students in a classroom. Her Majesty was also briefed about MIMAR by Amjad Awad, an administrative manager at the institute.
MIMAR students interacted with the children and discussed with them the history of the art form. The visit gave the children the opportunity to experience firsthand the theoretical and practical training provided by MIMAR.
MIMAR was created in 1992 -- the first institute of its kind in the region -- to train Jordanian students on the skills involved in the production and conservation of mosaics. In 2007, the institute became a college with the aim of being a center of excellence and the leading education, training, research, and information entity for mosaic art and stone restoration in Jordan and the region. MIMAR is located in an archeologically and historically relevant area in Madaba, being near Church of the Virgin Mary, dating back to the 6th Century.
The institute, which currently enrolls 50 students, contributes to the historical, cultural, economic and tourism development in the city of Madaba, making it a regional center for mosaic art and stone restoration.
During her visit, Her Majesty also stopped by a small souvenir shop in Madaba, and greeted a group of tourists and bystanders.
The children, who had arrived from Aqaba earlier in the day, are beneficiaries of the Queen Rania Al Abdullah Community Development Center, which is part of The Jordan River Foundation (JRF). The center aims to implement comprehensive social and economic development interventions in Aqaba that are in line with JRF's programs and projects across Kingdom.
Featured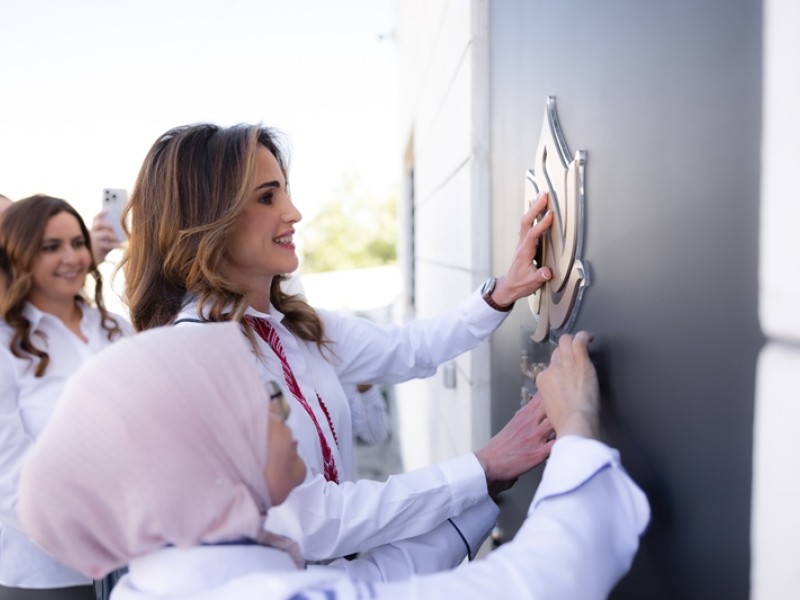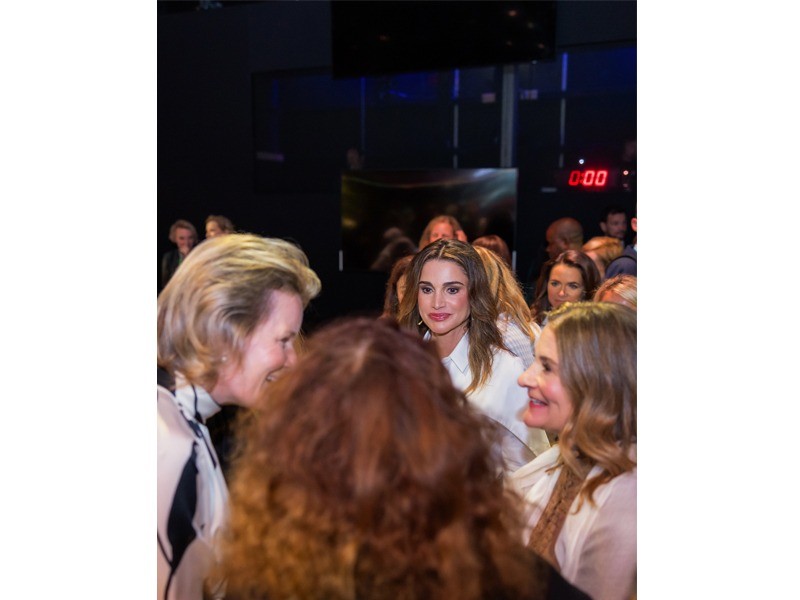 Queen Rania's official website
This website does not support old browsers. To view this website, Please upgrade your browser to IE 9 or greater
Your browser is out of date. It has known security flaws and may not display all features of this and other websites. Learn how to update your browser