In a Discussion with Queen Rania, Teachers: "Dialogue Is the Only Way to Combat Violence in School"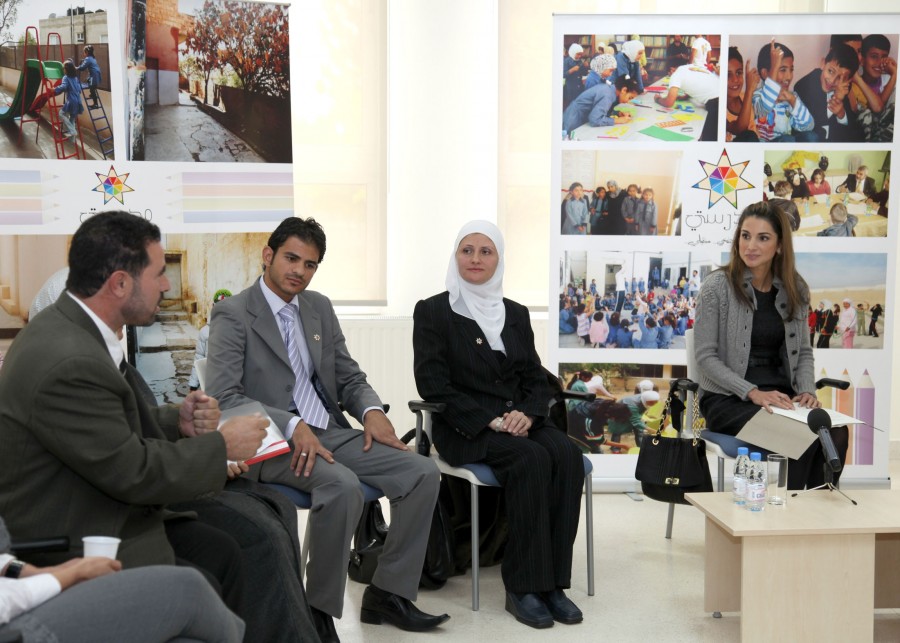 (Office of Her Majesty, Press Department - Amman) Her Majesty Queen Rania Al Abdullah, on Wednesday, was joined by teachers, students and Madrasati partners, who united to demonstrate their stance against school violence.
In an event held at the Queen Rania Teachers Academy (QRTA), Her Majesty listened as teachers from different Madrasati schools voiced their opinions on the issue of violence, citing the factors which lead to abuse, and the alternative methods adopted to overcome challenges existing in schools. Several teachers told Queen Rania that the PTA meetings organized by Madrasati and the leadership programs sponsored by the Queen Rania Teachers Academy (QRTA), radically transformed the way teachers, parents and community members promote discipline and respect.
Teachers explained how regular meetings encouraged dialogue on the topic, noting that many violent disciplinary methods adopted in the past had often been considered the norm. During the meeting, Her Majesty also discussed the "Safe School" program with school teachers and representatives from the Jordan River Foundation (JRF), focusing on the importance of coordination between communities, schools and CBOs to achieve lasting results in the field of education. Also today, participants discussed violence prevention strategies, including the new "sticks of peace" campaign, launched after a recent study suggested that 40 per cent of school children are punished by their teachers with a stick.
In an effort to combat violence and promote values which instill positive disciplinary practices, the campaign encourages students to collect sticks in their schools and construct designs and figures out of them. The initiative, which originated in the Dair Alla' Secondary School for Boys, is now being adopted by twenty other schools in the neighborhood, with many more students using their wooden creations to embellish their classrooms.
Participants in the meeting included the Director of the Queen Rania Teachers Academy (QRTA), Safwan Masri; Madrasati Director Danah Dajani; Director of the Queen Rania Family and Child Center (QRFCC) Samia Bshara; Madrasati Program Development Manager Ghada Abu Al Rous; and Jordan River Foundation (JRF) trainer, Huda Al Asha.

Queen Rania's official website
This website does not support old browsers. To view this website, Please upgrade your browser to IE 9 or greater
Your browser is out of date. It has known security flaws and may not display all features of this and other websites. Learn how to update your browser