Queen Rania's Interview with BBC's Kirsty Young
KIRSTY YOUNG: Queen Rania Al Abdullah of Jordan, Your Majesty, welcome and thank you so much for taking the time.
QUEEN RANIA: It's a pleasure.
KIRSTY YOUNG: There is nobody sitting in that congregation tomorrow who's going to understand more what Queen Camilla is undertaking. The scrutiny, being on the world stage. How would you describe the role of being Queen?
QUEEN RANIA: Well, you know, I think for all of us, the love and support of family members is so important, but when you're in a public role, it becomes indispensable and that usually falls on the spouse. And so, you know, there's no job description for Queen Consort, but I think the late Prince Philip gave us a real life roadmap of what it means to be the partner of a monarch, and at the same time, you know, stand behind them, support them, and represent your own country.
Obviously, it's a very public role, which brings its challenges with it, but it also is an opportunity – it's a very rare opportunity to draw attention to issues that are critical but that can go unnoticed. And, I think it's a privilege and an honor and something to take very seriously. And Queen Camilla clearly feels the same, because she has used her platform to empower women, to support victims of gender-based violence, you know, giving them a real advocate inside Buckingham Palace and I think she's spent so much time building her relationship with the British public.
KIRSTY YOUNG: This is an interesting parallel between the two of you, because it is something of a signature of your queenship that you often have taken on causes that might have been potentially uncomfortable culturally, that you have talked a lot about the education of young girls and women. You also were there back in 2002, I think, when Camilla made her first public speech. And how was she before? I mean a lot of water under the bridge now, more than 20 years ago, but at the time, did you give her some words of advice? Was it was it a shaky start?
QUEEN RANIA: Look, Queen Camilla is someone who is very sincere. She's very candid, you know, what you see is what you get. And I think these are the qualities that have served her so well over the years and have endeared her to the British public. And I think that empathy that she has, that sincerity, that genuine spirit that she has, I think will serve her very well as queen. And so I don't think she needs my advice when it comes to that. You know, I think she knows exactly what she's doing. And, she really has a very strong track record of using her platform to support important causes that are that are close to her and King Charles' heart
KIRSTY YOUNG: In 2013, as part of a tour of the Middle East, they came to visit you in Jordan. Did they decide the sort of projects they wanted to see or did you suggest them, and what was it they seemed most interested in as a couple?
QUEEN RANIA: Well, you know, King Charles, we have a very deep respect for. Over the years, I've come to known him as somebody who's very compassionate, very perceptive, very sincere. He's always great company, but he's at his best when he is talking to people and interacting with the initiatives and the causes that he really cares about. So, he came to Jordan a year and a half ago on his first overseas trip post pandemic.
KIRSTY YOUNG: Oh, right.
QUEEN RANIA: And he made a point of visiting the local chapter of his foundation and speaking to the beneficiaries, refugees, and the local communities that benefited from the project. And it's always such a pleasure to see him interacting, and it's very touching because he has a way of disarming people. The conversation is always easy. There are no airs or pretenses. He asks people questions and he genuinely listens, because he cares. And Queen Camilla is very much the same. She also is always eager to meet people, to speak to them… She also visited a Child and Family Center that deals with domestic violence.
KIRSTY YOUNG: …Which is one of her chosen causes.
QUEEN RANIA: Which is one of her chosen causes. And her empathetic spirit and her gentle approach really touched every single person that she spoke to that day and left a lasting impression with them.
KIRSTY YOUNG: In one of your visits to London, you went to visit, I think it was called the Mulbery School for Girls, and it's interesting that tomorrow, we will see within the service in Westminster Abbey within this Church of England service with all its ancient associations, leaders from many faiths represented and there in the congregation. In terms of how that means that your own country and countries that surround it see our royal family and see Great Britain, do you think it has an international perception? Do you think people care beyond our borders about that representation?
QUEEN RANIA: Absolutely, and I think this is a trademark of His Majesty's approach. He really wants his coronation to be very inclusive across ethnic minorities, and religions, and cultures. And I think this is something that has always – he's always spoken of diversity as an aspirational value, and you see his respect for other cultures in his work, in his sincere support to projects whether in Jordan, or Afghanistan, or other countries. So diversity is very much part and parcel of who he is and how he wants to approach his role.
And, internationally, I think people look at this occasion with a lot of admiration. You know, you just have to see how many people will be tuned in tomorrow, hundreds of millions around the world, and all the people camped outside now for days. And that tells you a great deal about what this day means to not just the British people but to everyone in the world.
KIRSTY YOUNG: Queen Rania, thank you very much for taking the time to join us and we wish you a very good day tomorrow. Hope you enjoy it.
QUEEN RANIA: Absolutely, pleasure.
Featured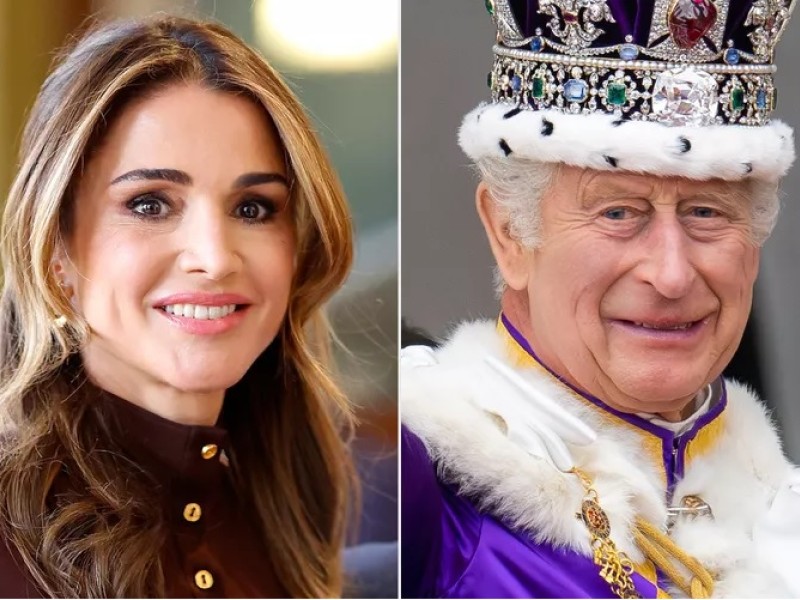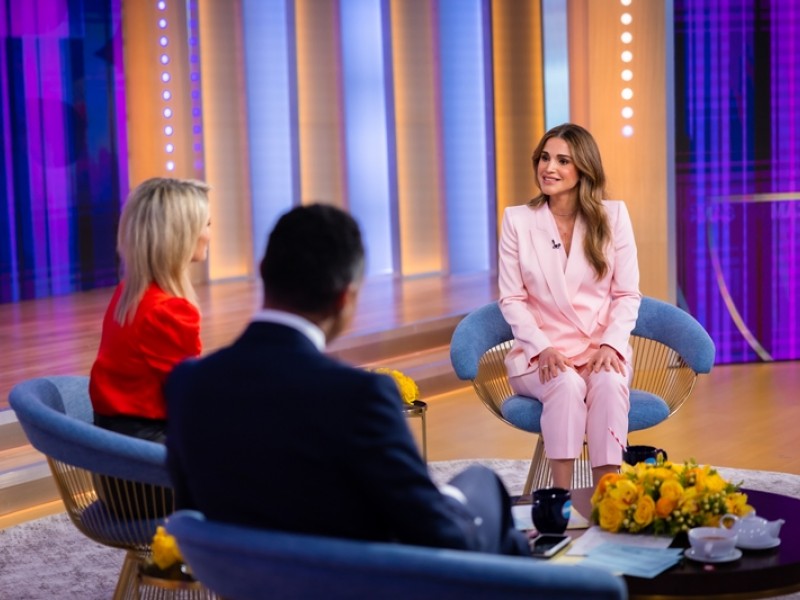 Queen Rania's official website
This website does not support old browsers. To view this website, Please upgrade your browser to IE 9 or greater
Your browser is out of date. It has known security flaws and may not display all features of this and other websites. Learn how to update your browser