King Abdullah II and Queen Rania Honor Himmeh Winners During National Award Celebration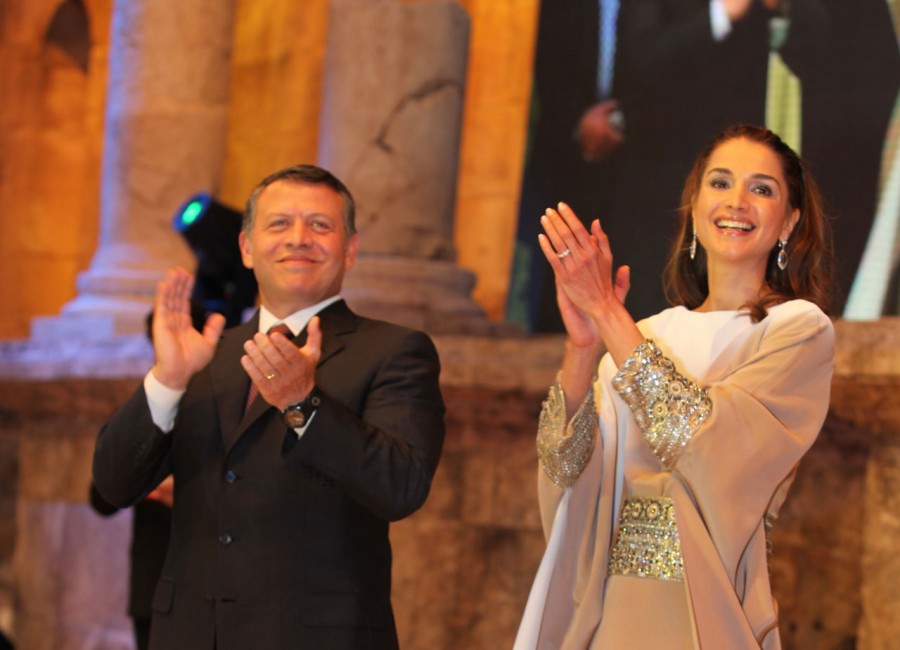 (Office of Her Majesty, Press Department –Amman) His Majesty King Abdullah II and Her Majesty Queen Rania Al Abdullah on Sunday honored the ten Ahel al Himmeh winners in an impressive ceremony set amidst the monumental architecture of the Roman Amphitheatre in downtown Amman.
In a televised celebration which recognized the efforts of those Jordanians who created positive and lasting change in their communities, Her Majesty said: "You can find a lot of people who are Ahel al Himmeh, they are all over Jordan. The final nominees, who are with us tonight, represent thousands of Jordanians who work to help others, whether as individuals, groups or associations, bringing together volunteers to strengthen their community."
The event, which honors the winners and celebrates the 10th anniversary of His Majesty King Abdullah's accession to the Throne, was attended by a number of dignitaries including members of the Royal Family, Prime Minister Nader Dahabi, President of the Senate Zaid Al Rifai, President of the Judicial Council, Royal Court Chief Nasser Louzi, Ministers, Senators and the Ahel Al Himmeh Selection Committee members.
In a synchronized performance which anticipated the announcement of the ten winners, the Jordanian Armed Forces Band created a clattering of beats which accompanied the Misk, Jaloudi and Hanouneh dance troupes in a choreographed dabkhe, followed by live percussions and traditional bagpipers. As Circassian dancers performed gracious patterns and forms, the colorful sequence of amber, indigo and magenta reflecting on the ancient colonnade, brought the entire Roman theatre to life.
A "hip hop" routine which included acrobatic moves then set the tone for a more contemporary performance which was followed by Omar Abdullat's "Keif Al Himmeh" song. The show ended with a live performance by Omar Abdullat and Tony Qattan singing "Ahel al Himmeh," the official anthem of the initiative.

In an address at the event, Queen Rania commended the finalists for the commitment demonstrated in uplifting their communities, expressing her highest hope that their hard work and valiant efforts would inspire others to follow suit:
"All of you carry this responsibility because at the root of good citizenship lies the idea that we can all surpass ourselves when we put our minds to it. We hope that your generosity will never cease, that your selflessness will never end, because you are the reason we launched Ahel al Himmeh," she said to over 3,000 invitees gathered for the occasion.
Furthermore, Her Majesty reflected on the idea that this spirit of dedication, compassion and chivalry is deeply entrenched in the national ethos, forming an integral part of Jordanian heritage which is renewed with each generation.
"This sense of selflessness and commitment is proudly rooted in our ancestry; it has been passed on through generations; it is engraved in the rocks of Petra; it is as clear as a flag on a mountain; it is carried high on the backs of camels; it is this spirit that lights up the eyes of those who are strong and generous; and it rests on their shoulders. The Ahel al Himmeh winners carry that sense of responsibility like a Bedouin man carries his traditional head dress, with pride and dignity," commented Queen Rania.
Commending His Majesty's commitment for investing in the people of Jordan and his continuation of King Hussein's legacy, Her Majesty added: "The most valuable gift that a leader can give his people is to empower them so that they can chart their own courses and become active members and leaders in their own societies."
"You gave us the will, energy, and power to strive for the best, to learn more, to improve ourselves, both men and women equally, and I Rania Al Abdullah will do my best as your first foot soldier, "she concluded.
The ten Ahel Al Himmeh winners will each receive JD30,000 in support of their cause, as well as ten university scholarships awarded in each winner's name.
The Queen Rania Award for Community Heroes (Ahel Al Himmeh) initiative, was launched in March 2009 on the occasion of the 10th anniversary of His Majesty King Abdullah's accession to the Throne, rewards the efforts of unsung Jordanian heroes who have actively contributed to the good of their communities.
The candidate's stories and achievements can be found on the award's website www.himmeh.jo
≠
Winners
1- Ghor Safi Volunteers
2- Sweilem Rihani
3- Ghaleb Khawaldeh
4- Hussam Ayyad
5- Kyis Maqableh
6- Jamal Qteifan
7- Amen Gawabaa
8- Tamara Darawsheh
9- Fatmeh Ananbeh
10- Ahmad Gharaibeh


Queen Rania's official website
This website does not support old browsers. To view this website, Please upgrade your browser to IE 9 or greater
Your browser is out of date. It has known security flaws and may not display all features of this and other websites. Learn how to update your browser