Queen Rania Says Urgent Assistance Is Needed to Save the Lives of Iraqi Children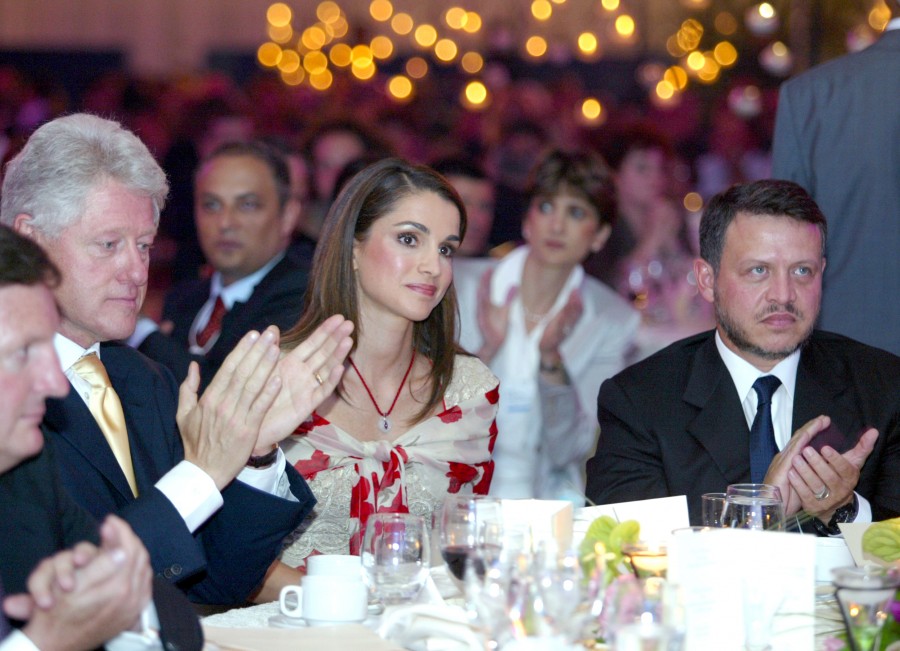 (Office of Her Majesty – Press Department – The Dead Sea) - Queen stresses Jordan's role as connecting point for better future
Her Majesty Queen Rania Al-Abdullah stressed Jordan's role as a vital connecting point for paths that foresee a better future.
She said that while Jordan served as a launching ground for a Roadmap plan when it hosted the Aqaba summit earlier this month, the country is also honored to be part of a "route that brings vital humanitarian assistance" to Iraqi people especially children with serious health conditions.
Queen Rania was speaking at a fundraising dinner, organized by the STARS Foundation in partnership with the International Medical Corps (IMC), in aid of Iraqi children suffering from leukemia and for the rehabilitation of the Iraqi health sector.
Addressing an audience of over 700 delegates participating in the World Economic Forum's Extraordinary Meeting at the Dead Sea, Queen Rania, Chairperson of the Foundation's Advisory Council, noted that the first group of Iraqi children is already in Jordan receiving treatment at the King Hussein Cancer Center.
However, she added, thousands of Iraqi children are still uncared for, and in desperate need of urgent assistance, reminding the audience of the need "to focus on healing both the bodies and souls of these children."
Proceeds from the fundraising dinner will help IMC's Project Lifeline to provide life-saving treatment to young cancer victims by identifying children in need of immediate care, and assisting their transfer to neighboring countries that have appropriate facilities.
Present at the event was former U.S. President Bill Clinton who said IMC, which operates in 44 countries around the world, will use the funds to upgrade Iraq's ability to treat its young cancer victims through the provision of relevant technology: staff training in pediatric oncology and hematology, and procurement of updated equipment and supplies for children's hospitals in Baghdad and Basra.
IMC is working in collaboration with King Faisal Specialist Hospital and Research Center in Riyadh and the King Hussein Cancer Center in Amman, as well as other hospitals and governments throughout the Middle East; the International Network for Cancer Training and Research, Brussels, Belgium; St. Jude Children's Research Hospital, Memphis, USA; and the National Institutes of Health / National Cancer Institute, Washington DC, USA. IMC is also coordinating its efforts with several United Nations agencies, including UNICEF, UNHCR, OCHA and WHO.
The STARS Foundation is a non-political, non-religious and non-profit organization that seeks to harness the power of technology to make a better life for the disadvantaged children of the global community.
The Foundation unites individuals and business from East and West, bridging cultural and geographical difference, and focusing on it intrinsic value of 'unity in diversity'.

Queen Rania's official website
This website does not support old browsers. To view this website, Please upgrade your browser to IE 9 or greater
Your browser is out of date. It has known security flaws and may not display all features of this and other websites. Learn how to update your browser