Queen Rania Calls on Countries in the Region to Overcome Challenges by Empowering the Creative Thinkers and Innovators in Society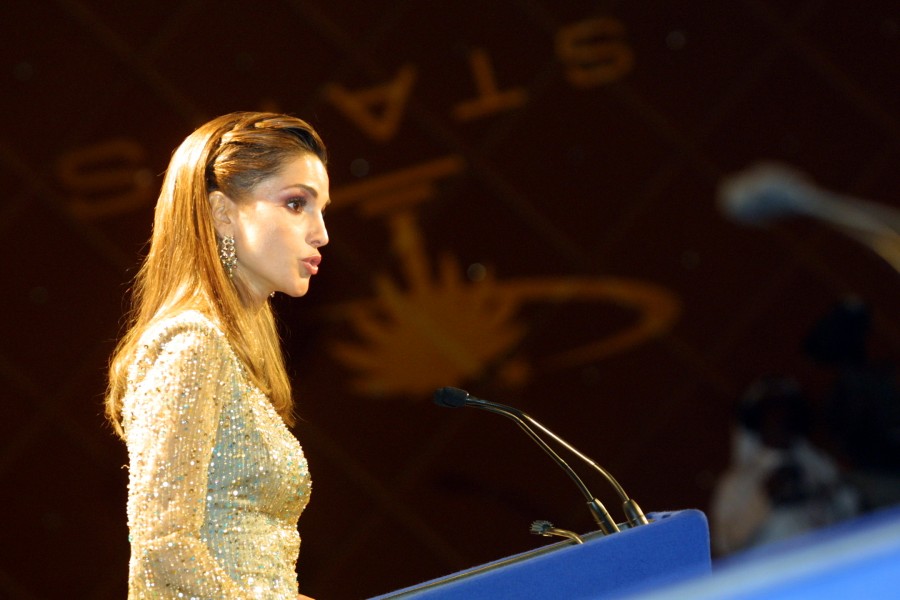 (Office of Her Majesty, Press Department - Dubai) Her Majesty Queen Rania Al-Abdullah called on countries in the region to overcome challenges by empowering the creative thinkers and innovators in society, particularly youth and children.
Speaking at the Science, Technology & Arts Royal Summit (STARS) gala dinner in Dubai, United Arab Emirates, Queen Rania told the over 700-member audience of government officials, corporate leaders, academics, and foreign dignitaries, including Dubai's Crown Prince His Highness Sheikh Mohammed Bin Rashid Al-Maktoum and former US President Bill Clinton: "This is a time that requires considerable self-assessment and soul searching…a time that has made it crucial for us to huddle together and devise new strategies to overcome the challenges that have faced our nations for some time now. It is imperative for us to reach out for the stars…for if we reach out for the stars, the sun will eventually shine," the Queen said at the summit, which aims to promote the use of technology to help underprivileged children.
Queen Rania presented her characterization of "stars" as people who have navigated science into uncharted territory and developed technologies transforming our everyday lives.
They are "that very special segment of every society that has been relentless in its quest to 'think outside the box' and in doing so, has delivered fresh perspectives on a wide range of issues," she added.
A strong advocate of child rights, Queen Rania characterized children as the "brightest stars of all," adding that they are the symbols of hope and optimism for a better future. "…I have become a great believer that God Almighty has delegated children to be our guiding light.For they are the brightest stars of all…they are the symbols of hope, optimism, and of our unquenchable desire for a better future. They are the mortal enemies of 'it can't be done' and the staunchest allies of 'why not?'…Indeed, they are the preview of a bright future, and a constant reminder that we can deliver it," she said.
Queen Rania also highlighted His Majesty King Abdullah's efforts to "reach for Jordan's stars," including the establishment of the Economic Consultative Council whose 20 members "are not necessarily young by age, but they are most certainly young at heart."
Jordan's program to build Information Technology community centers around the Kingdom, the Queen added, is also opening infinite opportunities for Jordanians, allowing them to be "active and vocal members of the global village in which we find ourselves."
The efforts of His Majesty King Abdullah and the "stars" of Jordan, Queen Rania added, have already begun to pay off in that the Kingdom has registered numerous successes.
"During a very difficult 2001, Jordan's stock market has witnessed a 30% appreciation, our exports have increased 21%, our foreign reserves are at an all time high, our national debt is down, and we are expected to register a healthy 4% growth in GDP," she said.
Queen Rania's participation in the summit comes as part of her ongoing humanitarian efforts and development work on both the regional and international level, particularly in the field of childhood issues and the promotion of child rights.
Also speaking at the event was former US President Bill Clinton who highlighted the important role that technology can play in bridging the divide between societies around the world.
Clinton paid tribute to Jordan for its ongoing humanitarian efforts, characterizing Their Majesties King Abdullah and Queen Rania as "friends." Their Majesties' efforts to secure a peaceful and better life for all children, Clinton added, are a continuation of the legacy of the late King Hussein whom he also considered a "friend."
In introducing Queen Rania at the event, the Assistant Dean of Harvard Business School John Quelch spoke of her ongoing commitment to childhood issues and her role in promoting children's rights.
Quelch also highlighted several of the Queen's efforts to empower Jordanian families, including her work with the Jordan River Foundation, which she established in 1995, and the National Council for Family Affairs, which was established in October 2001 under her chairpersonship.
The Chairman of the STARS Foundation, Mr. Amr Dabbagh, also spoke at the event, highlighting the work of his organization in support of children. Dabbagh reiterated the important role that corporations can play in promoting childhood issues, and in using technology as a way to ensure a better future for underprivileged children around the world.
Thursday's summit was organized by the STARS Foundation, a non-profit organization based in London, established in 2001 to deliver initiatives and funds for the empowerment of organizations that work towards the enhancement of people's lives around the world.
Among other things, the organization hopes to be a catalyst in moving world leaders, governments, and corporations from rhetoric to a series of concrete actions to improve children's well-being.
Proceeds from the event will benefit the Jordan River Foundation, a non-governmental organization established by Queen Rania in 1995.
In addition to its work motivating low-income Jordanian families to participate in microfinance and income-generating initiatives, the Jordan River Foundation's pioneering Child Safety Program works to promote child rights by protecting children at risk of abuse, and adopting a long-term campaign to increase public awareness about violence against children.
The fourteen winners of the STARS Foundation's technology awards were also announced at the event. The awards, divided under the three themes of 'Heart, Soul, and History,' are designed to show the many ways that individuals from all walks of life can make a difference to the modern world through technology.
One of the award winners is former South African president Nelson Mandela who is being recognized for his 'outstanding contribution to children's welfare.' Mandela joins Queen Rania as a member of the UNICEF Global Leadership Initiative, spearheading the Global Movement for Children that calls upon all sectors of society to make renewed commitments for children in the coming decade.
Mandela joins Queen Rania as a member of the UNICEF Global Leadership Initiative, spearheading the Global Movement for Children that calls upon all sectors of society to make renewed commitments for children in the coming decade.


Queen Rania's official website
This website does not support old browsers. To view this website, Please upgrade your browser to IE 9 or greater
Your browser is out of date. It has known security flaws and may not display all features of this and other websites. Learn how to update your browser