Queen Rania Visits Shobak, Petra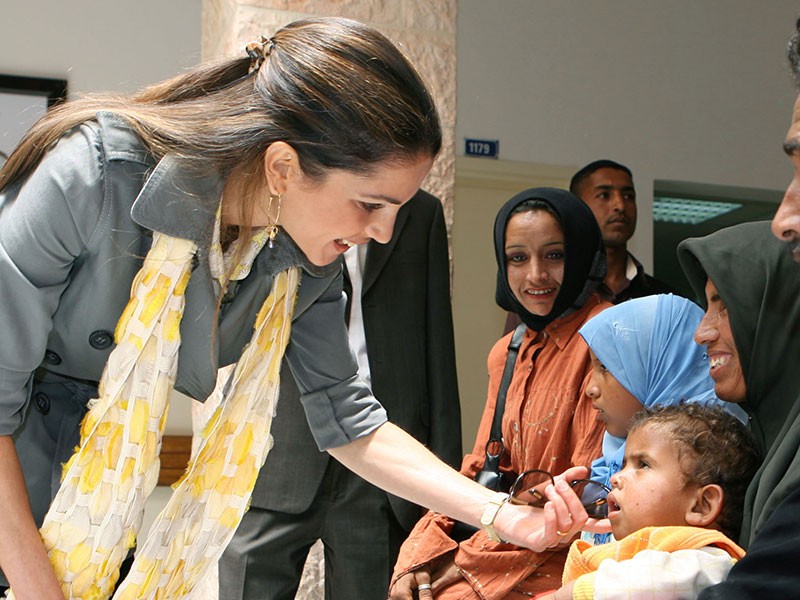 (Jordan Times - Amman) Her Majesty Queen Rania stressed the need to upgrade medical services for citizens in the southern districts of Shobak and Petra.
During a surprise visit to the areas' medical and tourism facilities, the Queen met with patients at the Queen Rania Hospital in the town of Wadi Petra, Petra.
While touring the hospital's different wards, including the surgical, pediatric and outpatient clinics, the Queen spoke to several patients about the services offered at the institution and their general living conditions.
In an area adjacent to the historic site of Petra, Queen Rania inaugurated the premises of the faculty of antiquities, tourism and hotel management founded at Al Hussein Ben Talal University.
Accompanied by president of the university's board of trustees, Fayez Tarawneh, and other university officials, the Queen toured the faculty's cultural museum and other training facilities, stressing the importance of focusing on practical studies to meet the growing needs of this sector.
Vocational training focused on tourism-related jobs is necessary in these areas to reduce the high rate of unemployment among youth, the Queen noted.
Addressing students attending a class, the Queen congratulated them on Petra being named one of the Seven Wonders of the World, and emphasised the large responsibility that falls on the tourism sector as more visitors are expected to visit the ancient Nabatean site.
Earlier this month, Jordanians celebrated Petra's inclusion among the new seven wonders. The rose-red city came second behind the Great Wall of China in a massive global online poll launched by the Switzerland-based NewOpenWorld Foundation — a group that aims to promote cultural diversity by supporting, preserving and restoring monuments.
Later, at the faculty of agriculture of the Balqa Applied University in Shobak, the Queen met with several women residents who briefed her on housing, agricultural, tourism, health and educational conditions in their area.
Discussions focused on increasing women's participation in the workforce.

Queen Rania's official website
This website does not support old browsers. To view this website, Please upgrade your browser to IE 9 or greater
Your browser is out of date. It has known security flaws and may not display all features of this and other websites. Learn how to update your browser