Queen Rania Visits India; Brings Child Educational, Health Concerns to Forefront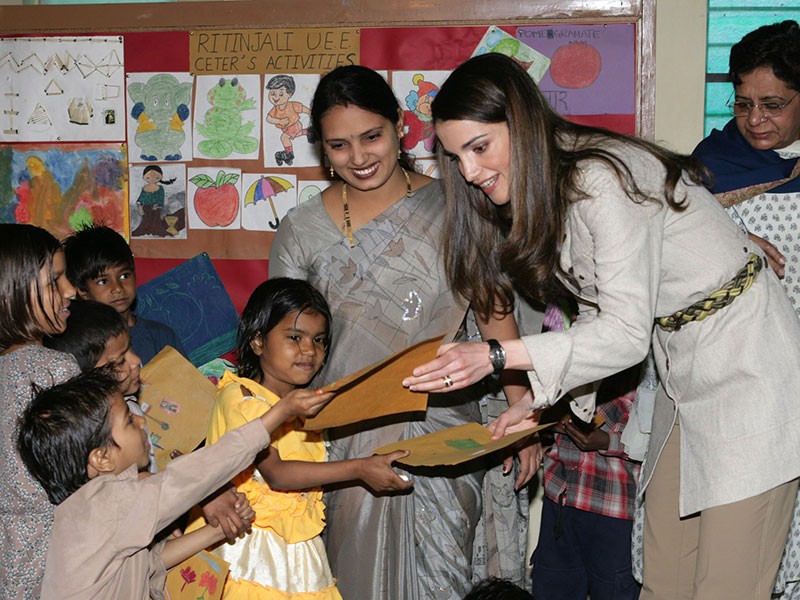 (Office of Her Majesty – Press Department – New Delhi) - Access to quality education and child immunization were the focus of Her Majesty Queen Rania Al-Abdullah's two-day trip to the Indian subcontinent, which began on Friday, to draw attention to the plight of children and reiterate the need for increased efforts in the global struggle against preventable diseases.
During her visit to the Ritanjali Learning Center, on Friday, Her Majesty was briefed on the impact the center has had on girls' education since its inception in 1995, taking a first-hand look at samples of work, while interacting with children, their mothers and members of staff, as they spoke of their challenges and concerns.
Established by the United Nations Children's Fund (UNICEF), as a non-governmental organization, at Kusumpur Pahari in Old Delhi, the center provides education to out-of-school children between the ages of 6 to 14, with the objective of educating them to an optimum level, so that they can be mainstreamed into the formal education system. Adolescents are also taught at the center within separate programs.
Received by the head of the center, Sushma Tyagi, and the sponsor of the organization, Arun Kapur, Queen Rania joined 3 groups of children, aged 6 through 10, in hands-on activities, before proceeding to join a group of 25 girls, aged 12 through 17, participating in the Adolescent Education Program, which includes beauty and tailoring courses.
Meanwhile, on Saturday, Queen Rania visited the Kasturba Hospital to meet with patients and hospital workers and highlight the need for increased efforts to bolster nationwide immunization in both India and other developing countries around the world.
The facility, popularly known as Machali Wala Hospital, is the oldest hospital for women and children in Delhi. Housing 450 beds, it includes a pediatrics ward, infant clinic, and immunization programs, for which it is considered a model for medical institutions and programs that are needed in developing countries.
A renowned advocate for children's issues and the rights of women, Queen Rania has, since 2001, served as a member of the board of the Vaccine Fund. The board, which is chaired by Graça Machel, is now known as the GAVI Fund.
Launched in 1999 to address the needs for vaccines and immunization of the world's 75 poorest countries, those with a per capita GNP of less than $1,000, the GAVI Fund is the financing arm of the GAVI Alliance, (formerly the Global Alliance for Vaccines and Immunization), which was launched in 2000 in an effort to increase immunization rates and reverse widening global disparities in access to vaccines (was the fund or the alliance launched in 2000? I'd recommend turning into two separate sentences).
A public-private partnership that is driven by the recognition that only through a strong and united effort can much higher levels of support for global immunization be generated, the GAVI Fund's future initiatives include the International Finance Facility for Immunization (IFFIm), an innovative finance mechanism that is expected to provide US$4 billion in global immunization funding over the next 10 years, saving the lives of an additional five million children.
According to the World Health Organization, immunization programs save about three million lives and prevent an additional 750,000 children from becoming disabled, on an annual basis. Child health advocates agree that there is a great disparity in access to immunization, where a child in the developing world is ten times more likely to die of a vaccine-preventable disease than a child living in one of the advanced nations.

Queen Rania's official website
This website does not support old browsers. To view this website, Please upgrade your browser to IE 9 or greater
Your browser is out of date. It has known security flaws and may not display all features of this and other websites. Learn how to update your browser