Queen Rania, Mrs. Bush Briefed on Education, Community Empowerment Projects During Visit to 'Discovery School' & JRF Showroom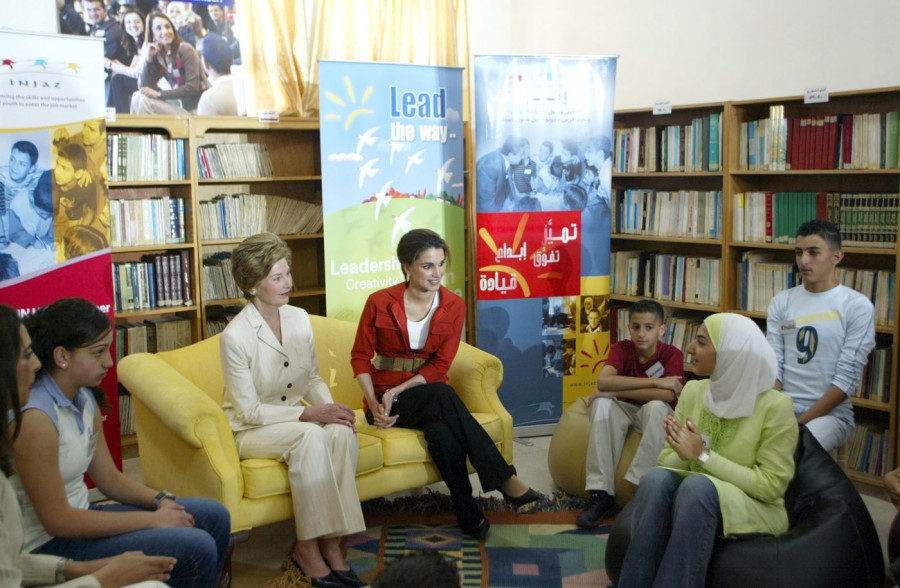 (Office of Her Majesty, Press Department - Amman) Accompanying US First Lady, Laura Bush, Her Majesty Queen Rania, on Sunday, joined students and youth, from INJAZ Program and Discovery School Programs, in exploring their future dreams and aspirations, during a visit to the Sweifyeh Secondary School for Girls.

Mrs. Bush and Queen Rania were, upon their arrival, greeted by the School's principal and students, in addition to Minister of Education, Khaled Touqan, before joining grade-two students in their E-Math class.

During the visit, the Queen and Mrs. Bush were briefed on the Jordan Education Initiative (JEI) and its programs, through a showcase illustrating a student's journey through school, and the tools he/she acquires at discovery schools.

Launched in 2003 at the World Economic Forum, by Cisco CEO, John Chambers, JEI an innovative e-learning project, developed out of a partnership between Jordan and Cisco Systems and stands as an educational model, which entails a range of classes to reach thousands of teachers, students and community members at less cost - includes the following programs: World Links Intel Teach to the Future Programs, Maktabati Al Arabiya (My Arabic Library), International Education Resources Network (IEARN), CISCO Networking Academy and Health Academy Class.
The initiative has exceeded expectations. JEI spent much of 2004 delivering curriculum into the classrooms. Right now, the math curriculum, developed by one of Cisco's partner companies on the initiative, Jordan-based Rubicon, is being used in 13 of 100 Discovery Schools. Since February 2005, 37 Discovery Schools in Jordan received the curriculum, with the remainder delivered by the end of the school year.

The Discovery Schools are a modernized model of the Education system in Jordan. Based on the most recent computer technologies, the Discovery Schools implement many programs, molding students through the use of technology. Another aspect of the Discovery School model incorporates the development of students' personalities, helps them to face the workforce and become successful leaders.

Following the briefing, Queen Rania, together with Mrs. Bush, also joined students, aged 14-22, from INJAZ and Discovery Schools programs, in discussions on how to utilize the skills and tools taught and provided through programs such as the above, in order to make substantial contributions to society in the future, as the leaders of tomorrow.

Responding to questions like where do they see themselves in ten years' time, the students were given the opportunity to use their imagination and creativity when thinking of their future, thereby allowing for diverse thoughts and ideals to arise.

Students described Jordanian youth as open-minded and leaders of change, who gained their skills, competitive drive and ambition through educational programs and leadership courses at schools and universities.

The discussion falls in line with Her Majesty's belief in the need for youthful and creative thinking to be nurtured and spread so as to enable today's youth to become better informed of their decisions and actions, as young global leaders.

On Saturday, Queen Rania, in her keynote address at the 'Youth and Entrepreneurship' session of the World Economic Forum, held at the Dead Sea, stressed that people's general perception of what is meant by youth has to change in order to enable them to positively interact with the challenges and opportunities brought about by the 21st century.

"My point is, the most precious aspects of youth are not tied to ages or stages. Preserving them doesn't mean clinging to the past – it means embracing the future," she said.

After visiting the School, Queen Rania and Mrs. Bush, paid a visit to the Jordan River Foundation Showroom, where they had a first-hand look at a number of handicrafts made by women from the Bani Hamida Village. The First Lady was also briefed on the Foundation's work and its numerous programs by JRF Director-General, Maha Khatib.

The Jordan River Foundation (JRF), established in 1995 and chaired by Her Majesty Queen Rania, is a non-profit Jordanian non-governmental organization (NGO), which aims to empower society, especially women and children, thus improving their quality of life.

During her first visit to Jordan, which is part of a Middle East tour she is currently conducting, the US First Lady also participated in WEF's activities.

At the end of her trip, the First Lady conveyed to the press her appreciation to Their Majesties King Abdullah and Queen Rania for their hospitality, commending the friendship between Jordan and the US. She also noted that the programs she had the opportunity to visit are a model in the region and the world. She added that Jordanian students and youth are enthusiastic and possess leadership qualities and team spirit, as a result of the skills taught through such programs.

Queen Rania's official website
This website does not support old browsers. To view this website, Please upgrade your browser to IE 9 or greater
Your browser is out of date. It has known security flaws and may not display all features of this and other websites. Learn how to update your browser