Queen Rania Meets Naseej Youth from Across the Middle East as They Weave Ideas for Change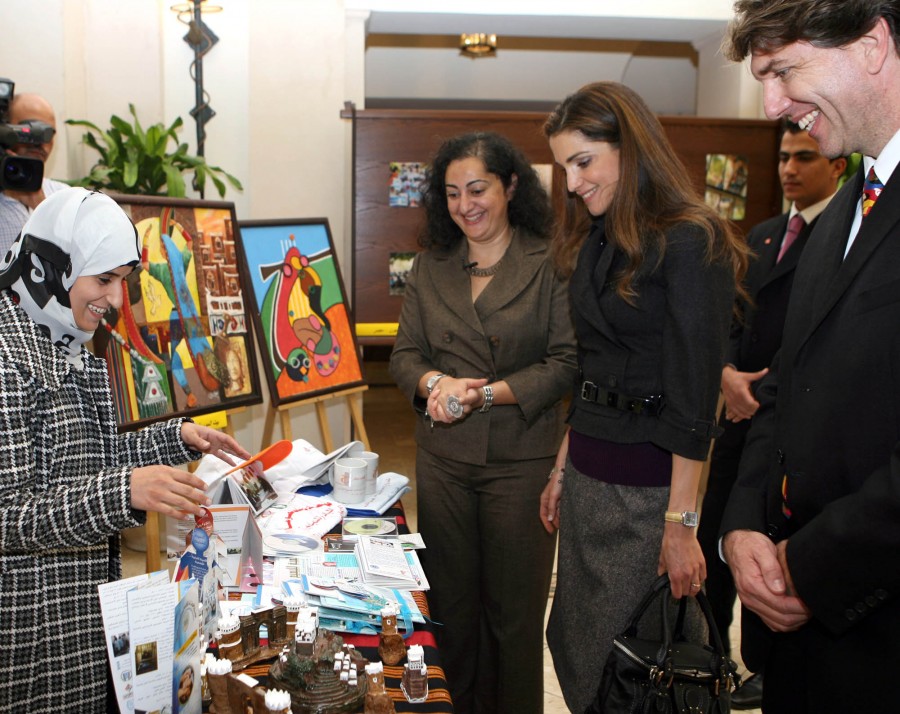 (Office of Her Majesty – Press Department – Dead Sea) - Over the past few years, conference halls at the Dead Sea have played host to world leaders and global businessmen coming together to exchange ideas and launch new projects. This Tuesday, the halls buzzed with a new kind of energy and optimism generated by young dynamic leaders, who came together for Naseej, a bold program launched by Their Majesties King Abdullah and Queen Rania in 2005.
The group of over 150 youth from all over the Middle East is here for a three-day conference to exchange expertise, highlight their achievements, and strengthen their bonds. During the event, the participants showcased their projects to Queen Rania, which ranged from vibrant paintings to intricate carvings and beyond.
Her Majesty participated in Tuesday's workshop to encourage the young people as they took part in "Mubadarat Shababeyeh from the Field," the first regional Naseej event, and celebrated the closure of the first phase of the program while looking ahead to future projects and opportunities.
"Traditionally, your age group is sometimes looked at as a transitional stage," the Queen said to the 20-something group gathered around her. "But you really do have a significant role in the present… especially in our troubled region where youth bring fresh ideas and new solutions to old problems."
Her Majesty encouraged the youth to continue directing their energy towards beneficial endeavors by highlighting technological advances that are available to them. "Today we witness development in action," said Dennis Walto, director of Save the Children, who accompanied Her Majesty on the tour.
Naseej – the action of "weaving" – was chosen as a name to reflect the program's spirit, which aims at reinforcing and strengthening actions between and among youth. Naseej focuses its work in five main countries, Jordan, Palestine, Egypt, Lebanon and Yemen, and it extends many of its activities to other countries in the Arab World like Bahrain and Morocco.
Naseej targets Arab youth, supporting their ongoing initiatives while implementing new programs that encourage young people to take an active role in their development and that of their communities. Even as the session wrapped up, the buzz and energy reverberated in the hallways where the Naseej products were on display.
"What gives me hope is the positive energy of youth," said the beaming Queen before departing.

Queen Rania's official website
This website does not support old browsers. To view this website, Please upgrade your browser to IE 9 or greater
Your browser is out of date. It has known security flaws and may not display all features of this and other websites. Learn how to update your browser