Queen Rania Joins Other Parites to Launch Financing Tool for Vaccines and Immunization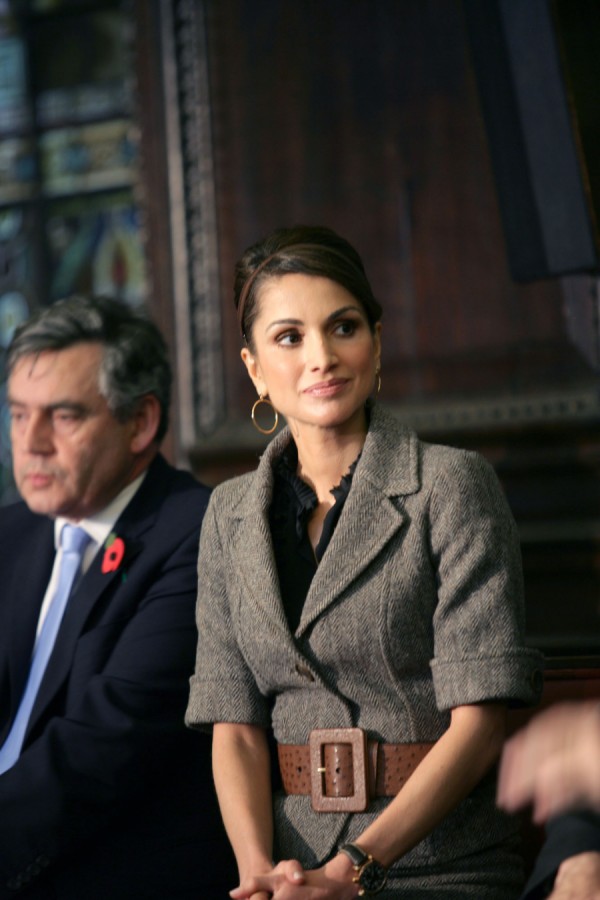 (Office of Her Majesty, Press Department – London) Her Majesty Queen Rania Al-Abdullah of Jordan joined Chancellor Gordon Brown, representatives from GAVI and six European governments as well as global organizations in the field of child providers, Tuesday, in launching the International Finance Facility for Immunization (IFFIm). IFFIm is an institution for development which is working to support the Global Alliance for Vaccines and Immunization (GAVI) by bringing $4 billion to the alliance over the next 10 years.
Her Majesty started her remarks by speaking of her children, her experiences as a mother, and her growing awareness over the past few years of the urgency of vaccines. "I remember twelve years ago, when I took my eldest son, Hussein, for his first round of childhood vaccinations, my dominant emotion was anxiety," she said, "By the time my youngest son, Hashem, was born, I had a change of perspective… because by then I was working with GAVI… and instead of anxiety, when I thought of vaccines, what I felt was a sense of urgency- not just that my own children should receive these vital shots, but that every child of every mother deserved the same protection and care." Since joining the GAVI Board in 2001, Queen Rania has been highlighting the crucial urgency for children all around the world to have access to vaccines.
According to GAVI statistics, between 2 and 3 million children that die each year, die of preventable diseases. GAVI's mission to provide them with the necessary vaccines to prevent the spread of these diseases is in line with the UN Millennium Development Goals which pledges to reduce child mortality by two thirds.
At the event Queen Rania said, "With the launch of the International Finance Facility for Immunization, we are sweeping a road block aside- a road block that not only limits the sights of poor children, but limits their very chance for survival."
IFFIm will enable GAVI to reach an additional 500 million children. The governments of Britain, France, Italy, Norway, Spain, and Sweden are supporters of IFFIm and will back the bonds which will be sold in the international capital markets over the next 10 years. The aid bonds will make it possible to collect and save money sooner by front-loading the aid promises made by governments.
"With your support, and with GAVI's good work, limitations can give way to healthy lives," said the Queen to IFFIm members. "Speaking as a member of the global family, it is a matter of conscience because none of our children can be secure in a world where millions of children are at risk- where poor mothers are losing their lives while giving birth; where little children are struggling to care for even smaller siblings; and babies are dying every day for want of a £2 bed net that costs less than a takeaway sandwich."
"Immunizations are one of the best investments in health and progress. They are cost-effective. They work. They last. And they are relatively easy to distribute, even in countries that are desperately poor or only just emerging from conflict," said Queen Rania. "It is, literally and figuratively, a shot in the arm for global hope and health."
Religious leaders from various faiths spoke at the event to show their support for IFFIm.
GAVI provides multi-year grants to 72 of the poorest countries in the world. India is one of the countries eligible for GAVI support, and in March, Queen Rania visited India to celebrate the health system advances there and draw attention to the country's increased efforts to bolster nationwide immunization coverage. In the last five years, the Alliance has succeeded in providing vaccines to millions of children, and thus improving the lives of those children and their parents.
In June 2006, Queen Rania hosted the Global Women's Action Network for Children Conference in Jordan, where there were representatives from at least 21 countries that GAVI supports as well as a number of representatives from developed nations. Together, the women pledged to continue supporting women and children in even the most remote areas of the world to secure a brighter future by providing education and tackling health issues in those areas.


Queen Rania's official website
This website does not support old browsers. To view this website, Please upgrade your browser to IE 9 or greater
Your browser is out of date. It has known security flaws and may not display all features of this and other websites. Learn how to update your browser