Queen Rania Joins First Ladies and Prominent Figures on Appeal for Gaza Ceasefire and Community Support on UNRWA's $238 Million Appeal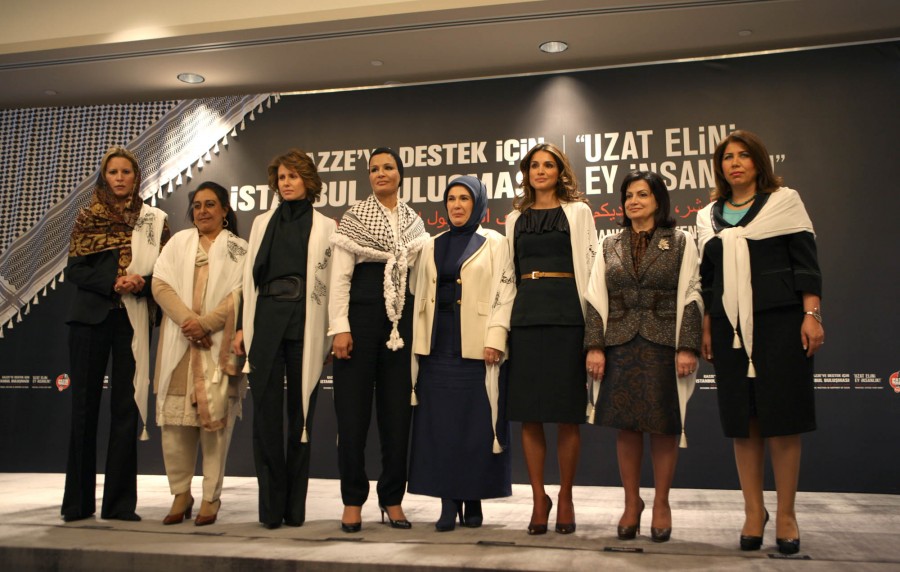 (Office of Her Majesty, Press Department - Istanbul) During a meeting hosted by Turkish First Lady Emine Erdogan, Her Majesty Queen Rania Al Abdullah said the donor community should channel all their efforts through UNRWA to make sure that Gazans get the aid they need.
Queen Rania joined Syria's Asma Assad, Qatar's Sheikha Mozah, Lebanon's Wafaa Sleiman, Libyan leader Moammar Gadhafi's daughter, Aisha, the Pakistani prime minister's wife and other prominent figures to appeal for an end to the two-week old conflict in the Gaza Strip.
During the meeting, Queen Rania renewed her call for an immediate ceasefire. Her Majesty also commended UNRWA's efforts saying that without them the situation in Gaza would be much worse. She re-iterated her appeal for safe passage of humanitarian personnel to and throughout the Gaza Strip.
An UNRWA spokesperson said that the situation in Gaza has been deteriorating. According to UNRWA, there has been no electricity there for the past 10 days; over 750,000 people have no access to clean water and hospitals are almost at the point where they cannot take in any more patients. Over 22,000 people have lost their homes in the past two weeks. He also warned that there is a dire food security situation and despite the small trickle of conveys bringing in aid, more is needed and the three hour ceasefire is not enough.
During the meeting, the first ladies issued a joint statement referred to as the "Istanbul appeal", where they each committed to launching campaigns in their countries to support UNRWA's $238 million appeal for Gaza.
Queen Rania stresse that the international donor community should coordinate efforts through UNRWA because they are better able to judge the situation on the ground and assess the immediate needs of the people in Gaza.

Queen Rania's official website
This website does not support old browsers. To view this website, Please upgrade your browser to IE 9 or greater
Your browser is out of date. It has known security flaws and may not display all features of this and other websites. Learn how to update your browser