Queen Rania Honored in Malaysia for Improving International Relations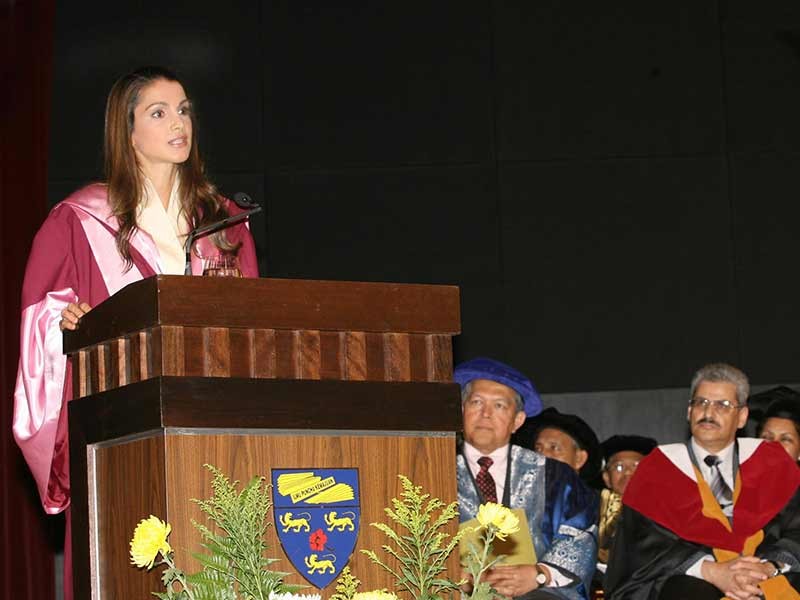 (Office of Her Majesty, Press Department - Kuala Lumpur) Just like the hundreds of students rushing to their seats at the University of Malay early Friday morning, Her Majesty Queen Rania Al Abdullah arrived on campus donning a cap and gown in time to receive an honorary degree in International Relations from the country's oldest university.
Received by His Royal Highness Sultan Azlan Shah, who serves as university chancellor, Her Majesty walked in to a very welcoming and receptive crowd. Other high profile attendees included Crown Prince Raja Dr. Nazrin Shah and Datuk Rafiah Salim, the university's first female vice-chancellor.
Queen Rania, who was honored for her fresh approach in improving dialogue across nations and cultures, joins Nelson Mandela, former Japanese Premier Zenko Suzuki, Indonesian Vice President Muhammad Jusuf Kalla, and Sultan Hassanal Bolkiah of Brunei as fellow honorary alumni.
While accepting the degree, Her Majesty commended Malaysia's role in fostering an open and accepting society. "This is a place where Eid, Chinese New Year, Diwali, and Christmas are shared celebrations… Malaysia may be truly Asia, but it is also truly multi-cultural," she said.
Drawing on the common bond between Jordan and Malaysia, Her Majesty said, "We in Jordan salute your achievements – and share your forward-looking perspective. For centuries, my country has been a place that brings East and West together as an historic trade route, a meeting place for travelers, and a home to many ancient civilizations. Jordan is a leading voice for tolerance and moderation – proud of our past, confident in our future, and open to the world."
Many of Queen Rania's programs focus on finding a common ground between East and West and bridging the cultural divide, and she did not miss the chance to remind the audience why that is so necessary.
Citing recent polling figures, the Queen said: "Thirty nine percent of Americans admit to feeling at least some prejudice against Muslims. Over one in five say they wouldn't want a Muslim as a neighbor. And Americans don't have the monopoly when it comes to mistrust of Islam -- as recent tensions in a number of European countries have made clear."
"I am convinced that many of these attitudes stem from ignorance," she said, "When asked last year how much they knew about the opinions and beliefs of people who live in Muslim-majority countries, 57 percent of Americans replied 'not much' or 'not at all'. And when asked what they admire most about the Muslim world, more than half of Americans surveyed said 'nothing' or 'no opinion'."
Queen Rania, who has been appealing to youth to be part of a global dialogue, encouraged the University of Malay community to build on their values of cross cultural appreciation. "Young women and men … see the challenges around them not as inevitable or insurmountable, but rather as invitations to do their part to change things for the better," she said reminding the crowd that both Jordan and Malaysia boast extremely young populations with the majorities under 30 years of age. "Personally speaking, I think our world needs more of that youthful energy and idealism," she added.
"I am convinced we need this kind of outlook more than ever. Because in a world where borders have blurred, where interdependence is a fact of life, it's clear that in order to get ahead, we have to figure out a way to get along," she said.
"Every country, every culture, and every tradition has something of value to teach us. The more we learn about others' lives, the more dimensions we add to our own. And when we put ourselves in someone else's shoes and view the world from his or her vantage point it enhances our ability to empathize, compromise, collaborate and move forward together," she emphasized.
According to Queen Rania, one way to tackle this growing rift is by person to person interaction. "I believe that if more people from the West could actually come to know the Muslim world they might find their preconceptions melt away and their perspectives enhanced and improved," she said.
Her Majesty recently launched an interactive YouTube channel to dispel stereotypes by creating a platform for such virtual interaction where she is challenging many of the stereotypes about the Muslim world.
Expressing her sincere appreciation for the recognition, the Queen said, "I will do my best to live up to the promise of this doctorate – because I believe international relations is an area where our world needs some help! And I am proud to join the University of Malaya in that effort."
Queen Rania also oversaw the signing of a memorandum of understanding between the University of Malay and the University of Jordan, which will enhance student and faculty exchanges, cooperation on research, and exchanges of publications and reports and library cooperation between the two institutions.
The first MoU between Jordan and Malaysia was signed in 1995, which brought significant cooperation between the education ministries including mutual assistance the technical and vocational educational areas such as electric engineering, mechanical engineering, civil engineering and home economics.
After the event, Her Majesty met with many of the international students studying at the university, including a number of Jordanian students.
Featured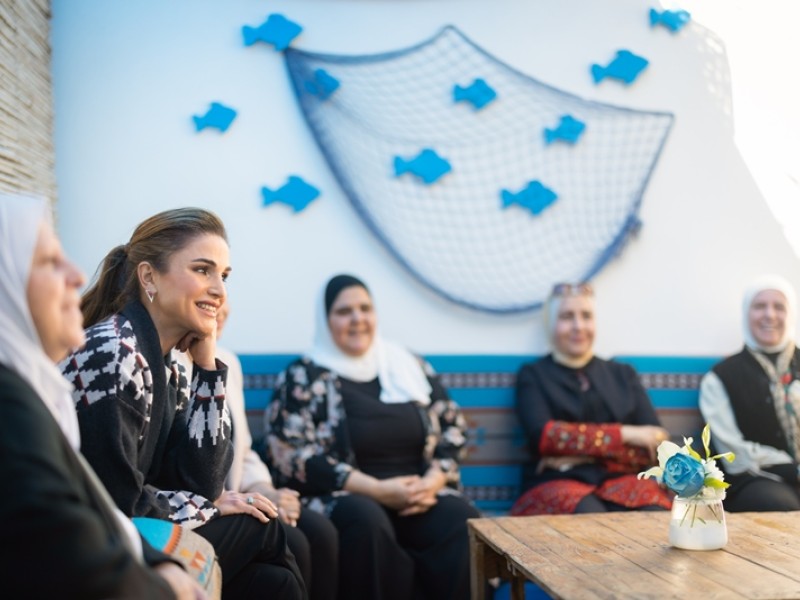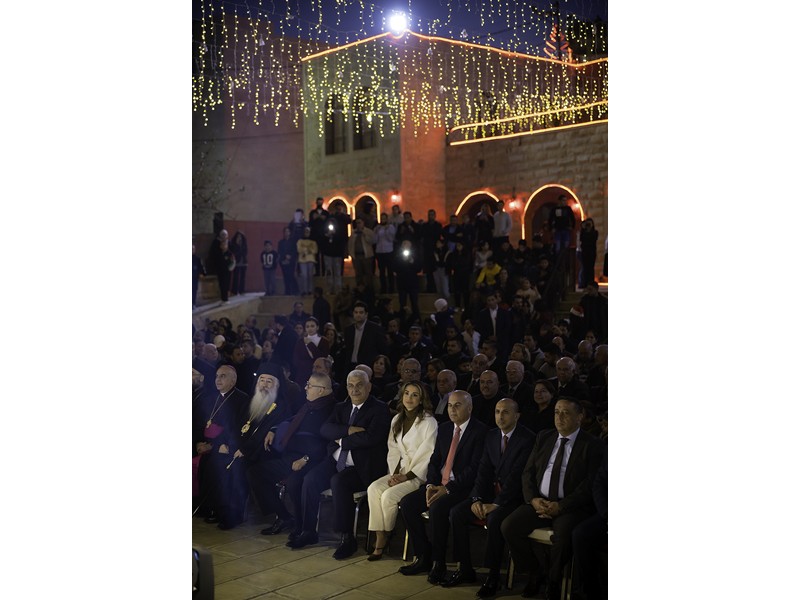 Queen Rania's official website
This website does not support old browsers. To view this website, Please upgrade your browser to IE 9 or greater
Your browser is out of date. It has known security flaws and may not display all features of this and other websites. Learn how to update your browser