Queen Rania Full of Pride and Confidence as She Meets with Women of IWF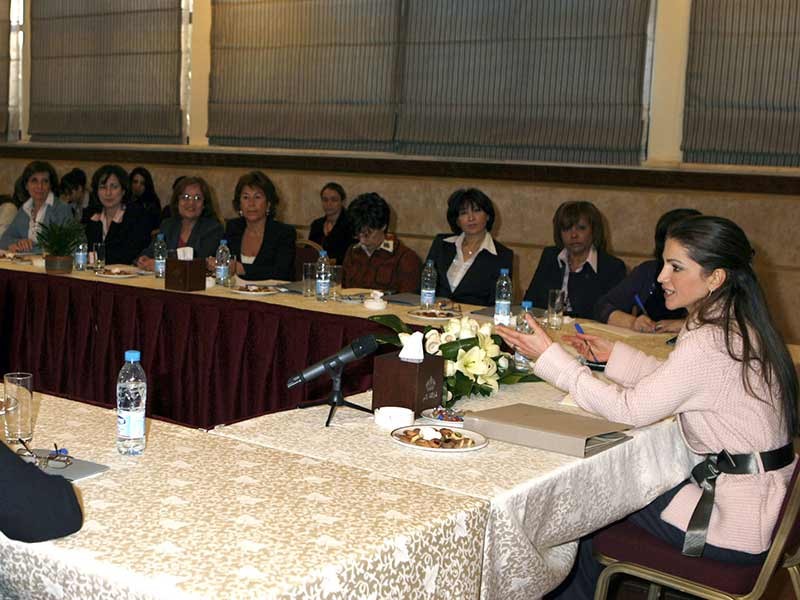 (Office of Her Majesty, Press Department – Amman) The links of the International Women's Forum's (IWF) chain are growing stronger as confident and determined women help the network grow. After taking part in a fruitful Leadership Enhancement and Mentoring Program sponsored by the Jordanian chapter, participants joined Her Majesty Queen Rania Al-Abdullah to share their experiences and stories of personal growth over the course of the program.
"This network brings people together to organize efforts and focus on women's priorities," said the Queen with pride as she heard the women recount their success stories.
"Before participating in the program, I didn't know exactly how to express myself to my colleagues—especially my superiors. I was nervous because the environment I worked in was male dominated, and being new I was unsure of myself," said one of the program beneficiaries, "but this program taught me how to assert myself; how to put my thoughts together so I can discuss my opinions with my colleagues; and how to ask for what I need."
Other beneficiaries discussed the various lessons learnt from the program. "It helped me realize my own personal shortcomings, and how to modify certain qualities of mine while enhancing others in order to communicate better with my colleagues," said one of the beneficiaries.
Another beneficiary said, "I walked into the program confident, and I left even more confident!" While some beneficiaries discussed stories of balancing their personal lives with the demands of their jobs and others discussed a variety of challenges they faced, the common thread in all their stories was a boost in their level of confidence.
"When I hear these stories, it increases my self confidence in my self and the women around me," said Queen Rania, "and it strengthens my position when I talk to people from the international community about how strong and empowered many women in Jordan are."
Her Majesty also met with the Board of Directors of the IWF's Jordanian chapter, of which she is the Honorary Chairperson.
The board updated Queen Rania on their activities throughout the past year, including their participation in IWF's international conferences. Raghda Kurdi, who is on the international board, noted that many of the women she has interacted with say they are impressed when they see the example of women's leadership in Jordan. "Now, many of the women want to come to Jordan," she said, "and we want them to come to see the true image of a strong, confident Arab woman, so that they can dispel the stereotypes that they have."
Others noted how useful the exchanges between the women have been in developing a strong support network, to which Her Majesty noted that "outreach breeds positive results, and success builds on success…one person can affect 10 others, and those 10 affect 50, and it goes on."
The International Women's Forum is a global organization of prominent women of significant and diverse achievements. It was first established in 1982 to facilitate networking among these women and promote opportunities for women in leadership.
IWF Jordan currently has 22 members and is looking to expand by adding 14 new members in 2007.
"We're a small circle, today," said Her Majesty, "but I look forward to seeing this circle grow."

Queen Rania's official website
This website does not support old browsers. To view this website, Please upgrade your browser to IE 9 or greater
Your browser is out of date. It has known security flaws and may not display all features of this and other websites. Learn how to update your browser