Queen Rania Calls for More Coordination in Tackling Domestic Violence During NCFA's Board Meeting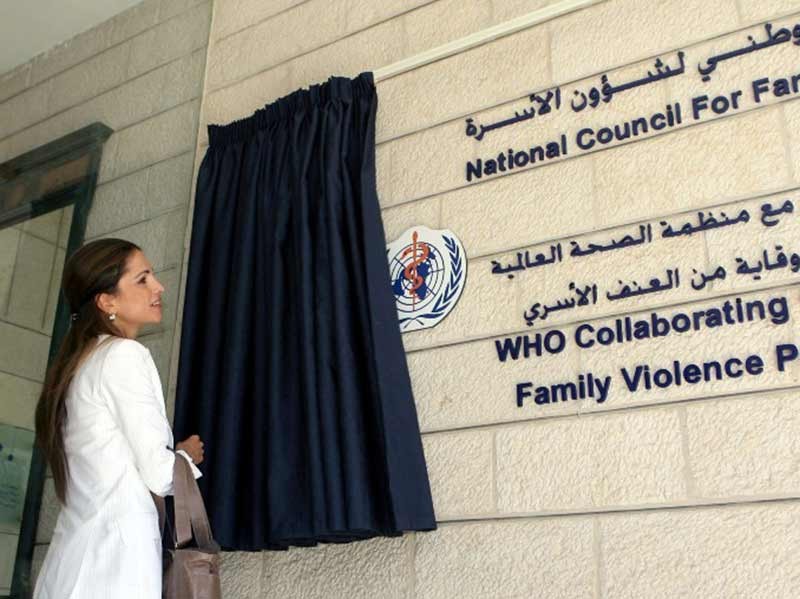 (Jordan Times - Amman) Her Majesty Queen Rania launched a report by the National Council for Family Affairs (NCFA), which included recommendations on ways to prevent domestic violence and improve health conditions in the country.

The report, developed in response to the World Health Organisation's (WHO) call at the launch of the Global Health and Violence Report in 2002, focuses on the international framework for combating violence and its correlation with health.

It also attempts to define violence, its types and underlying causes, in addition to public measures to combat it. Furthermore, it highlights the status of violence in Jordan and the measures and procedures undertaken to address this issue.

In 2002, the WHO declared violence to be a public health issue of top priority and called on state members to evaluate this phenomenon.

According to the WHO website, each year, over 1.6 million people worldwide lose their lives to violence, which is the leading cause of death for people aged 15-44 years, accounting for 14 per cent of deaths among males and 7 per cent among females.

For every person who dies as a result of violence, many more are injured and suffer from a range of physical, sexual, reproductive and mental health problems, the website says.

Jordan was among the first countries to respond to the WHO's call by developing the Jordan Health and Violence Report — an attempt to establish a scientific reference along with other studies and research on this issue.

The report's recommendations included the need to focus on qualitative and quantitative information related to violence in order to gain a clearer picture of the status of violence in the country and determine the means to address it.

The report also called for raising awareness on violence prevention by introducing special subjects into the school curricula, such as human rights courses.

Chairing a meeting of the NCFA board of trustees, the Queen emphasised the need for the council to enhance its role through the reinforcement of its partnerships. The NCFA should also draw up a structural framework and a timetable to regulate its efforts, she said.

Participants also underlined the need to evaluate the benefits and the impact of NCFA programmes on families.

Queen Rania, who is the president of NCFA, also unveiled a plaque commemorating the partnership between the council and the WHO.

Last year, WHO accredited the NCFA as a cooperation centre in the East Mediterranean region for the prevention of domestic violence and bestowed the title of WHO Patron for Violence Prevention in the East Mediterranean region on the Queen.

Queen Rania's official website
This website does not support old browsers. To view this website, Please upgrade your browser to IE 9 or greater
Your browser is out of date. It has known security flaws and may not display all features of this and other websites. Learn how to update your browser