Queen Rania and Prince Charles of Wales visit the Ajloun Nature Reserve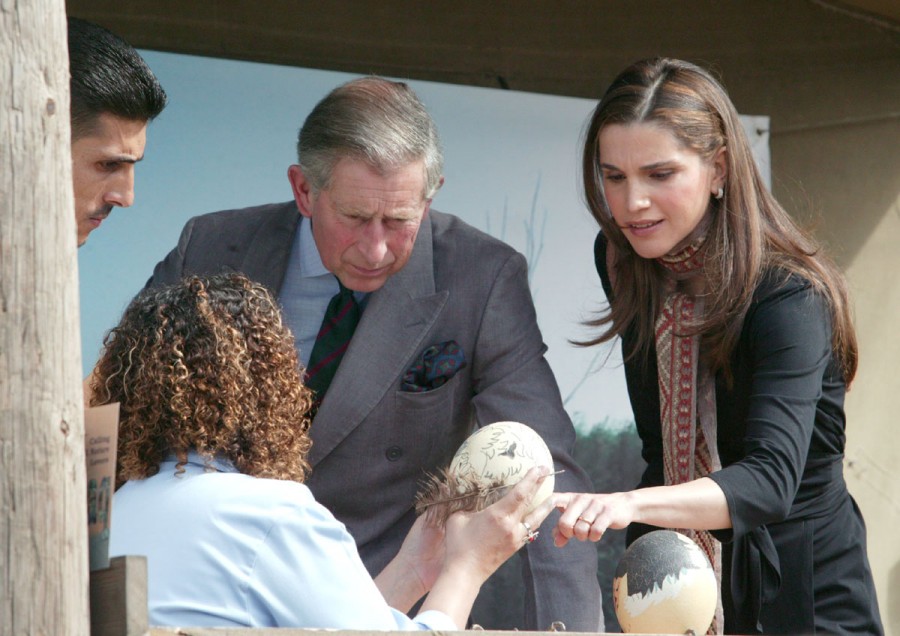 (Office of Her Majesty, Press Department - UMM AL YANABEEH / AJLOUN) Her Majesty Queen Rania Al-Abdullah and HRH the Prince of Wales on visited the Ajloun Nature Reserve - a pioneer eco-tourism project launched by the Jordan River Foundation (JRF) in cooperation with the Royal Society for the Conservation of Nature (RSCN).

The reserve, inaugurated by Queen Rania, highlights the importance of environmental protection while promoting sustainable community development by establishing income-generating activities in the surrounding woodland area.

Accompanied by HRH Prince Ghazi Ben Mohammad, the King's Private Adviser and Personal Envoy as well as British Ambassador Christopher Prentice, Prince Charles was greeted by schoolchildren wearing traditional Ajloun dress.

Queen Rania and Prince Charles were briefed by RSCN President Senator Layla Sharaf about the nature reserve project which started 18 months ago, following which RSCN Projects Director Chris Johnson gave a brief overview of the society's work and future plans in the area.

Touring the reserve's campsite enabled Queen Rania and Prince Charles to take a first hand look at products and facilities provided at all of Jordan's nature reserves through samples showcased in the reserve's different cabins. Such reserves include Dana, Moujeb, Azraq, and Shomari, through which RSCN hopes to spread awareness on environmental protection while encouraging optimal use of touristic, environmental, geographical resources in such areas.

Her Majesty and the Prince of Wales were also briefed by JRF Director General Maha Khatib, who gave an overview of the role of JRF in Ajloun, highlighting efforts in social and economic community empowerment.

Before concluding their visit, Prince Charles and Queen Rania also met with a group of children from the area benefiting from the eco-tourism and environmental education programs.

Earlier in the day, Prince Charles visited one of JRF's projects - Al Karma Center in Jabal Natheef. The project, inaugurated by Queen Rania in September 2002, provides assistance in generating employment opportunities and creating co-operation between local communities, government and private organizations.

Al Karma Center has five projects: Al Karma Kitchen project, Jordan River Design project, Wadi Al Rayan project, Al Karma Nursery, and the Training Institute.

The Prince of Wales is in Amman on a four-day working visit on the last leg of a tour that has already taken him to Turkey and Italy. His visit, at the invitation of Their Majesties King Abdullah and Queen Rania, includes trips to development projects and educational and cultural programs being implemented in the Kingdom, which receive financial and technical support from various British institutions. His itinerary also includes tours to various prominent attractions and historical sites in the Kingdom, including Mount Nebo, Bethany and Petra.

A non-profit NGO founded by Queen Rania in 1995, JRF spearheaded many projects in Ajloun Governorate that provide employment opportunities for local residents and training courses for their benefit.

The latest venture currently under-way is the promotion and implementation of Ajloun Master Plan, an ambitious urban development plan that will formulate a vision and public investment program for sustainable development and tourism promotion in Ajloun city, Ajloun castle, Anjara and the surrounding area.

The plan will entail working on identifying protected zones and defining the zones with tourist potential to be designated for investment in recreational and ecotourism infrastructure.
It will also update and improve zoning plans for urban settlements and identify opportunities for the economic rejuvenation of urban areas.

Under the direction of Queen Rania, JRF is now planning a pilot project in Ajloun to certify and promote organic farming in the governorate by maintaining organic practices, introducing new technologies and techniques, improving incomes by establishing new markets and responding to the growing local demand for organic produce.

Ajloun has been selected as the pilot governorate in which this project would be established since it has the requirements needed in terms of average rainfall, type of soil and the extent of agricultural and livestock activities.

A task force consisting of representatives from the agriculture sector, health, environment and NGOs will oversee organic farming training and workshops and establish a certification body to assure healthy chemical-free produce in addition to verifying all processes, including growing, harvesting, preserving, processing, storing, transportation and marketing, to be in accordance with approved materials and practices.

While the reserve is the first eco-tourism project in Ajloun and unique in terms of the resources and services offered, the master plan goes in line with the vision of promoting sustainable community development while preserving different areas of the Kingdom culturally, historically, and ecologically.

The Ajloun Reserve therefore makes environmental protection a means of promoting sustainable community development through developing eco-tourism activities within and around the area as a means of supporting conservation programs and providing job opportunities for the local community.

It is hoped that the pilot project will encourage its replication throughout the various governorates of the Kingdom, as it showcases a successful example of how building a corporate identity for the different governorates can benefit the country at large.

The pioneer initiative in Ajloun, a haven of rolling hills covered by dense woodlands rich in natural, agricultural and human resources and known for its revered historic and religious significance, promises great tourism potential.

The Ajloun Nature Reserve project, funded by the Spanish Agency for International Cooperation and the Japanese Embassy, is now serviced by 10 cabins, a restaurant with a splendid view of the reserve, a visitor information center, a research center and a handicraft production center whose designs are inspired by Ajloun's picturesque beauty and reflect its culture and heritage.

Headed by Queen Rania, JRF implements various projects to develop and promote Jordan's rural clusters, in Madaba, the Northern Badia, Wadi Araba, Ajloun and the South.

Such projects are prioritized according to the needs of the local community as well as the locality's natural resources, cultivating as much as possible the unique cultural characteristics of each area to create an exclusive identity.

Last July, Queen Rania placed the foundation stone for several projects implemented by JRF which will secure employment opporunities while local farmers will also benefit from new production and marketing opportunities.

In partnership with Mercy Corps, JRF constructed a cold storage and food processing facility in the northern Ajloun cluster to enable farmers to increase their profits by promoting better marketing practices.

Since Ajloun enjoys the highest rainfall rates in the Kingdom, they also built the first large-scale rainwater harvesting pond in the area - Ibbin pond - in order to conserve valuable water resources and to improve the village's environment and landscape.
Featured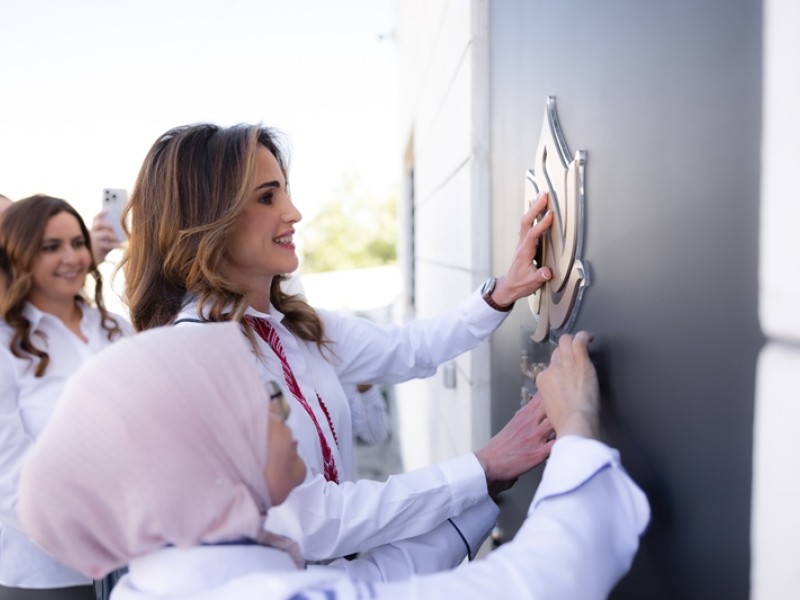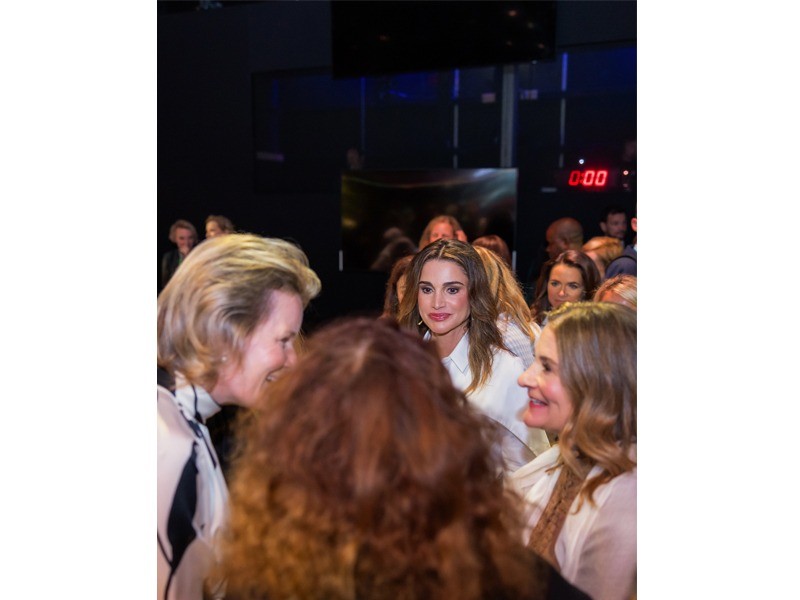 Queen Rania's official website
This website does not support old browsers. To view this website, Please upgrade your browser to IE 9 or greater
Your browser is out of date. It has known security flaws and may not display all features of this and other websites. Learn how to update your browser