Queen Rania Inaugurates JRF's 13th Annual Handicrafts Exhibition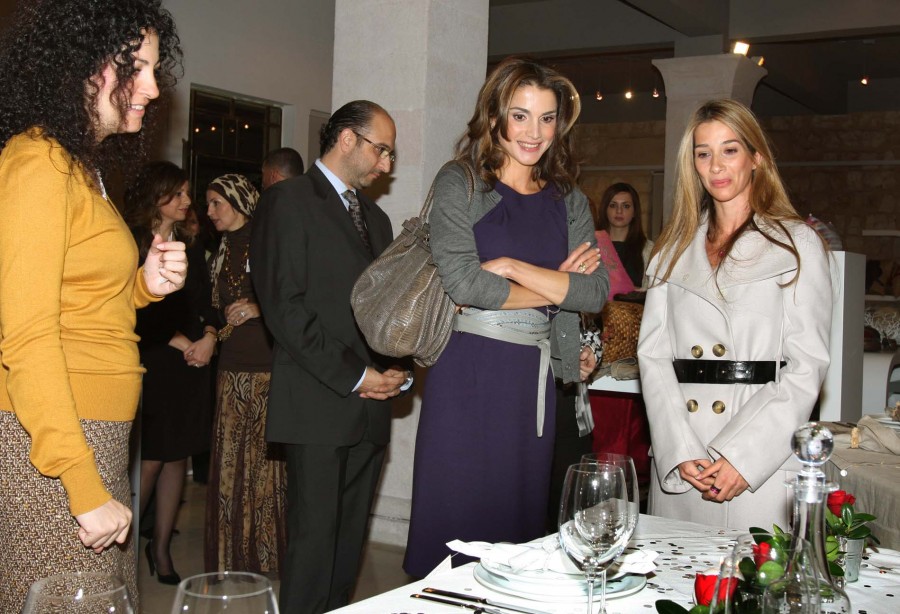 (Jordan Times, Press Department - Amman) Nahed was at first uncomfortable learning new ways of weaving.
Moving away from traditional techniques and designs she had learned and developed through working with the Bani Hamida initiative, she found it difficult at first to create modern products.
"It was strange at first, and even though it is just work, I like the way it turned out," she said.
Nahed is one of hundreds of women from the Bani Hamida village, Jabal Natheef and Wadi Al Rayan who worked for the Jordan River Foundation's (JRF) collection of handicrafts and furnishings this year.
Unveiled on Wednesday under the patronage of Her Majesty Queen Rania, the JRF's 13th Annual Handicrafts Exhibition showcased pieces made by these women and designed by four renowned Jordanian and Arab designers.
During the opening, the Queen toured the exhibits, meeting with the designers and women and learning about their new products.
Under Queen Rania's directives, the JRF formed a consultative committee to provide innovative designs and marketing for the traditional handicrafts, JRF General Manager Valentina Qseisieh said, underscoring Her Majesty's desire to empower and better the lives of women beneficiaries.
Halima Al Qaaydeh, project manager of the Bani Hamida weaving project based in an underprivileged area in Madaba Governorate, said the new approach to their handicrafts took some adjustment.
"Through our centre we are now able to have computer engineers make the designs and go out to the women's homes for them to weave. This year there were many new designs, which took the women a bit longer," she said, noting that women earn a monthly salary of between JD180-JD350, much more than the average salary in the village.
Project coordinater Rada Abu Fardeh at the Al Karma Centre in Jabal Natheef, added that although it took the women employed by her project some time to learn new techniques, they were more than capable of incorporating their traditional patterns with new-age methods.
Designer Maysoon Haymoor, who played a large role in developing the new look of this year's JRF collection, said she was inspired by traditional patterns and colours, which she adapted to modern styles.
"Tribal art across the world has all these abstract shapes and contrasting colours while Islamic architecture is multilayered, so I incorporated that with abstract designs and bold colours," Haymoor told The Jordan Times during the opening yesterday.
Another aspect in designing the 2009 JRF line, according to the Amman-based designer, was localising the product, making the items more "uniquely Jordanian", while giving each item a modern touch.
For instance, Bani Hamida's line of candles was not economically successful. In order to attract customers' attention and turn them into high-end souvenirs, Haymoor changed the candle lines to reflect areas in Jordan such as "Old Amman", with the scents of rosewater and jasmine and "Trees of Jordan", with candles that mimic the aroma of Madaba eucalyptus, Ajloun pine and Jordan Valley lemon blossoms.
Since repackaging the brand, JD30,000 worth of the candles have been sold, she said.
But despite the modern applications, the hand-woven JRF products still retain their heritage, Haymoor stressed.
"All items are traditionally Jordanian, just with a modern twist," she pointed out.
Qaaydeh agreed.
"This is our culture and heritage, only now our women are able to make items in their homes for the homes of people in cities like Amman and Irbid," she said.
"That's truly Jordanian," Qaaydeh added.
The exhibition will be open to the general public as of today at the JRF's main exhibition hall in Jabal Amman from 8:30am-7:00pm on weekdays, and 10:00am-6:00pm on weekends and holidays.


Queen Rania's official website
This website does not support old browsers. To view this website, Please upgrade your browser to IE 9 or greater
Your browser is out of date. It has known security flaws and may not display all features of this and other websites. Learn how to update your browser