Queen Rania inaugurates first Intel Computer Clubhouse in Jordan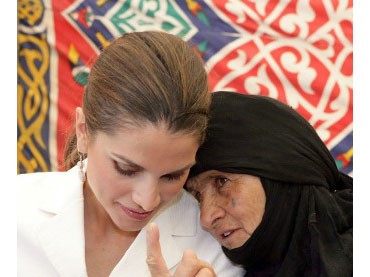 (Office of Her Majesty, Press Department - Amman) Her Majesty Queen Rania Al-Abdullah inaugurated the country's first Intel Computer Clubhouse - an after-school program set up to provide community-based technology-learning programs, enabling youth in underserved areas to acquire the tools necessary for personal and professional success.
Established in partnership with the Intel Corporation, the International Youth Foundation (IYF), the Jordanian Hashemite Fund for Human Development (JOHUD) and the Museum of Science-Boston, the Intel Computer Clubhouse, set up at Queen Zein Al Sharaf Institute for Development in Hashmi Al Shamali, will serve young people aged 10-18 providing them with access to high-tech equipment, professional software and volunteer mentors to help them develop the self-confidence and enthusiasm for learning they need to be successful in the future.
Queen Rania commended the establishment of the Computer Clubhouse, highlighting the importance of such facilities and the resource they constitute for Jordan's future generation.
"Thanks to the dynamic and proactive combination of the International Youth Foundation and the Intel Corporation, we now have a state-of-the-art computer clubhouse for Jordan's youth. Enabling and encouraging our young generations to access the vast opportunities in the world of information technology is one of the greatest gifts we can give them," Queen Rania said.
Queen Rania, who serves on the IYF Board, toured the clubhouse and discussed with students the opportunities it provides and the skills they learn through the facility which has been provided with state-of-the-art equipment.
Based on the Computer Clubhouse learning model created by the Museum of Science, and the MIT Media Laboratory in 1993, the Intel Computer Clubhouse in Jordan is part of a network of more than 90 Clubhouses worldwide.
The philosophy of the Intel Computer Clubhouse is based on providing a supportive learning environment where youth build skills and self-confidence, as well as a future, working together with adult mentors who provide inspiration and serve as role models.
Mrs. Farah Daghistani, Executive Director of JOHUD, described the launch of the Intel Computer Clubhouse as "a milestone and an extraordinary opportunity for the young people of Jordan."
"We take pride in what has been achieved and the commitment of everyone to provide youth a place to interact with one another, have an outlet for their creativity and gain valuable insight as to their own worth and future prospects," she added.
In his remarks, IYF President and CEO David Hornbeck thanked the partners in the project and underlined the IYF's appreciation for Queen Rania's leadership in ensuring young people in Jordan have greater access to educational opportunities, especially around information and communications technology.
"We have benefited greatly from her wisdom and passion that she brings to the critical issues facing youth today. Queen Rania has made "closing the hope gap" an underlying goal of her efforts here and around the world – a mission I heartily endorse," Hornbeck told attendees.
The clubhouse is expected to welcome as many as 60 youngsters a day who can experiment with technology as a tool for learning and creative expression and develop creative technology skills such as graphic design, music production, audio-visual editing and art work.
"Key to the successful launch of the Intel Computer Clubhouse has been the far-reaching partnerships between Intel, JOHUD, the Museum of Science, the local community and IYF," said Mr. Hornbeck. " IYF is proud to be part of this alliance. Having been a partner in helping to create the first Intel Computer Clubhouse in the Arab World in the West Bank, we are particularly pleased to see this model being replicated here in Jordan."
"When we support programs like this that build upon knowledge, encourage creativity, foster confidence, and connect youth to the larger community – we are, in Queen Rania's words, closing the hope gap. Given the increasingly complex, diverse, and often divided world in which we live, there is no more important task in which to be engaged," he added.
Mr. Christian Morales, Intel Vice President and General Manager, Europe, the Middle East and Africa underlined his company's belief in the importance for young people to have access to PCs in order to gain the technology skills that are a must in today's world.
"Recognized by the Jordanian leadership, computer literacy is today the fourth skill that everyone needs -- in addition to reading, writing and counting -- in order to compete in the workplace. Intel is happy to have had the opportunity, through this clubhouse and other educational initiatives, to support Jordan's move in the direction of the information society," Morales added.
In a taped message, Intel CEO Craig Barett said the Clubhouse is all about investing in the youth of today who are the leaders of tomorrow. "We thank Queen Rania for her vision and leadership in empowering youth in Jordan and the Arab World," he said.
Ms. Ingeborg Endter, representing The Museum of Science, underlined how similar Clubhouses change people's lives. "I've seen it in Boston, in Dublin, in Ramallah. As the Network grows in 19 countries around the world – we know that we will have touched and changed thousands of young people's lives. I am sure it will here too."
Explaining how Clubhouses provide a safe environment for youth, where a "community of learners" -- young people, and staff – can use professional software to create computer-based projects inspired by their own ideas, Ms Endter emphasized how each Computer Clubhouse contributes much to their community, and in sharing with other Clubhouses make an enormous impact as a global movement.
Headed by Chairperson of the Board of Trustees HRH Princess Basma, JOHUD operates across Jordan through a network of 50 Community Development Centers, providing partnership support to local communities to promote sustainable development and self-reliance among people in under-served locations. JOHUD promotes community involvement through volunteer programs, to develop a strong sense of social responsibility among youth who learn to exercise their rights whilst respecting the rights of others.
Currently operating in more than 60 countries and territories, IYF and its partners have helped millions of young people gain the skills, training and opportunities critical to their success. Since its founding in 1990, IYF has supported programs that improve the conditions and prospects for young people where they live, learn, work, and play.
Intel's sponsorship of the Intel Computer Clubhouse is part of the Intel® Innovation in Education initiative, a collaboration with educators in communities around the world to improve the quality of engineering, mathematics, science and technology education by providing commitments of time, programs and resources to help students realize their full potential.
Intel, the world's largest chip maker, provides financial, technical, career, and volunteer mentor support to proliferate the Intel Computer Clubhouse Network globally. In addition, Adobe Systems Incorporated, which provides the largest software donation, Autodesk, Corel, Hewlett-Packard, Macromedia, and the company Procreate have all committed a total of more than $10 million in software, hardware and services to the Intel Computer Clubhouse Network. Other organizations involved include the Bill and Melinda Gates Foundation, LEGO Systems and Haworth Inc.


Queen Rania's official website
This website does not support old browsers. To view this website, Please upgrade your browser to IE 9 or greater
Your browser is out of date. It has known security flaws and may not display all features of this and other websites. Learn how to update your browser