Queen Rania Underlines the Arab Open University's Role in Furthering Quality Education in the Arab World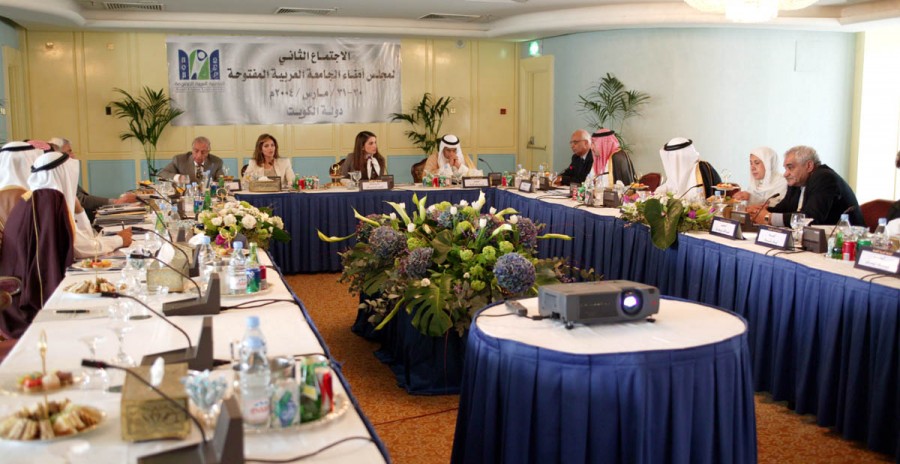 (Office of Her Majesty – Press Department – Kuwait) - Her Majesty Queen Rania Al-Abdullah, co-chair of the Arab Open University (AOU) Board of Trustees, underlined the important role of the university in promoting quality education in the Arab world.
On a one-day working visit to Kuwait, Queen Rania chaired the second meeting of the AOU's Board of Trustees, with the participation of Her Highness Sheikha Majida Al-Jaber Al Sabbah, His Highness Prince Turki Bin Talal Bin Abdul Aziz, Kuwaiti Minister of Higher Education Dr. Rashid Al-Hamad and AOU President Dr. Munther Salah.
Her Majesty said she hoped this meeting would come up with practical means to boost the role of the AOU, its future plans and academic specializations offered, adding the idea of establishing the university stemmed from the pressing need for this kind of education, especially with current changes and circumstances affecting the Arab World.
During the meeting, attended by a number of ministers of higher education and education experts from the Arab world, Members of the Board reviewed the AOU's annual report, future plans, and the international accreditation system that would allow students to continue their higher education in international universities.
They also discussed the AOU program with UNESCO of building a telecommunications network linking all its branches in Arab countries. In addition to teleconferencing, the network will allow the AOU to transmit lectures delivered in any branch to all other branches.
Co-chaired by His Royal Highness Prince Talal Bin Abdul Aziz, who is also President of the Arab Gulf Program for United Nations Development Organization (AGFUND), the AOU headquartered in Kuwait, started branches in Jordan, Lebanon, Egypt, Saudi Arabia and Bahrain in 2002.
The AOU, the first university of its kind in the Arab world, is a non-profit institution that adopts an innovative open system for higher education, promotes equal opportunities for life long learning, and fosters modern IT resources to support the learning process.
The AOU is supported by AGFUND, a regional development institution established in 1980 upon the initiative of HRH Prince Talal Bin Abdul Aziz and with the support of the Leaders of the Arab Gulf States.
AGFUND is concerned with the support of sustainable human development efforts, targeting disadvantaged groups in the developing countries, particularly women and children, in cooperation with the organizations and institutions active in this field.
Concluding her visit to Kuwait, Queen Rania also met with members of the Jordanian community residing in Kuwait to exchange views on building bridges of communication between Jordanian civil society organizations and their Kuwaiti counterparts underlining the relations between both countries.
Queen Rania had arrived in Kuwait Tuesday morning and was met upon arrival by Her Highness Sheikha Amthal Al-Ahmad Al Al-Jaber Al-Sabah, Kuwaiti officials, the Jordanian ambassador to Kuwait and embassy officials.

Queen Rania's official website
This website does not support old browsers. To view this website, Please upgrade your browser to IE 9 or greater
Your browser is out of date. It has known security flaws and may not display all features of this and other websites. Learn how to update your browser