Queen Rania highlights Jordan's success in increasing women's participation in political and economic arenas during a 2 day working visit to Ireland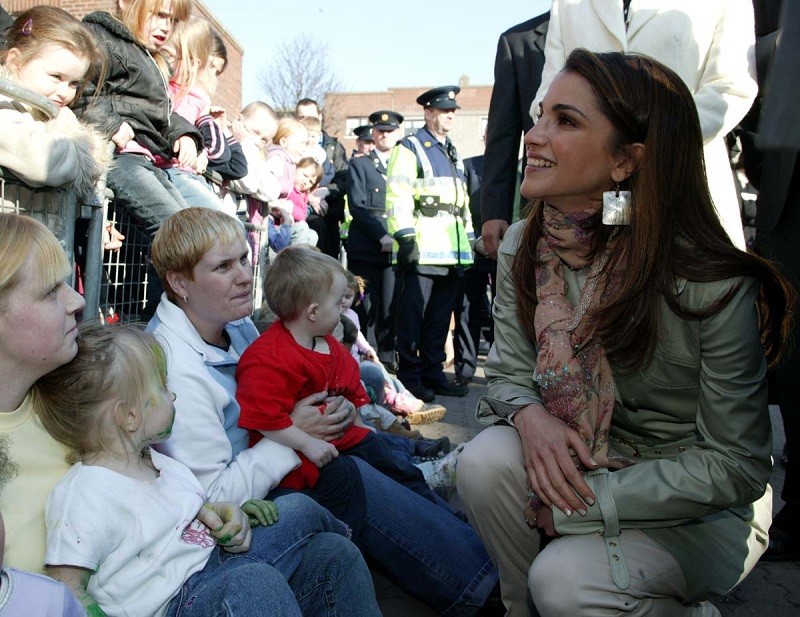 (Office of Her Majesty, Press Department - Dublin) Building on her national and international efforts to integrate youth and women in the development process of societies, Her Majesty Queen Rania Al-Abdullah met Ireland's women decision-makers and visited an urban regeneration site project for disadvantaged youth in Dublin.
On a two-day working visit to Ireland with His Majesty King Abdullah, Queen Rania visited the community of Fatima Mansions Project where the International Youth Foundation (IYF) is active in reinvigorating an underdeveloped community to give hope to residents faced with poverty, lack of health care, social ills and despair.
Queen Rania was greeted by children and residents of the area at the community center and was welcomed by Gemma McKenna, chairperson of Fatima Groups United, who briefed Her Majesty on the success story in the area and the programs and projects that exemplify the spirit of the new regeneration process which support a real chance for children, education, health and decent work for decent people to be able to shape their own future "Queen Rania's visit is not just a visit of a political dignitary to a blighted housing estate. This is a visit of a great leader to our home," McKenna said, adding " she is the Queen of Jordan, but to us she is also the Queen of fairness and equality."
She said the community of Fatima Mansions was collectively participating in creative development against the odds, echoing Queen Rania's speech at the Jeddah Economic Forum: "It will not help to wring our hands, point our fingers or clench our fists. First we must all participate".
During her visit to the area, Queen Rania visited the Ark project, a unique initiative that serves to develop the artistic abilities of children while also encouraging their full participation in the regeneration process. She also unveiled a sign for a new project and had her hand print cast in cement as a memento.
The IYF, one of the world's largest public foundations whose board Queen Rania joined in 2002, works with a distinguished group of business, government, and civil society leaders from across the globe to help young people learn basic life skills and get the education, training, and opportunities they need to succeed.
Queen Rania is active in promoting a better understanding of the needs of young people and the means to address them, supporting initiatives to promote communication and dialogue among young people and with the nation's decision-makers saying "youth are the tools of change and we must reap the benefits of their contributions."
Earlier this year, Queen Rania, on behalf on the IYF, wrote an article in The Financial Times entitled "Closing the Hope Gap: Our Greatest Challenge," in which she said "For real advances to be made, youth must have a voice, and be at the forefront of global change and innovation …. our greatest challenge … is the 'hope gap' that separates the world's people, from the earliest age, into those who have a future, and those who cannot even imagine one. And it is our collective responsibility to bridge that gap."
Queen Rania also met with Irish women parliamentarians, senators, ministers and members of civil society and the business community where she showcased the Jordanian experience in empowering women, noting the strides Jordan has undertaken in this field by increasing women's representation and participation in the political and economic arenas.
The Queen told parliamentarians that Ireland and Jordan have many things in common, as small nations, proud of their independence, strengthened by a stable society rooted in family and faith.
"Like you we are a resourceful and resilient people who are determined to take our rightful place in the community of nations…. We are building a knowledge-based society and emerging as a hub for technology investment in our region," Queen Rania said, adding that Jordan was creating a model by combining public and private sector initiatives to form a dynamic national economic policy.
Among Arab countries, Jordan currently has the highest percentage of women serving in the legislative and executive branches of government. There are now six women Parliamentarians elected last June after the introduction of the women's quota; the number of senators is now seven, up from three, and there are now three ministers in the 21 member Cabinet.
Queen Rania has often stressed that women's participation in public life was not a goal but rather a vital tool needed to achieve progress in society. As president of the Arab Women's Summit from 2002-2004, one of the main projects Queen Rania is spearheading is an Arab media campaign in support of women's issues.


Queen Rania's official website
This website does not support old browsers. To view this website, Please upgrade your browser to IE 9 or greater
Your browser is out of date. It has known security flaws and may not display all features of this and other websites. Learn how to update your browser