During Launch of Global Action Week in DC, Queen Rania Urges "It's Time for a New Chapter in the Global Illiteracy Story"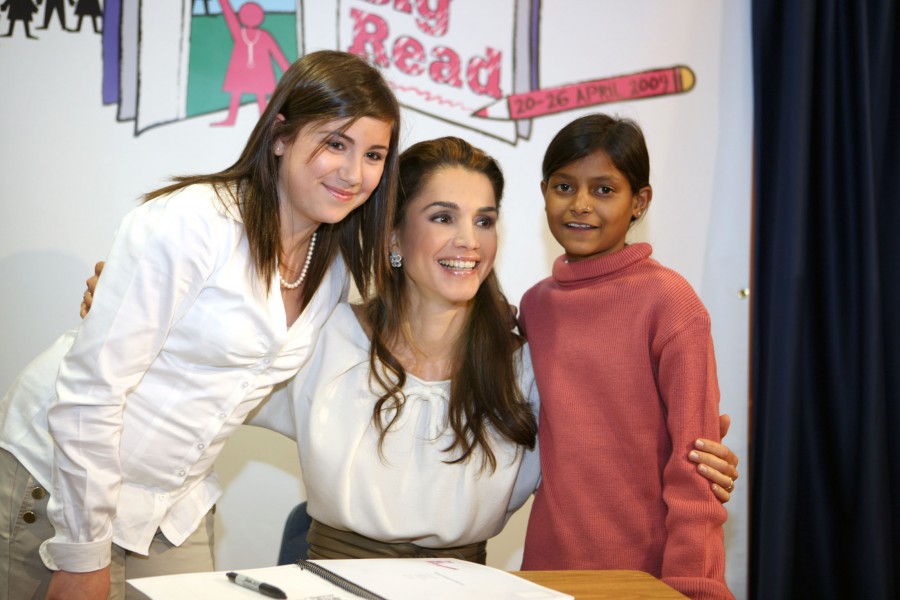 (Office of Her Majesty – Press Department – Washington, D.C.) - Her Majesty Queen Rania, on Tuesday, officially launched the beginning of Global Action Week (April 20-26th) organized by the Global Campaign for Education (GCE) to fight illiteracy worldwide with 75 million children currently out of school.
In an event held at the National Press Club in Washington, marking the opening of this year's Global Action Week- the Big Read Event- Her Majesty called on millions around the world including teachers, children, campaigners, adult learners and parents, to take part in the Big Read campaign: "it's time for a new chapter in the global illiteracy story," she said.
As honorary chair of Global Action week, Queen Rania was joined at a roundtable discussion on education by Congresswoman Nita Lowey, Counselor to the Secretary of Treasury Gene Sperling, American Federation of Teachers President, Randi Weingartner, U.S. representative for the GCE, David Gartner and Gayle Smith, Director for African Affairs at the National Security Council.
During the event, Her Majesty expressed her highest hope that "every paragraph poured over, and every page turned, will inspire a reading revolution and amplify the many voices calling for equal access to school and a quality education for all."
Addressing a group of fourth graders from the Ben Goldberg's Rock Creek Valley Elementary school- present among the audience- Her Majesty also asserted: "If we give children a chance, they'll do the rest."
Highlighting the benefits of literacy and lifelong learning, Her Majesty continued: "An education gives children choices to make changes in their lives so that they can learn more about themselves, build self-confidence, and secure their futures."
Also attending the event yesterday, were 13 year old Jessica Markowitz, "Big Read" US participant and GCE supporter, and little Devli Kumari chosen to represent the voice of child and bonded laborers everywhere for the "Class of 2015: Education for All" campaign organized in New York last September. "Every time I pass by a roadside restaurant and see children working, my heart aches and my heart will continue to ache until I help them go to school," said Devli.
At the end of the conference, Her Majesty Queen Rania was joined by both girls to sign the "Big Read" book, as a symbol of her continued support to the organization's cause. "We're here today to say no to global illiteracy and yes to education for all," she concluded.
In an effort to raise global awareness of education as a basic human right, the "Big Read" book has been distributed free of charge in more than 100 countries to children, parents and adult learners. During Action Week, readers will add their names to a declaration which demands that all governments deliver good quality free, public education for all.
In a visit to Johannesburg last month, Queen Rania narrated, Her Big Read story, "Maha of the Mountains," to a group of children from Soweto and Thembisa. The story, which tells of a young girl's dream to become a school teacher, highlights the importance of education as means to achieving one's deepest aspirations. The Big Read book compiles short stories written by leading global figures and international authors including Nelson Mandela, Chimamanda Ngozi Adichie, Paulo Coelho, and Alice Walker.

Queen Rania's official website
This website does not support old browsers. To view this website, Please upgrade your browser to IE 9 or greater
Your browser is out of date. It has known security flaws and may not display all features of this and other websites. Learn how to update your browser