Queen Rania's Acceptance Speech for the Atlantic Council Global Citizen Award 2013 - NY, USA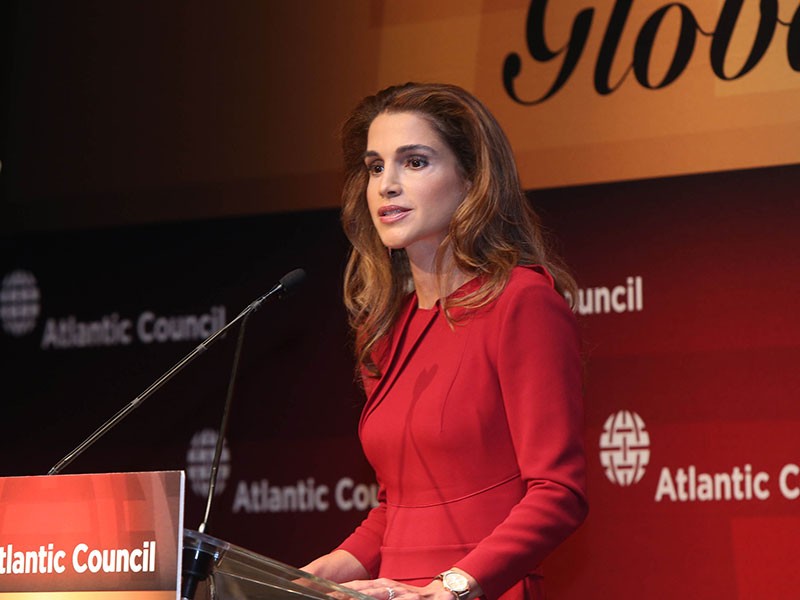 Thank you, Secretary Kissinger, for your kind words... The last time I saw Secretary Kissinger, he was calling security on Stephen Colbert for dancing into his office to a Daft Punk song… so we should all be on our best behavior!
And thank you to the Atlantic Council for this honor; I'm touched and humbled by it. Allow me, also, to offer my warm congratulations to my fellow awardees tonight.
With your permission, I'd like to dedicate the Atlantic Council's 2013 Global Citizen Award to the people of Jordan. For it is them from whom I've learned most about how to be a global citizen. Their humanity and benevolence, especially towards the Syrian people at this time, continue to move me.

I can't decide whether it's apt or ironic to be talking about global citizenship at this moment in world affairs.

Perhaps it's both.

But with ever more violent rhetoric…mounting tensions…and human suffering in my part of the world, it's a good time to remind people of what it means to be a global citizen.

To be a global citizen, we must, first, be local citizens. People who take part in the social and political life of their communities… who respect and value diversity... speak up against social injustice…and look after those most in need.
And, whereas, national citizenship is an accident of birth, global citizenship is an act of will. It requires that we consciously understand the connection between the local and the global…and acknowledge our inter-dependence. It requires that we take time to learn about the world beyond our borders – its merits, challenges and injustices – and our role and responsibility in it. It requires moral courage and a commitment to step up and make a difference.

For some, this is instinctive. For others, it must be learned. Either way, it relies upon a strong foundation of values to inform our choices and guide our decisions.
Values such as: tolerance, generosity and forgiveness...compassion and service…respect and empathy. The ability, as J.K. Rowling once said, 'to think ourselves into other people's minds...and imagine ourselves in other people's places.'

I see these values in action every day in my country, Jordan.

Since the Syrian conflict started over two years ago, thousands, now millions, of refugees have fled to safety. The Jordanian people have opened their homes and their hearts…and extended the hand of friendship to those in desperate need. I could not be more proud of, or humbled by, their selflessness, their sacrifice and their kindness. Jordan has always been, and will always be, a country of moderation…a haven of tolerance…and a sanctuary for those fleeing insecurity and danger. His late Majesty King Hussein instilled in us all this value of common humanity. And my husband, His Majesty King Abdullah, proudly honours that legacy.

But we cannot do it alone. Jordan has neither the wealth nor resources with which some countries in the region are blessed. Rather, we're burdened by poverty and unemployment.

So, with over half a million refugees in Jordan, and more arriving every day, we desperately need help. Governments have been generous. But the UN agencies and civil society groups on the ground are at breaking point trying to meet growing demand. We urgently need the global community to dig deeper… help the most vulnerable…and show them what it means to belong to a global family.

We need them to think themselves into the fearful and troubled minds of Syrian children who haven't gone to school for over two years. And imagine the agony of their parents watching their sons' and daughters' futures slip away.
We need them to think themselves into Jordan's border towns, besieged by desperate refugees, where rents are rising and where there's competition for scarcities like water and fuel. And jobs.

And we need them to imagine the strain on the teachers in make-shift schools in Jordan, Syria, Turkey and Lebanon, teaching double even triple shifts, in tents and buses, with scant resources, to keep children learning.

And when the world does that…when they see those children as their own children…those parents as their own parents…those teachers as their own teachers then we can rightly call ourselves a family…a community. But we're not there yet.
The need for global citizenship -- action that accompanies empathy -- has never been greater. Not only to meet today's challenges…but the looming crises of tomorrow…in my region and beyond.

To create a generation of global citizens, we must make education a priority. We must invest in it. Train more teachers. Build more classrooms. And increase access for the 57 million children out of school. Because global citizenship isn't an epithet, it's an ethos. And it's best learned holistically in schools.
We know that educated children grow up to be better global citizens. Their families are healthier. They're more likely to contribute to their communities and countries. Their societies will be more equitable…their nations more stable and prosperous. That's why, on the Secretary-General's high-level panel on the post-2015 agenda, we recommend that education be at the heart of the new development targets.
But we need your voice and influence too. As you continue the important work of the Council, please advocate for more humanitarian help for all those affected by the Syrian conflict. Please lobby for investment in education. For it is in schools that the roots of citizenship are nurtured…and where those labours blossom in voluntary work and school exchanges.
Ladies and gentlemen, it is not enough only to imagine ourselves into the world we want. Global citizenship doesn't happen because we want it to happen; it happens because we make it happen. When we roll up our sleeves and build foundations under lofty ideals and bold aspirations. It's an act of will. And it's the legacy we leave our children.

Thank you very much.
مواضيع مختارة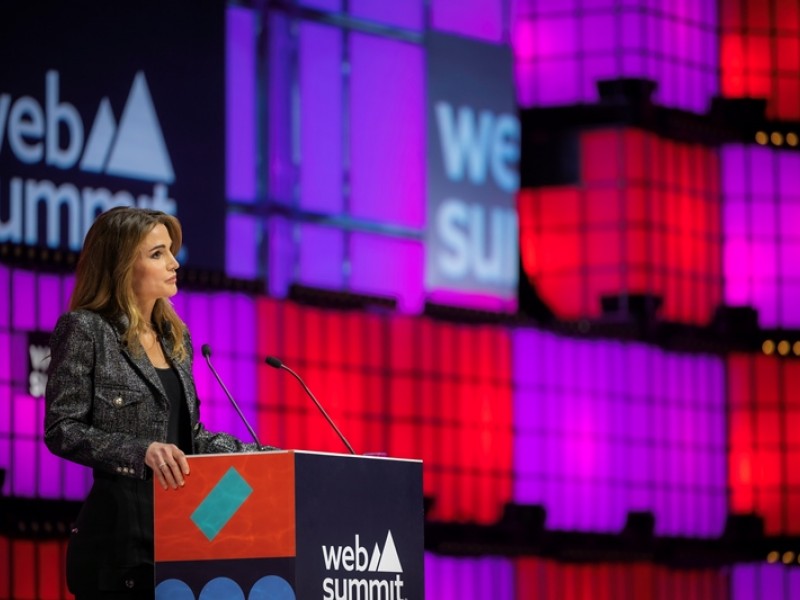 موقع جلالة الملكة رانيا العبدالله الرسمي
هذا الموقع الإلكتروني لا يدعم متصفحات الإنترنت القديمة. الرجاء تحديث متصفح الإنترنت إلى نسخة أحدث من إنترنت إكسبلورر 9
متصفح الإنترنت الذي تستخدمه قديم. لتحسين مستوى الأمان عند تصفح مواقع الإنترنت و مشاهدتها بالشكل الصحيح و بفعالية افضل قم بتحديث متصفح الإنترنت الخاص بك