Story Time
The Sandwich Swap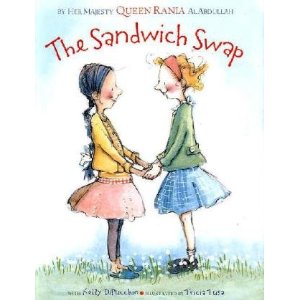 Inspired by Queen Rania's childhood, The Sandwich Swap tells of two girls, Lily and Salma, who are best friends. They share and do everything together – except when it comes to lunch. One has a peanut butter and jelly sandwich, the other a hummus and pita sandwich, and they both think the other's food looks "gross"! When they finally come out and say what they think, their friendship is pushed to the limits. The argument gets a little bit messy, but eventually they overcome their differences and embrace diversity.
The Sandwich Swap is a New York Times bestseller, reaching the number one spot for children's books in May 2010. Proceeds from the book support Madrasati, one of Her Majesty's initiatives to rejuvenate disadvantaged public schools in Jordan. Co-authored with Kelly DiPucchio and illustrated by Tricia Tusa, the book was released in English in April, 2010. The Sandwich Swap appeared in Arabic in June under the title Salma and Lily. Also available in Japanese, Korean, Spanish, and Portuguese, the book can be bought on Amazon and at Barnes & Noble.
Maha of the Mountains

Maha of the Mountains tells of a young girl's determination to go to school despite intense pressure from her family and village to stay at home. The story was inspired when Queen Rania met a young Arab woman who had overcome great social barriers to earn an education.
In 2009, the story appeared as part of a short story collection for the Big Read, an event to promote literacy, organized by the Global Campaign for Education. Other contributors included global statesmen, like Nelson Mandela and Desmond Tutu, as well as world famous authors, such as Paulo Coelho and Alice Walker. Queen Rania's story is available in Arabic, English, French, and Spanish. You can download a free copy here.
Eternal Beauty


In celebration of Mother's Day 2008, Eternal Beauty tells the story of a young girl's conversation with a little sheep as she searches for the most beautiful thing in the world.
The book was released as part of the Greater Amman Municipality's contest "Mama's Story", which promoted the importance of reading and story-telling in Jordanian culture. The book was published in Arabic and Braille.
The King's Gift


As a tribute to King Hussein, and on the first anniversary of his death, Queen Rania wrote "The King's Gift", a children's book about King Hussein. The book was released in both Arabic and English, and distributed to a collection of public schools across Jordan.