Wednesday, February 13, 2013
Queen Rania meets with student winners and participants of the Intel Science Competition-Arab World 2012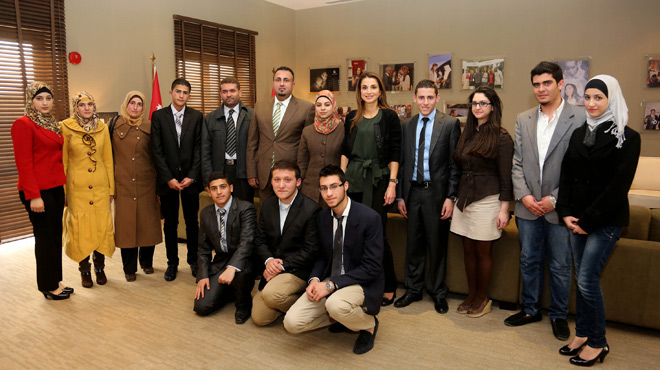 (Office of Her Majesty, Press Department-Amman) In recognition of some talented and ambitious students in Jordan, Her Majesty Queen Rania Al Abdullah met today with winners and participants of the Intel Science Competition-Arab World 2012, which took place in December in Dubai and drew 130 students from 11 Arab countries.
During the meeting, first place grand prize winner Shatha Al-Sabbah from Jumana Bint AbdelMutaleb School in Irbid spoke about her project which tests the effect of methanol in basil plants on the oxidation and toxification of the liver.
Queen Rania asked the students about the ideas behind each of the projects and how their teachers and other academics from different universities were able to help. She also inquired about the process these projects undergo until they are implemented.
"You should be proud of yourselves," Her Majesty told the students adding that their ideas are creative, stem from everyday-needs, and are made using simple and available resources.
Dr. Mohammad Abu Al Jdou', Intel Program Manager at the Ministry of Education, explained that the students also excelled in the chemistry and biochemistry category, like Abdallah Bani Issa from Al Koura Entrepreneurship Center who won second place for his project which uses small scale Mg/Cu galvanic cell as a battery. Also, for their environmental fridge project, Fawzi Ghassan and Nour Maraqa from Al Raed Al Arabi School, Amman won third place for the categories of energy and transportation, environmental management and sciences.
Other students spoke briefly about their projects which they implemented with the help of their teachers and that fall into different categories such as the environmental management and sciences, energy and transportation, chemistry and electricity.
They also told Her Majesty about the support they received from different universities which allowed them to use their labs for experiments, and how pleased they were to be working under the supervision of different academics who continuously guided them throughout the competition.
Projects include a device to predict earthquakes and a classroom desk that transforms into a computer. These two projects have also received other international awards.
Other projects included an environment friendly car exhaust, a robot that remotely extinguishes fire, and a device that is placed on cars to prevent accidents in front of schools.
The first annual Intel Science Competition - Arab World was held in Egypt in 2010, the second in Al-Sharjah, UAE in 2011, while the third took place in Dubai in December 2012 under the patronage of UNESCO and in partnership with the Ministry of Education of the UAE.
A national science fair will be held on February 23rd in Amman where students will be selected to participate in the Intel International Science and Engineering Fair in May 2013 in USA, and the Intel Science Competition - Arab World 2013.
Helah Al Mir'ie, teacher of first place grand prize winner at Jumana Bint Abdelmutaleb School said that the Intel program, which is implemented in cooperation with the Ministry of Education, was launched in 2003 and has so far benefitted thousands of teachers through its various training courses.
Teacher Mohammad Amaireh from Al Ko