Sunday, March 16, 2014
Her Majesty Queen Rania Al Abdullah joins a group of youths from across Jordan in a focused discussion to determine Jordan River Foundation strategy for youth development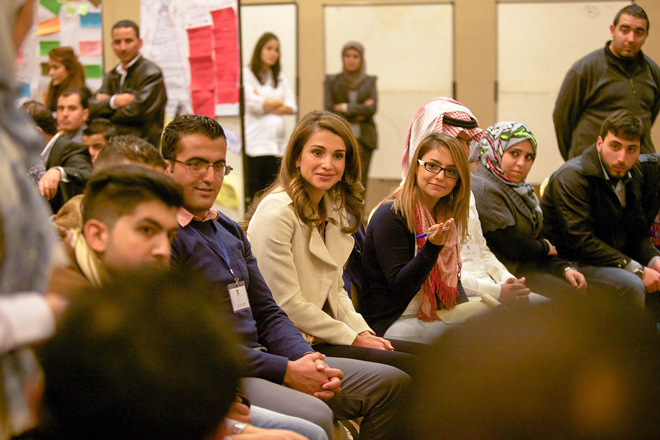 (Office of Her Majesty – Press Department - Amman) Her Majesty Queen Rania Al Abdullah today joined 120 youths from across the Kingdom who are all active participants in various programs run by the Jordan River Foundation (JRF) in a discussion whose aim was to outline the foundation's strategic youth development plan for the coming 5 years.
This discussion, which was held at the King Hussein Youth City, is the first of many activities planned for the future that will include the involvement of local institutions in both the public and the private sector. The aim of these planned activities is to build a comprehensive strategy for youth development that can be implemented by all constituents of the community so as to achieve the best results based on the opinions, ideas, and initiatives of Jordanian youth.
Her Majesty told the participants how important their opinions are due to the fact that they all face challenges and thus have a big role in identifying priorities. Her Majesty asserted the importance of their participation in the process of drawing future plans and not just the implementation of such plans.
Her Majesty had the chance to talk with participants at the workshop as they were split into different groups for discussion. The first group, under the title of "How I think", focused on the youth's perception of the community and the various comprising stakeholders. This group focused on how youths interact with these different components from their vantage point.
In another group titled "Me and My Community", participants were asked to create their own community based on dialogue. Group members prepared a list of strengths and weaknesses to help identify relevant institutions of authority and their importance in their imagined community.
A group titled "I am able to change" looked into the different things that youth can contribute to their communities and the mechanisms through which they can offer them. They also discussed the various societal institutions that can help them achieve and implement change.
All group discussions aimed to showcase the ideas and issues of most relevance and importance from the perspective of the youth as well as to shed light onto viable solutions that could be implemented across Jordanian governorates. The group discussions also served as a platform for receiving feedback from the youth, that would ultimately help JRF develop adaptable solutions. This reasserts the notion that JRF does not think on behalf of the youth when developing their programs, but instead makes them an active ingredient in the planning process as well.
General Director of Jordan River Foundation, Mr. Ghaleb Qudah stated that the youth development strategy of the foundation for the upcoming 5 years will focus on strengthening communication and networking between more than 22,000 Jordanian yo