Queen Rania's Speech at the UNF Reception of MDG Review Summit 2010 - NY, USA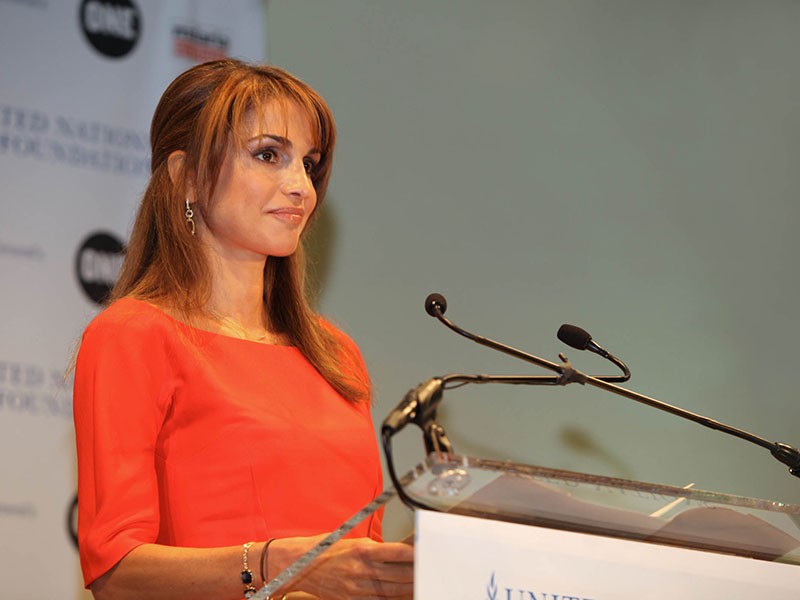 Thank you, Derrick.

I once read that to achieve great things, two things are needed: a plan…and not quite enough time!

After two days of discussions and renewed commitments, I'm pleased that we now have a plan to achieve the MDGs. With only five years to go until our deadline, we certainly don't have "quite enough time."

Thank you to everyone who contributed their energy and expertise to that urgent process.
So, are we set to achieve 'great things'? Have we achieved 'great things' already? It depends who you ask.

Ask the 400 million people lifted out of poverty since 1990; they will attest to a better life.

Ask the mothers of the three and a half million children who survived this year, where once sickness would have cut their young lives short; their grateful sighs are the answer.

Ask the 50 million children who now enjoy going to school every morning; their eager hands and smiles tell their own story.

But ask the little girls who still walk miles every day to find water…or the orphans whose mothers died in childbirth leaving them to fend for themselves…or the bewildered teenagers in the throes of HIV AIDS watching their futures wither. And their narratives are what nightmares are made of.

Because although our progress has boosted many; our lack of it, has left behind many more.

So, we must turn our attentions, urgently, from planning to executing, from talking to doing, to achieve "great things" for the world's neediest people.

And, let me just echo the Secretary General's words, and say how lucky they are to have, in all of you - champions, advocates, messengers of peace - some of the most compassionate and hard-working people I know, pushing to turn politicians' pledges into positive and lasting change.

With five years to go, we need to double those efforts now.

We need foundations to scale up successes.
We need advocacy to take off.
We need politicians to be more accountable.
We need to make leaders listen.

Achieving great things is possible if we make every second count for the children of the developing world.

It's our time, it's their time…and it's about time we kept our promises to end global poverty.

Thank you very much.

موقع جلالة الملكة رانيا العبدالله الرسمي
هذا الموقع الإلكتروني لا يدعم متصفحات الإنترنت القديمة. الرجاء تحديث متصفح الإنترنت إلى نسخة أحدث من إنترنت إكسبلورر 9
متصفح الإنترنت الذي تستخدمه قديم. لتحسين مستوى الأمان عند تصفح مواقع الإنترنت و مشاهدتها بالشكل الصحيح و بفعالية افضل قم بتحديث متصفح الإنترنت الخاص بك