Queen Rania appointed Honorary Hans Christian Andersen Ambassador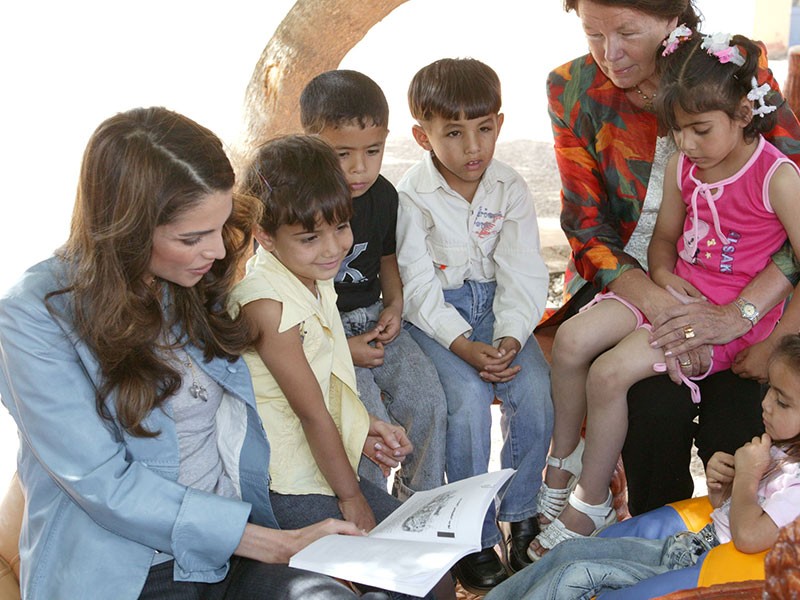 (Office of Her Majesty, Press Department - Amman) In recognition of her work in promoting literacy, quality education and cross-cultural dialogue in the Kingdom and around the world, Her Majesty Queen Rania Al-Abdullah, on Monday, was appointed as Honorary Hans Christian Andersen Ambassador to Jordan.
Hans Christian Andersen is one of the world's greatest storytellers, with familiar childhood fairytales such as The Brave Tin Soldier, The Princess and the Pea, and The Ugly Duckling amongst many others. His stories are written for both children and adults and build on universal themes of interest in all cultures around the world.
In his opening remarks at the Zaha Cultural Park, the Ambassador of Denmark to Jordan, Mr. Ole Egberg Mikkelsen spoke about the legacy of Hans Christian Andersen in fostering international cultural dialogue and the value and importance of this legacy in "today's globalized, yet fragmented world", noting that Hans Christian Andersen ambassadors "embody the true spirit of international cultural dialogue".
Upon awarding Her Majesty the ambassadorial diploma and pin, Mrs. Grethe Rostboell, former Danish Minister of Culture and Chair of the Danish Center for Culture and Development (DCCD), highlighted Queen Rania's role as "an engaged modern role model for women" and her "concrete work in improving the conditions for children in reading and education".
Ms. Mette Holst, Managing Director for the Hans Christian Andersen abc Foundation, moreover, spoke to the audience of the Foundation, which was established in memory of the renowned author, with the aim of spreading Andersen's inspiring message and to help give children and young people worldwide the chance to learn to read and write.
The ceremony was also attended by the Minister of Education, Dr. Khaled Touqan, the Minister of Environment, Mr. Khalid Irani, and the ambassadors of Sweden and Norway, Mr. Sverre Stub and Mr. Tommy Arwitz, as well as other influential and leading personalities in the field.
The appointment of the Queen coincides with the bicentennial celebration of the birth of Hans Christian Andersen, which is used to launch a renewed focus on literacy throughout the world, within a series of events and activities, conducted under the supervision of the Hans Christian Andersen 2005 Foundation.
Established by the Kingdom of Denmark, and represented by the Danish Ministry of Culture, the Danish Ministry of Economic and Business Affairs, the Municipality of Odense, the County of Funen and the Bikuben Foundation, the Foundation aims to promote the wider appreciation and awareness of the life and work of Andersen.
Her Majesty Queen Margrethe II of Denmark is patron of the activities of the Hans Christian Andersen 2005 Foundation.
At the end of the event, Queen Rania read to a group of kindergarten children one of Andersen's fairytale, The Emperor's New Clothes. Children then received gifts of LEGO toys and Arabic editions of Andersen's fairytales. The Arabic translation has been published with sponsorship from the Hans Christian Andersen 2005 Foundation.
Furthermore, the DCCD donated a considerable number of copies of Andersen's fairytales in Arabic to a literacy/reading project in Jordan. The DCCD promotes cultural co-operation between Denmark and developing countries in Africa, Asia, the Caribbean, Latin America, and the Middle East. In 2006, it will host The Images of the Middle East Cultural Festival in Denmark, under the patronage of Prince Joachim of Denmark, which will be the largest of its kind internationally


موقع جلالة الملكة رانيا العبدالله الرسمي
هذا الموقع الإلكتروني لا يدعم متصفحات الإنترنت القديمة. الرجاء تحديث متصفح الإنترنت إلى نسخة أحدث من إنترنت إكسبلورر 9
متصفح الإنترنت الذي تستخدمه قديم. لتحسين مستوى الأمان عند تصفح مواقع الإنترنت و مشاهدتها بالشكل الصحيح و بفعالية افضل قم بتحديث متصفح الإنترنت الخاص بك