Queen Rania announces winners of online campaign via twitter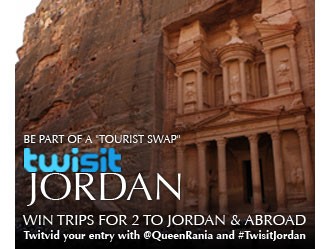 (Office of Her Majesty, Press Department- Amman) – Her Majesty announced that Ahmad Sharrar and Carla Moreno were the two lucky winners of Her Majesty's online campaign to promote Jordan as a tourist destination.

Ahmad Sharar a 20 year old electrical engineering student at Yarmouk University has the won the competition out of many Jordanian entries to the competition. All the videos submitted online as part of the competition received more than 260 thousand views in total.

Ahmad expressed his excitement and gratitude about winning the competition on Her Majesty's Facebook page saying: "I feel so proud and happy to win twisit. Thanks a lot everyone, I would have never won without your love and support, and a special thanks goes to Her Majesty Queen Rania of Jordan"

Carla Moreno, the winner from Seattle – USA got the news early in the morning due to the time difference and thanked all those who voted for her via her twitter account saying: "Just got news....I won #TwisitJordan! 3 nights of no eating/sleeping paid off! Thank you Tweeties!"

In cooperation with Twitvid (a twitter application) and the Jordan Tourism Board (JTB), anyone above the age of 16 was able win the trip for two, by simply uploading a video explaining to Her Majesty why they'd like to visit Jordan, and what is it they'd like to see.

Jordanians on the other hand, got the chance to upload videos welcoming people to their country and telling the world why one should visit Jordan. Ahmad Sharar, the Jordanian winner, will get a chance to visit the country of the non-Jordanian winner Carla Moreno.

Her Majesty described the online "tourist swap" saying: "Twisit is about fostering greater dialogue and understanding between people of different cultures. It's not a passive vacation; it's an active learning experience. It's about challenging yourself to visit somewhere new; it's exploring; it's listening and thinking; it's swapping stories and experiences; and it's about discovering something new about yourself and others.

As part of Her ongoing efforts to bridge the gaps between cultures and encourage cross cultural dialogue, the tourist swap comes as a continuation of Her Majesty's work on cross cultural dialogue on YouTube and Her recent New York Times best seller children's book "The Sandwich Swap" . It also comes as part of Her Majesty's continuous effort to promote Jordan internationally as the great tourist destination that it is.

موقع جلالة الملكة رانيا العبدالله الرسمي
هذا الموقع الإلكتروني لا يدعم متصفحات الإنترنت القديمة. الرجاء تحديث متصفح الإنترنت إلى نسخة أحدث من إنترنت إكسبلورر 9
متصفح الإنترنت الذي تستخدمه قديم. لتحسين مستوى الأمان عند تصفح مواقع الإنترنت و مشاهدتها بالشكل الصحيح و بفعالية افضل قم بتحديث متصفح الإنترنت الخاص بك