Queen Rania calls for a new perception of youth as a fourth, and leading, sector across the Arab world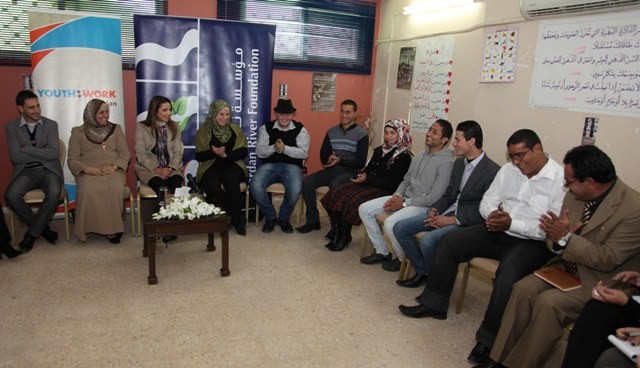 (Office of Her Majesty, Press Department - Dubai) Her Majesty Queen Rania Al-Abdullah, on Sunday, called for a new perception of, and an action-driven approach to, youth as a fourth and leading sector in the Arab world, highlighting the urgency of reaching out to, unifying and empowering, them and, in that spirit, witnessed the signing of a partnership between the Young Arab Leaders and INJAZ program.
Her Majesty's comments came during a two-day working visit to Dubai, where she participated in the Annual Meeting of the Forum of Young Arab Leaders (YAL).
In a special address, delivered during one of the main discussion sessions, Queen Rania said: "I meet with you, today, as I, together with the people of Jordan, recover from the criminal acts that struck our beloved country on November 9th."
"These vicious acts have reaffirmed that we can stand up against this evil ideology, and have reinforced, without doubt, that we are witnessing a clear battle between two conflicting ideologies… One that is based upon the principle of life and hope, and another that is rooted in murder and chaos," she added.
Highlighting the contrast between these ideologies, Queen Rania affirmed that we believe that the future is what counts, while they live in the past and seek to destroy that future. This future, represented by a fourth sector in society, is the target of today's ideological struggle.
The Queen went on to say that, "We have become accustomed to dealing with three classical sectors: the public, private and civil society sectors", adding that: "We have overlooked the fact that a fourth sector is the true representative of our future; one that comprises more than 200 million Arab citizens, citizens whose voices have not been heard through the three-sector equation".
Her Majesty also reiterated that this gathering symbolizes the voices of three-fourth of the Arab world and that youth, with all their optimism, hope and openness, and their rejection of the monopoly of thought and narrow-mindedness, constitute the fourth sector in all Arab societies.
"We have no excuse to lose this battle but our inability to unify and stimulate this sector," stressed Queen Rania, adding that "the numbers and figures are on our side, with the majority of youth seeking a platform to unite them and establish their intellectual identities".
She went on to add that, having sufficient financial and technical resources within our reach, "all we need is the will and determination to act and translate words and ideas into deeds".
Her Majesty highlighted the need to be able to measure success and progress: "We must move forward," added the Queen, "and the next time we meet we must be able to assess how far we have come in our societies, using, as measure, the names of those who have moved from the silence to action and participation in establishing the fourth sector".
Queen Rania went on to say that those names should surpass membership figures, and must represent not only the youth whose lives we touch throughout our work, but those with whom we connect and remain in touch with, thereby forming a growing constituency who share our beliefs and vision.
The Queen also said that the strength and ability of any influential movement lie in the number of members it has as well as those who represent its organizations.
Concluding her speech, Queen Rania stressed that we have no choice but to succeed so as to give our youth the future they deserve.
In line with her call for action to connect with, unify and empower youth efforts across the Arab world, the Queen attended a milestone signing ceremony during the event between the Young Arab Leaders Organization (YAL) and INJAZ Al-Arab representatives of several Arab countries.
The agreement was spearheaded by Her Majesty in the YAL Jordan chapter, which has drawn up a mechanism to support initiatives, such as INJAZ, in economic development and youth empowerment. As a result, other chapters signed agreements, Sunday, with INJAZ in Bahrain, Palestine, Kuwait, Lebanon, and the United Arab Emirates. This will help INJAZ Al-Arab reach a million Arab youth by 2015, through its innovative program of business-oriented courses taught in schools and universities by corporate volunteers to help youth find better economic opportunities.
Her Majesty Queen Rania is the regional ambassador of INJAZ Al-Arab due to her strong support of youth initiatives in Jordan and her role in encouraging Jordanians to take a more proactive role in their communities.
INJAZ AL-Arab is an exciting initiative, driven by the private sector, which will create a new generation of business-oriented youth who will become entrepreneurs or employees of choice of corporations, instead of joining the growing ranks of the unemployed. It is part of the international organization, Junior Achievement Worldwide, in which six million students participated in 98 countries in 2004.
During her participation in the Forum, Her Majesty received a Young Arab Leader Award for her ongoing support of non-governmental organizations and social entrepreneurship in the Arab world. The award was presented to her by His Highness Sheikh Mohammed Bin Rashid, the Crown Prince of Dubai.


موقع جلالة الملكة رانيا العبدالله الرسمي
هذا الموقع الإلكتروني لا يدعم متصفحات الإنترنت القديمة. الرجاء تحديث متصفح الإنترنت إلى نسخة أحدث من إنترنت إكسبلورر 9
متصفح الإنترنت الذي تستخدمه قديم. لتحسين مستوى الأمان عند تصفح مواقع الإنترنت و مشاهدتها بالشكل الصحيح و بفعالية افضل قم بتحديث متصفح الإنترنت الخاص بك