Queen Rania launches campaign for families of victims of the Aqsa intifada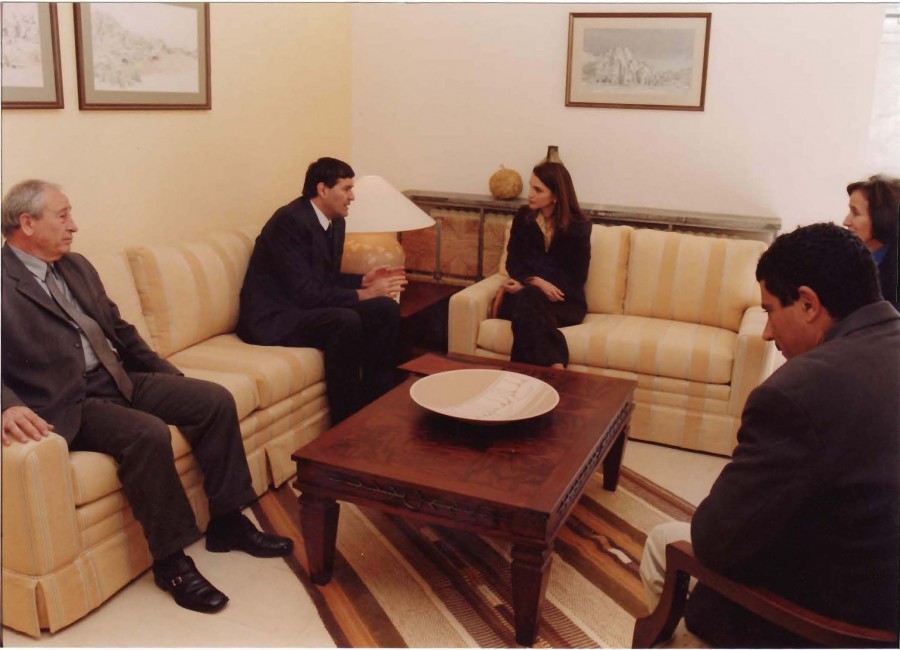 In an expression of support by Jordanian school children for their Palestinian counterparts in the West Bank and Gaza Strip, over 1000 students joined Her Majesty Queen Rania Al Abdullah on Monday at Al Quds School for Girls in Jabal Al Nuzha, to launch the National Campaign in Support of the Families of the Victims of the Aqsa Intifada.
"The launch of this campaign from the schools of the Hashemite Kingdom of Jordan effectively means the participation of nearly one and a half million students from across the Kingdom; its cities, villages, and rural areas," said Minister of Education Khalid Toukan during the launching ceremony. Dr. Toukan pointed out that the Campaign serves to demonstrate the feelings of solidarity and commitment of the children in Jordan towards those in Palestine who are defending their national soil.
The National Campaign in Support of the Families of the Victims of the Aqsa Intifada, which came as a directive of His Majesty King Abdullah and is under the patronage of the Queen, aims to provide financial and moral support to the families of the victims of the Aqsa Intifada. Beginning at schools across the Kingdom, the Campaign seeks to demonstrate the solidarity of Jordanian students with the Palestinian children and youth.
The Campaign is being implemented by the Coordinating Committee of the National Societies headed by Her Majesty Queen Rania and the Jordan River Foundation, in coordination with the Ministry of Education.
"I call upon our students, their teachers, and the parents' councils in schools across the Kingdom for their active participation in supporting (this campaign)," said Dr. Toukan, urging students to channel their efforts in gathering financial aid for the Campaign, during their extracurricular activity time as well. "This will, no doubt, leave a permanent mark on the hearts of our students, both in Jordan and in Palestine," said the Minister.
Alongside the weeklong school initiative, the Campaign organizers will also be hosting a Fundraising event on Thursday November 2nd, as well as a visit to the West Bank and Gaza Strip to deliver the finances and goods to the Palestinian families of the victims, and to assess their further needs.
Also speaking at the launching ceremony, Director-General of the Jordan River Foundation Ms. Malak El Nasser, called for collective efforts by the children, women, and men of Jordan to adequately support the families of the victims of the Aqsa Intifada.
In memory of the fallen victims, the Queen joined the students in a moment of silence.


موقع جلالة الملكة رانيا العبدالله الرسمي
هذا الموقع الإلكتروني لا يدعم متصفحات الإنترنت القديمة. الرجاء تحديث متصفح الإنترنت إلى نسخة أحدث من إنترنت إكسبلورر 9
متصفح الإنترنت الذي تستخدمه قديم. لتحسين مستوى الأمان عند تصفح مواقع الإنترنت و مشاهدتها بالشكل الصحيح و بفعالية افضل قم بتحديث متصفح الإنترنت الخاص بك