Queen Rania joins in launching Injaz in Kuwait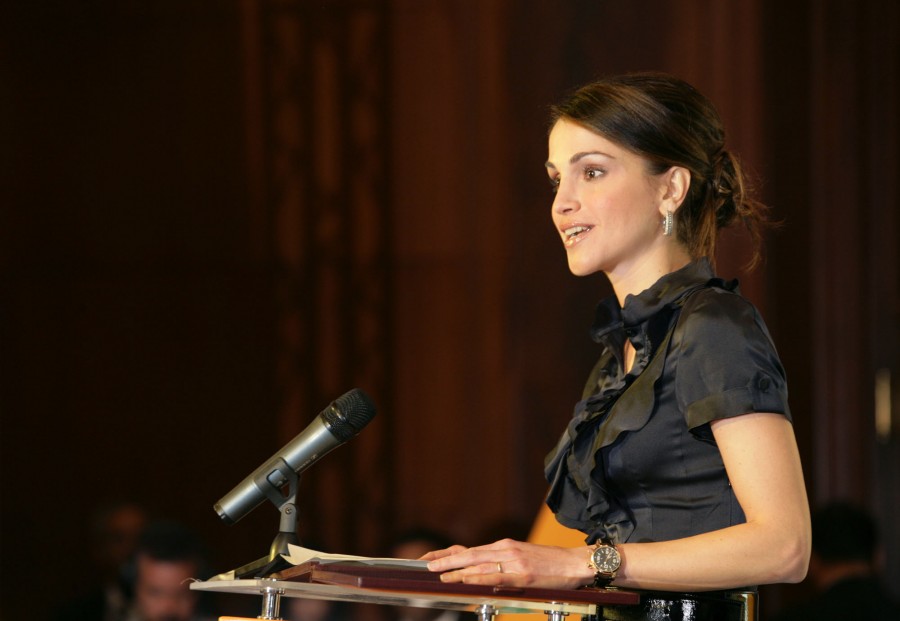 (Office of Her Majesty, Press Department - Kuwait) In 1999, the Injaz program was launched in Jordan with the goal of enhancing youth knowledge. The program's success has taken it throughout the region, and Thursday evening, Her Majesty Queen Rania Al-Abdullah joined members of the Kuwaiti royal family, government representatives and leading executives in lauding the successful expansion as Injaz was launched in Kuwait.
Queen Rania, who is the regional ambassador of Injaz said at the launch, "When the seeds of this program were planted in Jordan, we looked with hope to the future where this dream of 'Injaz' would be transformed to a community culture that leads to a way of life for us all."
Injaz is part of the Junior Achievement (JA) Worldwide program. JA is the world's largest and fastest growing organization dedicated to economic education, operating in nearly 100 countries and reaching 7 million students annually.
"Now, we look ahead to when this program will lay before us a generation known for persistence and excellence- a generation taking charge across all sectors of society," said Queen Rania.
The Injaz Kuwait launch was supported by several Kuwaiti based corporations including: Platinum sponsor Gulf Bank; Gold sponsors MTC; Agility, formerly PWC Logistics; Alghanim Industries; Gulf Cable; and Silver sponsor Al Homaizi
"The contribution made by these companies is invaluable. Injaz Kuwait is truly a bridge between business and education and through their support, these corporations are investing in the future of Kuwait and are helping to inspire young people," said Rana Kamshad, President of Injaz Kuwait.
This year, 305 students from eight Kuwait schools participated in the Injaz programs, giving them the opportunity to establish and manage their own companies, and 230 students from three schools have taken part in the Entrepreneurship Master Class where they met with Kuwait –based entrepreneurs who shared the vision, experience and achievements.
Injaz Kuwait students also participated in important international events, including the Arab Business Council meeting of the World Economic Forum in Bahrain, a meeting of Young Arab Leaders in Dubai, and the International Enterprising Forum 2006 and an international student forum in Cordoba, Argentina.
"The launch even has been a wonderful experience and we are truly grateful for the support that we received," said Kamshad, "However, this is only the beginning. Injaz Kuwait will build on this foundation to make a real difference for our country's future."


موقع جلالة الملكة رانيا العبدالله الرسمي
هذا الموقع الإلكتروني لا يدعم متصفحات الإنترنت القديمة. الرجاء تحديث متصفح الإنترنت إلى نسخة أحدث من إنترنت إكسبلورر 9
متصفح الإنترنت الذي تستخدمه قديم. لتحسين مستوى الأمان عند تصفح مواقع الإنترنت و مشاهدتها بالشكل الصحيح و بفعالية افضل قم بتحديث متصفح الإنترنت الخاص بك