Queen Rania honors distinguished youth on occasion of celebrations marking King Abdullah's birthday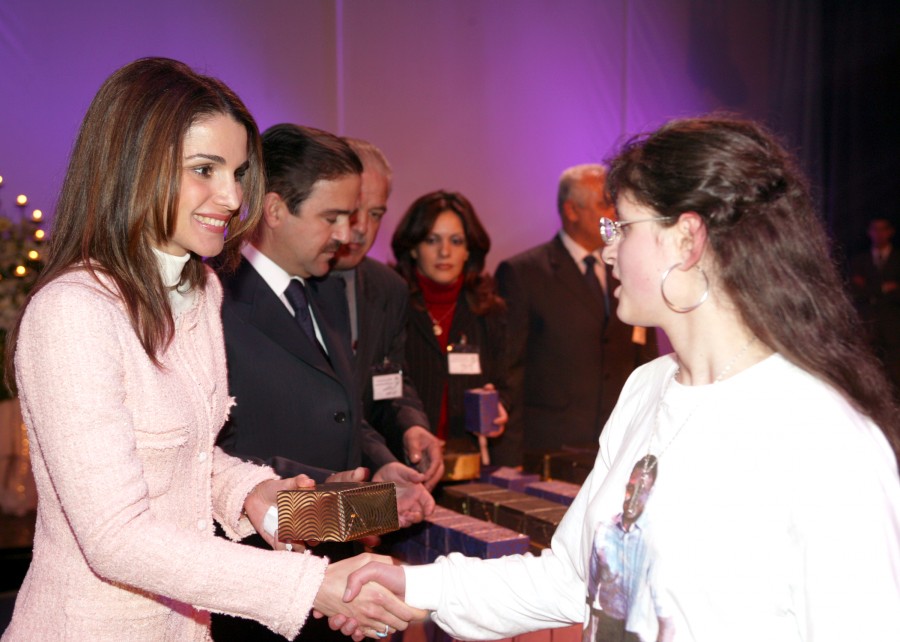 (Office of Her Majesty, Press Department - Amman) Her Majesty Queen Rania Al-Abdullah honored distinguished youth from around the Kingdom in a celebration held by the Higher Council for Youth (HCY) on the occasion of His Majesty King Abdullah's birthday.
In his opening remarks, HCY Chairman Ma'moun Noureddine underlined the role of the council in the upbringing of youth in line with King Abdullah's vision of achieving comprehensive development, based on involving all citizens in the development process, especially youth.
He noted that the HCY was translating His Majesty's vision to create a generation of excelling and pioneering youth in cooperation with governmental, non-governmental and international organizations.
Speaking on behalf of youth, Anjum Haddad delivered a speech in which she emphasized the youth sector's appreciation of Their Majesties' efforts in addressing issues of interest to youth and involving them in the development of society.
The student from Salt said the HCY's programs enabled and empowered them to better express their hopes and fulfill their aspirations while making their voices and concerns heard. Since its establishment in 2001, the number of participants in HCY's programs has risen from 3,000 to 38,000 in the year 2003 and is expected to each 75,000 by year's end.
During the ceremony, Queen Rania honored excelling members of the Youth Leadership Centers as well outstanding scouts, university students, HCY partner organizations as well as media figures who helped realize the programs and activities of the HCY throughout the Kingdom.
The celebration at the Palace of Culture at Al-Hussein Youth City was attended by Chief Chamberlain HRH Prince Ra'ad Bin Zeid, Minister of the Royal Court Samir Rifai', Royal Court Secretary-General Yousef Al Eisawi alongside thousands of youth, scouts, officials from sports clubs and organizations working in the field of youth.
The ceremony show-cased the HCY's achievements through a documentary that focused on various and diverse activities undertaken at youth camps throughout the Kingdom and the expansion of facilities at such centers to cater for the ever-growing number of participants.


موقع جلالة الملكة رانيا العبدالله الرسمي
هذا الموقع الإلكتروني لا يدعم متصفحات الإنترنت القديمة. الرجاء تحديث متصفح الإنترنت إلى نسخة أحدث من إنترنت إكسبلورر 9
متصفح الإنترنت الذي تستخدمه قديم. لتحسين مستوى الأمان عند تصفح مواقع الإنترنت و مشاهدتها بالشكل الصحيح و بفعالية افضل قم بتحديث متصفح الإنترنت الخاص بك