Queen Rania's speech at Women's Forum for the Economy and Society 2006 - Deauville, France
Deauville, France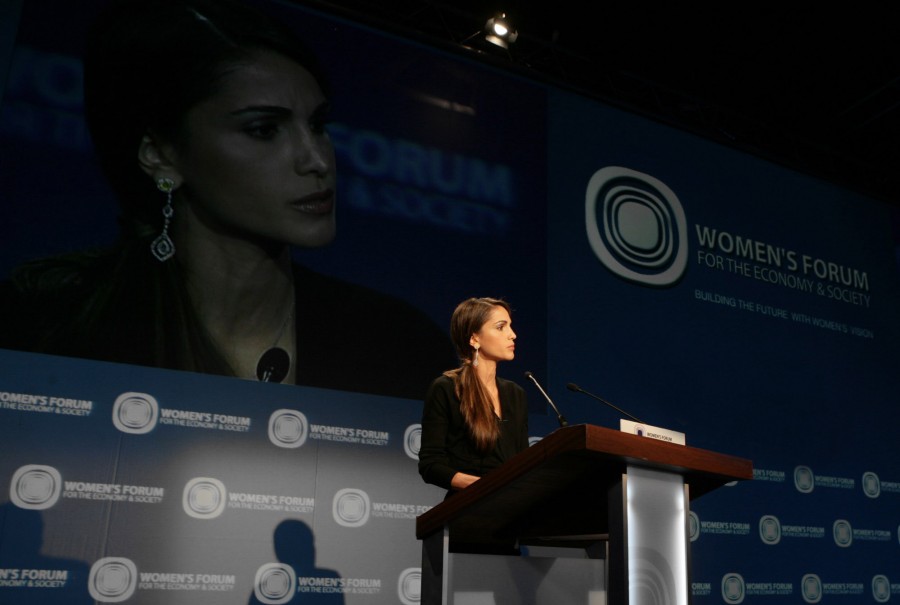 A Revolution of Acceptance and Hope
Merci beaucoup, Aude, for those warm words. Bon soir, tout le monde! It is wonderful to be here. Not only do I get to take part in a conversation on issues that I care about deeply… not only do I get to meet and learn from inspiring women from around the world… but I get to do it all in beautiful Deauville. Who could ask for anything more?!
We have come together to speak about women's responsibility for improving our societies. It is a topic that is relevant for women worldwide… and especially timely today.
On the one hand, we are lucky to be raising our children in an age of vast potential. The global economy has opened new opportunities on every continent. The Internet allows us to exchange ideas across boundaries of distance and culture. Scientists are expanding the frontiers of human knowledge. Currents of commerce and communication are bringing people closer together.
And yet, the world is struggling through a season of strife and turmoil – from terrorism and extremism… to war… to tensions within and among our societies.
It seems that, even in a world of jet travel and global communications technology, the people of the Muslim world and the West still view each other as strangers… or worse.
As a result, many people on both sides are seeking refuge within the familiar… taking comfort in going with what they know… and trying to wall out what they do not.
But there can be no true understanding or trust in a world divided by walls – and not only those walls built of concrete and stone… but the walls we erect in our minds.
And we must not allow an ideology of hatred… that is fueled by an extremist minority… to sow fear among the moderate majority -- and make victims of us all.
That is why, together with my husband His Majesty King Abdullah, I am determined to do all I can to promote a mutual spirit of acceptance – a genuine two-way understanding. And I have come to Deauville because I believe women can be leaders in this campaign – not through force, but through our skill at stitching the fabric of society together.
Around the globe… in villages and cities… in times of stability and crisis… women are often the ones responsible for keeping communities thriving.
We are the ones who nurture the bonds of family and friendship – who care for elderly relatives… volunteer in our children's classrooms… and organize community events that serve the common good.
We know from experience that sharing a neighborhood is not the same as being good neighbors, any more than eating French fries is the same as being French. We understand that being a good neighbor means actively reaching out – inviting one another into our homes… to talk… and more importantly, to listen.
And we have learned that often, when we exchange the details of our lives, the superficial factors that seemingly divide us fade away. We may not look or dress the same. We may not worship the same way. But when it comes to what makes us laugh or cry… when it comes to what we dream of for our children… when it comes to how hard we work each day… we are usually more alike than we are different.
We have also learned that the more we are able to understand and appreciate someone else's perspective, the more dimension, depth, and texture we ultimately add to our own.
Putting ourselves in another woman's shoes… and viewing the world from her vantage point… enhances our ability to empathize… compromise… collaborate… and move forward together.
Indeed, we have seen how women's willingness to seek out common ground has made them effective promoters of peace from Northern Ireland to Liberia. Today in Rwanda, we see the results of women's leadership for reconciliation – with a higher percentage of women in the parliament than any other country in the world.
Likewise, in many developing countries, we have seen women making a difference by helping one another access the power of microfinance.
When women help women secure small loans and build successful small businesses, they boost not only their livelihoods but the health of their whole community.
Even the way that women talk can contribute to building bridges. Research shows that women tend to offer supportive talk in conversations – talk that is designed to keep the dialogue going and encourage others to join in.
But if women are to fortify acceptance in our societies, we must each play an active role – like thousands of individual stars that illuminate the skies.
Just as America had a civil rights movement… just as South Africa had an anti-apartheid movement… just as the world is coming together in a movement to 'make poverty history'… I believe we must spark a movement that makes acceptance a basic part of our daily lives.
Those of you from the private sector know how corporate social responsibility has moved from a trend to an imperative for companies that want to succeed in the modern, global economy. Now, we need to give multicultural responsibility an equal footing on the agenda – and not just in the business world, but the public sector and civil society too – and show how genuine understanding of different cultures enriches our own lives.
In my part of the world, I see inspiring efforts each day – educational programs like those at Zayed University in Abu Dhabi, a women's university that encourages its students to participate in cross-cultural exchanges to Scotland… Italy… Germany… America… even videoconferences with peers in Japan.
I see Arab women business leaders forging networks with female executives in other countries – sharing best practices… creating new partnerships… and empowering one another to succeed.
I see Arab women joining global efforts to lift the lives of others – for example, through the Women's Global Action Network for Children which I was proud to help launch in Jordan in June, whose goal is to protect and promote mothers' health… girls' education… and children's survival.
And I also see promise at the grassroots level, far removed from the headlines and spotlights, often among women who will never have the chance to travel beyond their homelands. I see these women using their influence as mothers, teachers, and role models to transmit values of tolerance… open-mindedness… and respect for diversity… to their children.
But as Muslim women stand up and speak out about who we are, what we believe, and where we are going… as we reach out… we need to know that Western friends will take our hands. And I submit that gatherings like this one are a wonderful place to start, with visionary women from so many countries, cultures, backgrounds, and disciplines.
I encourage you to increase the participation of Muslim and Arab women at next year's forum.
And between now and then, I challenge you each to build a bridge of your own – to establish ties with an Arab businesswoman if you come from the private sector… to promote exchange programs with Arab students and scholars, if you work in a university… to offer an internship to a young Arab worker if you serve the non-profit arena… to get to know a Muslim colleague or neighbor in your workplace or community.
For if we are to build a better world, we must start by building bridges of friendship… asking the questions… and listening to the answers… that underpin trust and connection.
In the words of the 19th century French writer George Sand -- one of the boldest, bravest women of her time -- "No one makes a revolution by himself, and there are some revolutions which humanity accomplishes without quite knowing how, because it is everybody who takes them in hand."
Let us take our destiny in hand, as women from around the world. Let us spark a revolution of acceptance and hope for generations to come.
Thank you very much.

Queen Rania's official website
This website does not support old browsers. To view this website, Please upgrade your browser to IE 9 or greater
Your browser is out of date. It has known security flaws and may not display all features of this and other websites. Learn how to update your browser