Queen Rania's Speech at the Teacher Education at the Crossroads Conference 2009
Amman, Jordan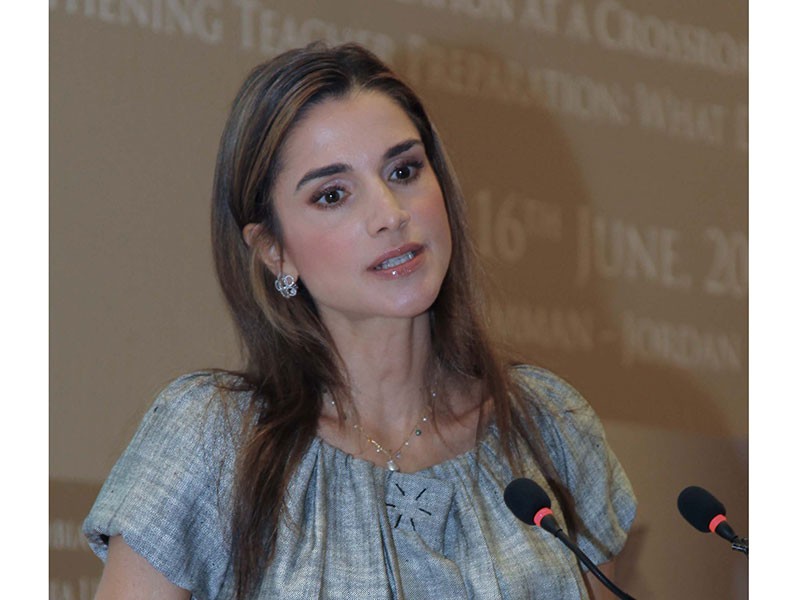 Everyone remembers a teacher they had at school who inspired them.
Everyone remembers a teacher who gave them confidence.
Everyone remembers a teacher who opened their eyes and convinced them they could be anything they wanted.
That's why this, the first Teachers' Education Conference in Jordan, is so important… because a good teacher will help you pass your exam, but a great teacher will help you surpass yourself.
So thank you to Columbia University's Teachers' College, and the World Bank for bringing us together. Your advice, expertise, support, and commitment are already proving priceless in reforming our curricula and classrooms.
I also want to thank all of you here for showing such dedication to the teaching profession… for having the vision and courage to change what it means to be a teacher in Jordan today.
Teachers are pivotal to the prosperity and promise of our families… our country… our region.
Reports tell us that teachers and teaching are "the most important influences on student learning… while teacher quality is the single most important school variable influencing student achievement."
And beyond teaching history, science or languages, teachers guide our children… shaping the attitudes, skills, and values they will use in the world beyond the classroom.
At the Teachers' Awards in Aqaba in December, Gr.4 student, Maram Ibrahim, explained to us how her teacher 'planted hope in her class', and made her and her classmates 'love studying.' Enas Jamal, a Gr.5 student, revealed how her teacher 'went beyond the text books in order to encourage them to think openly.'
We need more students like Maram and Enas, who are inspired by their teachers.
And, across the Arab world, there are signs of improvement and much to be proud of... from Yemen waiving tuition fees for young children to Egypt creating more girl-friendly schools to Morocco targeting literacy programs at disadvantaged populations.
Then there's Education City in Qatar, home to top-class branch campuses …or the Mohammed bin Rashid al Maktoum Foundation in Dubai, investing $10 billion in teacher training, scholarships, research grants, and youth leadership development.
But so much more needs to be done. A regional transformation is desperately needed.
Let me give you a few examples why:
The Arab region, of 330 million people, earns fewer patents than Luxemburg… doesn't have one university in the world's top 200… and a quarter of our young people are unemployed – a total equivalent to the entire population of Syria.
They enter the job market ill-equipped to pass an interview or start a business.
Why? Because our schools are failing to prepare our students. They learn to listen, not question… make the safe decision, not the risky one… rely on old ideas, not think beyond them.
Put simply, there's no incentive to do well…. no culture to excel.
But you can change all this.
Through your hard work, starting with this conference, we can alter course and become a region of scientists, inventing new machines or discovering new medicines… we can become a region of entrepreneurs, spreading prosperity and creating employment… we can become a region of leaders, driving global progress instead of watching it just drive by.
Together, we can tap into that power to inspire… and transform our teaching systems.
And, Jordan is ready to help lead this transformation.
Our long-term program of reform has seen the JEI bring technology to desktops… the Teachers' Award recognize the shining stars of the teaching corps… the Royal Health Awareness Society teach students about nutrition and hygiene… and Madrasati restore our neediest schools.
Now we're determined to turn our teachers into world class educators, and return respect to this noble profession.
Yesterday, we launched our Teachers' Academy, the first dedicated to the whole region, so all Arab teachers can have the chance to upgrade their expertise.
This year, we will establish Education Training Centres across all 12 governorates, to give every Jordanian teacher the skills they need to shine.
And now, the Academy and Madrasati have joined forces to find our best teachers and train them to become leaders in their profession.
But, we cannot do this alone. We are ready to work with our neighbors and partners to find solutions. So let's join together and invest in our teachers, so our children believe they can be anything they want.
This conference is called "Teacher Education at the Crossroads." But, I believe, we're already on the right path… the path towards a renaissance in learning…
So, let's stoke the fires of our passion for education.
Let's stir the confidence and curiosity that lives in every child.
And let's start transforming our teaching profession.
Thank you.


Queen Rania's official website
This website does not support old browsers. To view this website, Please upgrade your browser to IE 9 or greater
Your browser is out of date. It has known security flaws and may not display all features of this and other websites. Learn how to update your browser