Queen Rania Marks QRTA 5th Anniversary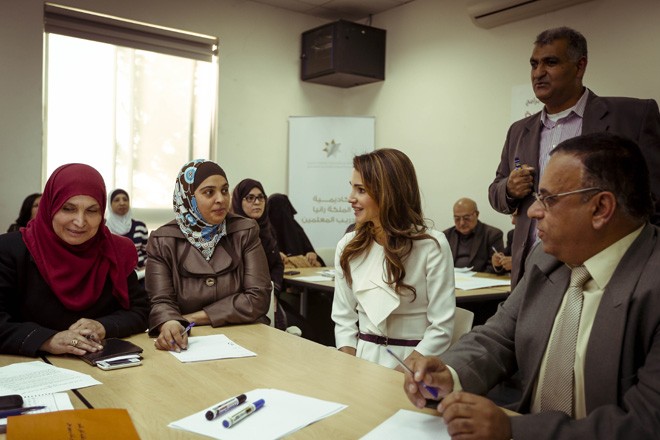 (Office of Her Majesty- Press Department- Amman) Her Majesty Queen Rania Al Abdullah joined today the team of the Queen Rania Teacher Academy (QRTA) to celebrate the 5th anniversary of its establishment.
Queen Rania visited the academy and met with a number of its members, including CEO Mr. Haif Bannayan, who briefed her on the academy's achievements in the past 5 years.

Her Majesty praised the efforts of QRTA's team and added that she considers teacher training a priority as teachers are the most important pillar of the educational system.
Queen Rania also expressed her hope that parents would witness the positive impact teacher training has had on their children's performance in the classroom.
While discussing the goals of the academy, Queen Rania said that QRTA was established to create its own teacher training curricula and reach as many educators as possible across the kingdom in order to become the leading institute in teacher training in Jordan.
Also during the meeting, Mr. Bannayan said that QRTA was able to provide teachers with a diverse set of high quality training courses, and has managed to build a number of partnerships with other international organizations that work in the education field in Jordan.
He added that the academy has become an example to other counterpart organizations inside and outside of Jordan, and it is playing an important role in forming educational policies at the national level through preparing studies to be used by policy makers.
Mr. Bannayan also explained that QRTA is currently preparing to hold its first regional conference titled "Teacher Skills Forum". The event, which will take place next month, is expected to attract 700 to 1000 educators and academics from across the Arab World.
Following the meeting, Her Majesty, along with 35 teachers, principals and supervisors, took part in a workshop that evaluates the impact of QRTA's programs on teachers' performance. Queen Rania also dropped in on a math workshop held for 70 teachers from different schools in Jordan.
Since its establishment, QRTA has benefited 19,834 educators and is expected to reach around 30,000 teachers over the next five years.
Queen Rania Teacher Academy (QRTA) was established by Her Majesty in 2009 in partnership with Columbia University to advance education in Jordan and throughout the Middle East by providing teachers access to training, professional support, and the latest research on educational methods and policies. QRTA offers ongoing professional development opportunities for educators and is supporting the creation of Jordan's first formalized, comprehensive induction program for newly hired teachers.

Queen Rania's official website
This website does not support old browsers. To view this website, Please upgrade your browser to IE 9 or greater
Your browser is out of date. It has known security flaws and may not display all features of this and other websites. Learn how to update your browser