Queen Rania encourages youth participation in community development
At the Launch of JRF Community Empowerment Center in Aqaba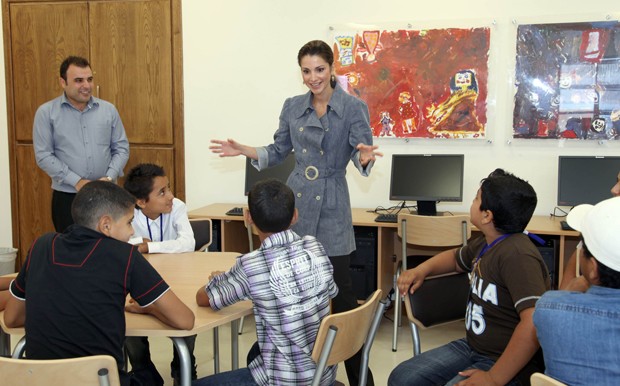 (Office of Her Majesty, Press Department- Aqaba) –Her Majesty Queen Rania Al Abdullah attended today the launch of the Jordan River Foundation (JRF) Center for Community Empowerment named after Her Majesty in Aqaba. The Queen Rania Al Abdullah Center for Community Empowerment aims to provide comprehensive social and economical services in coordination with the local community and stakeholders and is supported by Aqaba Special Economic Zone Authority (ASEZA) and the Aqaba Development Company (ADC).

Her Majesty was received at the center by Ms. Valantina Qassisieh, JRF Director; Eng. Ghaleb Al Qudah, JRF Deputy Director and a group of local officials.

Her Majesty toured the center's facilities, stopping by the daycare and counseling rooms and greeted the center's employees at their offices. Her Majesty commended JRF and the center's employees on their dedication and the great results that she's seen during the launch.

Queen Rania passed by the "power of colors" workshop for 20 kids and their mothers in the center's interactive activities hall. Her Majesty talked to the mothers and their children and heard from them about the positive benefits they reaped from the workshop.

The Queen also checked up on the computer lab, where a group of 21 youth were participating in a workshop that targets adolescences between the ages of 14-16 years.

A group of 14 women beneficiaries of the center met with Her Majesty during her tour. The group is currently participating in a training course that aims at enhancing the women's communication and outreach skills with youth and teenagers.

Her Majesty also met with a group of forty beneficiaries from income generating projects funded by Citigroup and Old Aqaba City Association. The meeting was attended by youth volunteers group "Maghaweer Al Aqaba".

The Queen expressed her pride in the results she witnessed firsthand in the center, stressing the importance of volunteerism in community development efforts by all parties involved. Her Majesty especially focused on the importance of youth participation in such efforts, encouraging them to be actively involved in their local communities.

Her Majesty had laid the corner stone of the center in April, 2008. The center provides community empowerment services that target families, adolescences and youth, social workers, students, researchers and local community organizations.

Queen Rania's official website
This website does not support old browsers. To view this website, Please upgrade your browser to IE 9 or greater
Your browser is out of date. It has known security flaws and may not display all features of this and other websites. Learn how to update your browser