Queen Rania Checks on QRTA Programs in Schools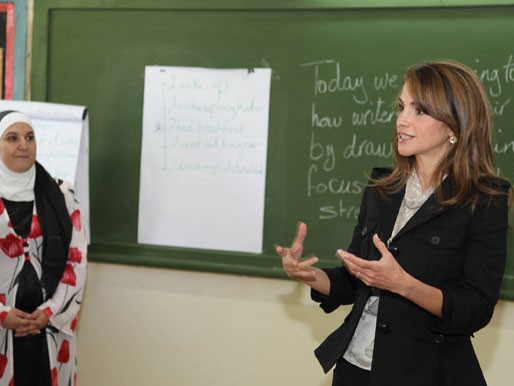 (Office of Her Majesty, Press Department- Amman) – Her Majesty Queen Rania Al Abdullah visited Al Shmeisani Al Gharbi School in Amman, to witness firsthand the effect of the Queen Rania Teachers Academy (QRTA) training programs on the educational environment in the school. The Queen toured the school and was briefed on the new teaching techniques being implemented.

Her Majesty observed the remarkable ripple effect teachers' training has had on the learning environment, which benefits the students, principles, parents, and subsequently affects local communities as a whole.

In one of the classes, Queen Rania witnessed new techniques for teaching English writing. Her Majesty interacted with the students and saw their progress. She was then briefed on how QRTA monitors progress and evaluates the trained teachers' work.

Her Majesty met with a group of three teachers and ten students who shared their success stories, the challenges they face and the benefits they gained from QRTA programs.

The discussion visibly highlighted the impact of QRTA programs in schools. The students attributed their elevated scholarly achievement and better understanding of the subjects taught, to the training their teachers received.

QRTA recently started to record mini-lessons for round table feedback discussions in order to give teachers a chance to watch and evaluate themselves. The videotaped lessons give other teachers a chance to proactively engage in collective feedback sharing, thus elevating the level of the learning experience in the classroom.

Throughout the year, QRTA staff, workshop leaders and experts from Teacher's College visit participating schools in the network program to provide onsite follow-up support and evaluate the effectiveness of workshops.

QRTA works cooperatively with supervisors from the Ministry of Education and workshop leaders in some site visits, so that all parties involved in the educational sector can gain insight into the teachers' training needs and have an opportunity to observe program implementation on the ground.

To date, 1,499 teachers, supervisors and principals have benefited from all QRTA programs. In 2011, QRTA aims to target 1,500 new teachers for the Network Program, the Induction Course, and TESOL. The Academy is currently expanding its reach in southern Jordan in coordination with Queen Rania's Madrasati Initiative.


Queen Rania's official website
This website does not support old browsers. To view this website, Please upgrade your browser to IE 9 or greater
Your browser is out of date. It has known security flaws and may not display all features of this and other websites. Learn how to update your browser