Queen Rania Al Abdullah visits Al Husseinieh District in Ma'an
Stresses importance of a quality education in providing equal opportunities for all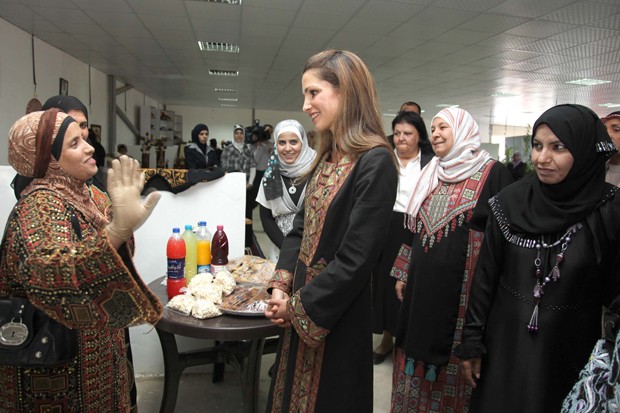 (Office of Her Majesty, Press Department- Amman) – Her Majesty Queen Rania Al Abdullah made a visit to Al Husseinieh in Ma'an today where she checked up on the Jordan River Foundation (JRF) work in the area and inspected the local youth center.

Upon Her arrival, the Queen was greeted by H.E. Mohammad Azzam, Governor of Ma'an and Valantina Qassisieh, JRF Director. Her Majesty toured Al Husseinieh Youth Center where she was also briefed by Eng. Ghaleb Al Qudah, Deputy Director of JRF, on Foundation's interventions and achievements in Al Husseinieh in a meeting that included the Governor of Ma'an, JRF team, and women and youth members of the local community.

During the meeting, the Queen conveyed His Majesty's regards to the people of Al Husseinieh and expressed her pride in the accomplishments they managed to achieve in cooperation with JRF. She also thanked JRF for all their work and complimented their achievements in the field of social development, stressing that results witnessed in Al Husseinieh, showcase the success and vitality of such efforts, especially youth and education programs.

"What I'm hearing and witnessing today reflects the enthusiasm, determination and passion for education of Al Husseinieh youth" said the Queen, adding that "a quality education is essential for providing everyone with equal opportunities". The Queen also stressed the importance of "equality in the level of services provided to those in urban and rural areas."

Speaking about education and youth unemployment the Queen pointed out that what concerns His Majesty the most is unemployed youth, who are unable pursue their future goals and form families, as this impedes their ambition and ability to give back to their communities.

Several community members spoke about the needs of Al Husseinieh and the benefits the community reaped from the JRF intervention programs, thanking Her Majesty for her visit and the attention the Queen pays to social development and education in rural communities.

JRF has been working in the area since 2008 as part of the Poverty Pockets program with the Ministry of Planning and International Cooperation (MoPIC).

JRF's interventions include capacity building programs, awareness and training on child safety, parenting, youth issues, and developing existing projects. Around 87 youth from the area were able to get jobs after receiving the training from JRF. Other interventions include providing revolving loans to the local community and income generating projects such as a gas station and automobile service center
and building a small soccer field for the local youth center.

Her Majesty also visited a local market organized by the Southern Badia Women Society where they sell products made by the women themselves, generating income for their families.

The Queen toured the market and looked at the different products that the women offer. The women spoke to Her Majesty about the importance of the market, which provides an outlet for them to gather and sell their homemade products.


Queen Rania's official website
This website does not support old browsers. To view this website, Please upgrade your browser to IE 9 or greater
Your browser is out of date. It has known security flaws and may not display all features of this and other websites. Learn how to update your browser