Queen Rania Speaks at Harvard Arab Weekend Conference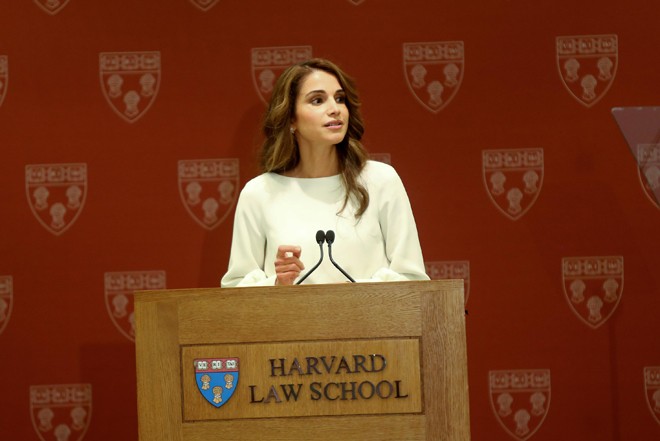 (Office of Her Majesty- Press Department- Boston) Addressing the audience at the Harvard Arab Weekend (HAW) yesterday, Her Majesty Queen Rania Al Abdullah said that a narrative of hope for a brave and confident Arab World that debuts bold role models and showcases exciting results is in our hands.
The conference, hosted by the Harvard Arab Alumni Association (HAAA) and the Arab and MENA student groups is considered to be the largest pan-Arab conference in North America held to showcase a mosaic of perspectives and insights on the most pressing issues in the Arab world. During the event, Queen Rania spoke about youth in the Middle East and why she maintains optimism in the Arab world future.
"I know, because every day, I meet amazing young people who believe in their own potential and the potential of the Arab world." The Queen said.
Queen Rania quoted the Arab Youth Survey and explained that Arab youth are more positive than their western peers, over a third of them define 'success' as making the world a better place, and over 50% of youth in the Middle East think their countries are heading in the right direction.
"They (youth) envision a future where strong economic growth spurs opportunity for all. And where incremental and inclusive political reform create moderate, democratic governments that give young people a say in their futures", Her Majesty added.
Her Majesty told the audience that Arab entrepreneurs are growing micro, small and medium enterprises that supply up to 99% of private sector jobs in some Arab countries. The 2009 Global Entrepreneurship Monitor noted that young Arabs were more likely than those in other regions to start up a business, and that amongst the working population, there's higher rates of entrepreneurial activity than the US, Germany, UK or Japan.
Queen Rania added that the Arab world has thousands of dynamic, idealistic and ambitious young Arabs who understand that the region is on the threshold of change, and that now is the time to capitalize on the energy and emerging opportunities.
"For my part, I want to capitalize on this time of transition by focusing on education," Her Majesty told the audience. "It's not a panacea for all our ills. But, done well, done creatively, it can positively impact many of the social, political and economic challenges our region faces."
Her Majesty then added that although education reform can be challenging, new and evolving opportunities as well as inexpensive and accessible tools and technologies are at our fingertips, like MOOCs.
MOOCs, which stands for Massive Open Online Courses, are high quality online courses taught to a large number of learners who may or may not be university students.
"They're flexible and free-of-charge, diverse and inclusive." Queen Rania said, "but up until now, they've mostly been available in English, excluding large numbers of Arab youth."
Queen Rania then announced the launch of a MOOCs platform for the Arab world called "Edraak" in partnership with edX, a Harvard-MIT consortium, and the Queen Rania Foundation for Education and Development (QRF).
"Engaging, fresh, relevant and, most important, in Arabic, MOOCs will open up a world of possibility for intellectually hungry Arab youth." The Queen told the audience.
Her Majesty explained that MOOCs will be a great asset in the education reform toolbox that transforms learning in the Arab world. She added that "not only will our online courses broadcast the best Arab professors, they will encourage brilliant Arab minds abroad to generate Arabic content. And more, they'll be a platform for smart Arab professionals to share their expertise."
Queen Rania concluded her speech calling on the thousands of brilliant and talented youth in the Arab world to engage and be part of the MOOCs revolution.
"That's the positive spirit that we need in the Arab world today across all sectors: education, health, technology, tourism, the environment. That's how we write an alternative narrative. And you – dynamic, young, talented Arab youth can lead the way," Queen Rania said.

Queen Rania's official website
This website does not support old browsers. To view this website, Please upgrade your browser to IE 9 or greater
Your browser is out of date. It has known security flaws and may not display all features of this and other websites. Learn how to update your browser