Her Majesty Queen Rania checks up on JRF projects in Wadi Araba
Meets with local community members and charitable associations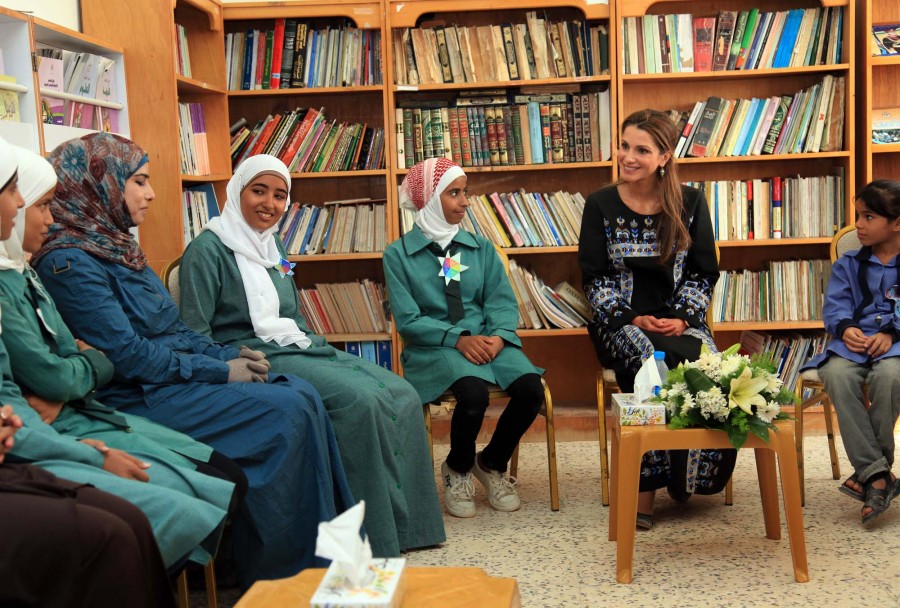 (Office of Her Majesty – Press Department- Wadi Araba) – Her Majesty Queen Rania Al Abdullah paid a visit to Wadi Araba where she inspected several projects, met with members of the local community and representatives of local associations, and witnessed firsthand the results of the Jordan River Foundation (JRF) intervention programs in the area.
Her Majesty took part in a meeting with a group of 35 representatives from five community based organizations (CBOs) in Wadi Araba; Al Amareen Association, Wadi Araba Association, Hamzeh Tourism Cooperative, Finan Stream Cooperative and Prince Hussein Bin Abdullah Charitable Society.
During the meeting, Eng. Ghaleb Al Qudah, JRF Deputy Director, gave a brief on the general interventions of the foundation in Wadi Araba as part of the Poverty Pockets programs. A discussion between members of the audience showcased the coordination and partnership that was established between these organizations and their counterparts. The discussion also highlighted the challenges faced by the associations and societies working in the area and their future plans.
Queen Rania also met with 25 beneficiaries from both Al Sharif Nasser Bin Jamil Association and Greigra Women's Association, the beneficiaries talked to Her Majesty about the revolving loans scheme they were provided and their plans for future coordination with JRF through the Poverty Pockets III Program.
Earlier, Her Majesty stopped at the Graigra Rose farm. The Queen toured the farm and was briefed about its functionality and the benefits the rose produce brings to the local community. Her Majesty was accompanied by Eng. Ghaleb Al Qudah from JRF; Mr. Awad Al Seidyeen, Head of Wadi Araba Cooperative Society, and Mr. Mousa Al Amarien, Head of Al Amarien Cooperative Society.
The Rose farm in Greigra is owned by both Wadi Araba Cooperative and the Amareen Cooperative Societies in partnership with the municipality and has provided a great source of income for the local community.
JRF initially began its interventions in the area of Finan and Greigra through the Qudurat program in 2007. In 2008, Wadi Araba was classified as a poverty pocket area and was included in Phase II of the Poverty Pockets program funded by the Ministry of Planning and International Cooperation (MOPIC). Through this program, JRF identified the priorities of the area with local community members and worked with key government partners in identifying and providing better services.
Her Majesty also toured and inspected the Greigra Secondary School for Girls, where she checked up on the work done by Her Madrasati Initiative.
In the Library Her Majesty had a discussion with students, teachers, parents, and other beneficiaries of the initiative. The participants talked to the Queen about their volunteerism efforts in the local community and the role that Madarasti played in elevating the standards of education in the school. Programs implemented include: After School Tutoring, English teachers training by QRTA, Career Guidance Workshop (implemented in partnership with the Ministry of Labor and Ministry of Education) and the Sports for Development program implemented by Madrasati.


Queen Rania's official website
This website does not support old browsers. To view this website, Please upgrade your browser to IE 9 or greater
Your browser is out of date. It has known security flaws and may not display all features of this and other websites. Learn how to update your browser