Her Majesty Queen Rania Al Abdullah visits Hosha in Al Mafraq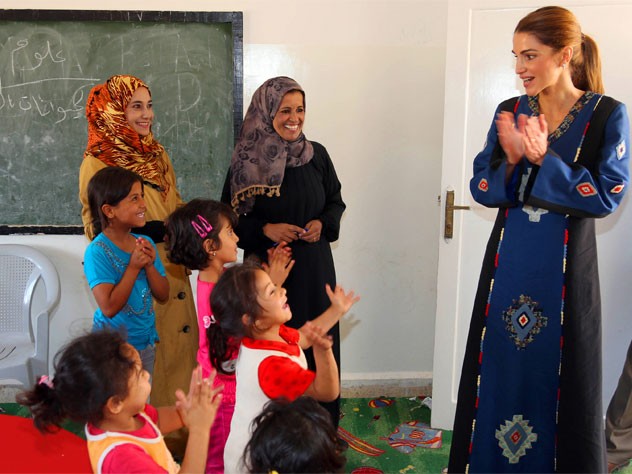 (Office of Her Majesty, Press Department- AlMafraq) – Her Majesty Queen Rania Al Abdullah paid a visit to Al Hamra village in the Hosha district of Al Mafraq today, to check up on the progress of the Jordan River Foundation (JRF)'s Poverty Pockets Program phase III.
Her Majesty stopped by Al Hamra Military Retirees Association -consumer market project- and attended a meeting at Al Hamra Social Development Society with representatives of the various charitable and cooperative societies in Hosha, youth communities and the beneficiaries from the revolving loans program.
Her Majesty expressed her pride in all the projects that were presented and said that such projects only succeed due to the involvement of local community members in their implementation as they are the most qualified to assess their area's challenges, needs and abilities.
The Queen toured the societies facilities, passing by two kindergarten classes, equipped with special equipment's provided by JRF for disabled children, which can serve up to 30 children. Her Majesty joined a group of mothers of children with learning disabilities for an open discussion about the importance of having such classes that benefit more than 200 students in the area.
During the visit, Her Majesty also toured the Military Retirees Association consumer market and was briefed by the head the association, Retired Major General Ali Al Khalid, on the situation of the market, the job opportunities they provide and the services they offer to the local community.
There are five charities in the area including, AlHarsh Society which carries out a revolving loans project, goat breeding project, and a training center on the use of computers and the Internet, in addition to the Association of Al Hamra for people with special needs which is implementing a beekeeping project and computer center.
The Poverty Pockets Program productivity projects implemented in the district include the Consumer market (Al Hamra Military Retirees Association), a Productive kitchen at Faa social development society and the revolving loan program which has been implementation through Hosha district Cooperated Society, and has benefited more than 50 individuals to date.

Queen Rania's official website
This website does not support old browsers. To view this website, Please upgrade your browser to IE 9 or greater
Your browser is out of date. It has known security flaws and may not display all features of this and other websites. Learn how to update your browser