Her Majesty Queen Rania Al Abdullah visits Deir Allah and follows up on JRF programs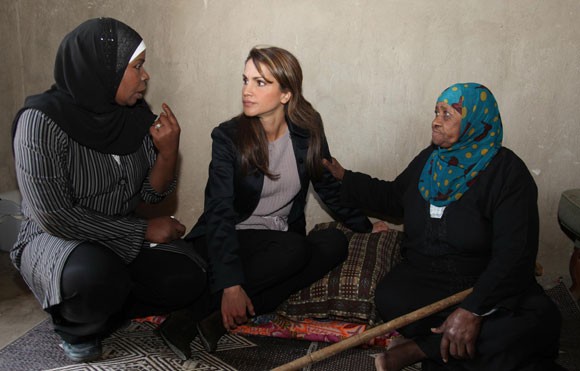 (Office of Her Majesty, Press Department- Deir Alla) Her Majesty Queen Rania Al Abdullah visited today Deir Alla to follow-up on Jordan River Foundation (JRF) programs and projects that were initiated by the Queen during Her visit to the area in March, 2008.

Her Majesty first visited the Wadi Al Khaseeb Association, where She attended a meeting in the association's main hall with sixty beneficiaries of JRF's interventions in the area. The meeting included remarks and a brief on JRF's work mandate in the area by the Director of the Association Mr. Mukhled Al Gharghour, and JRF's Deputy Director, Eng. Ghaleb Qudah, who talked more about JRF's achievements and future plans in the area.

Her Majesty also listened to four beneficiaries who shared with the audience how JRF's projects affected their lives and the local community as a whole.

The Wadi Al Khaseeb Association was established in coordination and cooperation with JRF in 2006. The association includes twelve community based organizations with 724 members, 261 of which are women.

Other than providing loans to almost eighty beneficiaries, the Association has implemented various projects in the area such as the multi-purpose community building which includes a small park and swimming pool for the local community; fully serviced apartments to rent for traders who come in from different countries; and the Organic Fertilizer Treatment Factory which was set up in coordination with the Royal Court by the directives of His Majesty King Abdullah II during His 2007 visit to the area.

Her Majesty dropped in on a workshop about 'Basic Life Skills' with twenty five youth dropouts. Mr. Rajai Hamam, a part-time trainer at the Queen Rania Family and Child Center, briefed Her Majesty about the session and its benefits. Two youth participants talked to the Queen about how beneficial the workshop is to them.

The Queen also made a visit to two under privileged households to check on their needs.

At the nearby Rweiha village Her Majesty joined more than 200 youth volunteers in planting trees in a local community park. The youth were also painting the walls of the nearby mosque and school as part of volunteers' day in celebration of His Majesty's birthday. Volunteers day took place simultaneously in eight different locations across the Kingdom; Waqqas, Ghor Al Mazra, Ghor Al Safi, Dibeen, Hai Ma'soum, Hai Al Hussein, Tafileh and Aqaba. In each area around 1000 trees will be planted by JRF's volunteers, youth involved in JRF's initiatives, and youth from the local communities.


Queen Rania's official website
This website does not support old browsers. To view this website, Please upgrade your browser to IE 9 or greater
Your browser is out of date. It has known security flaws and may not display all features of this and other websites. Learn how to update your browser