Her Majesty Queen Rania Al Abdullah visits Al Mastaba in Jerash
Queen adds local girls' school to Madrasati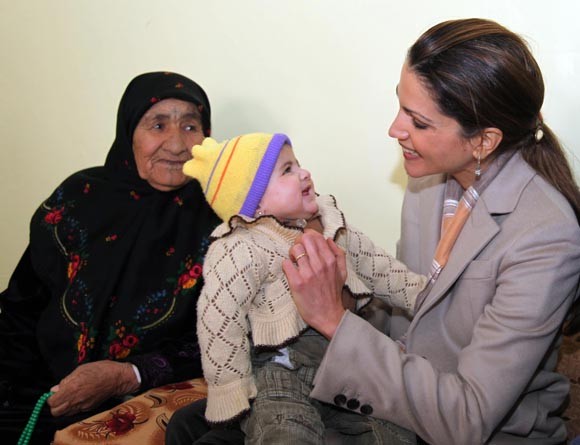 (Office of Her Majesty, Press Department- Jerash) Her Majesty Queen Rania Al Abdullah toured Al Mastaba Secondary School for Girls, in Jerash, and advised that the School be included in the Queen's Madrasati initiative.
During Her Majesty's tour of the school, she checked on its infrastructure and needs. Her Majesty was accompanied by the School Principal, Mrs. Jaleeleh Al Qur'an and Madrasati Director, Ms. Danah Dajani.
Following the tour of the school's dated and ill-equipped facilities, Her Majesty asked that the school be added the Madrasati initiative. Construction for refurbishment and renovations work will commence in the summer of 2011 following the students' final exams in order not to disturb the educational process.
Madrasati will also begin several educational and extracurricular activities at the start of the fall 2011 semester, including the Healthy Schools program with the Royal Health Awareness Society (RHAS), and teachers training through the Queen Rania Teachers Academy (QRTA).
Her Majesty also passed by a couple of classrooms where She greeted the students and their teachers, who were ecstatic to see the Queen and expressed their joy and appreciation for adding the school to the list of Madrasati schools.
Her Majesty then headed to Al Mastaba Women's Association for Social Development where she passed by a 'Mushroom Cultivation' workshop conducted by the Directorate of Agricultural Extension in coordination with the association.
The Queen also dropped by the association's kindergarten where she greeted the teachers and kids.
Her Majesty also attended a meeting with twenty beneficiaries from projects funded by the association as in cooperation with the Jordan River Foundation (JRF). Her Majesty was briefed on the income generating projects in the area by the director of the association, Mrs. Mariam Al Qar'an.
Three beneficiaries shared with the audience how the projects affected their lives. One of the projects, the electronics showroom, has to date, benefited more than a thousand families, while revolving credit loans have included 14 families.
Al Mastaba Women Association for Social Development was established in 1982 in the Jerash Governorate to offer financial and in kind support, lectures, trainings, workshops, child care, and income generating projects to the local community. The association includes 39 women members and is managed by a board of directors.
Concluding Her visit to the area, Her Majesty visited a lower-income household to check on the family's needs and living conditions.

Queen Rania's official website
This website does not support old browsers. To view this website, Please upgrade your browser to IE 9 or greater
Your browser is out of date. It has known security flaws and may not display all features of this and other websites. Learn how to update your browser