Her Majesty meets students as part of inJAz Bahrain's "Banks in Action" program
Queen Rania Honors inJAz Bahrain Students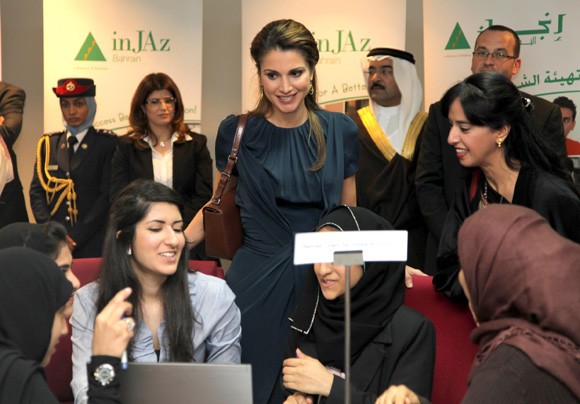 (Office of Her Majesty, Press Department – Manama) Her Majesty Queen Rania Al-Abdullah of Jordan, in her role as the Regional Ambassador of INJAZ, attended a special students' assignment organized by inJAz Bahrain as part of the "Banks in Action" program at the Citibank headquarters in Bahrain. Citibank, a longtime partner of inJAz Bahrain, hosted the "Banks in Action" competition event for the 2nd consecutive year.

Since Her Majesty Queen Rania assumed Her role as the ambassador of INJAZ students in the region, She has been actively involved and taking part in a number of major activities with students in their classrooms and other extended learning opportunities such as the "Company" program competition.

Her Majesty was joined by Sheikha Hessa bint Khalifa Al Khalifa, inJAz Bahrain Executive Director, Bahraini Undersecretary of Education Sheikh Hisham Al Khalifa, CEO of Citibank Mazin Manna'a, and inJAz Bahrain board members and management staff.

Commenting on the event, Her Majesty Queen Rania said, "The 'Banks in Action' competition shows INJAZ at its best. Teaching our children the value of money, the spirit of business, and the rewards of hard work improves not only their future prospects as job seekers but our future prosperity as a region. I want to thank INJAZ and the Kingdom of Bahrain for their inspiring example, and all the competitors for their impressive skills."

Teams from three boys' and three girls' schools participated in the two-month long competition which is based on inJAz Bahrain's successful "Banks in Action" program. The students assume the roles of managers and make decisions on how to best steer it to success through a special bank simulation program.

While inJAz Bahrain students were performing their task in the competition, Queen Rania observed their performance, interacted and raised questions. On the completion of the competition, her Majesty congratulated the winning team and wished the others all the best.

The teams' performance is evaluated through a standard Bank Performance Index (BPI) that is based on net profit, return on assets, return on equity, loan share, deposit share, and capital ratio.

Sheikha Hessa bint Khalifa Al Khalifa expressed Her satisfaction with the event, stating "We are very delighted and grateful for Her Majesty Queen Rania's attendance, a gesture which exemplifies her personal involvement and caring passion for the development of youth across the Arab world. We also thank Citibank for providing this unique, innovative learning experience and for the ongoing support of its employees who volunteer their time to mentor young Bahrainis students and provide them with valuable work-readiness and financial literacy education."

Al Rifaa Al Sharqi School for boys won this year's top honors and took home the title of "Bank of Choice", followed by Ahmad Al Imran School for boys and Al Sheikh Issa Bin Ali School for boys, respectively.

Since 2005, the Citigroup Foundation has been annually contributing $40,000 in grants to inJAz Bahrain to implement the "Banks in Action" program at the governmental secondary schools.

"Citi bank is honored to receive Her Majesty, Queen Rania at its premises and share with inJAz Bahrain students the belief that financial literacy is an important life skill for any young person because it gives them an understanding of how financial institutions help people manage their money and achieve their life goals," said Mr. Manna'a. "We are delighted to share our expertise with Bahraini students, and hope this education inspires many of them to pursue careers in the financial services industry."

To date, a total of 2,586 students from all secondary girls' and boys' schools have benefited from the "Banks in Action" program. Bahrain is the first country in the Middle East to have started implementing the program, having first introduced it in 2006.

As with all inJAz Bahrain programs, "Banks in Action" is a volunteer-led program. The program is comprised of eight classroom sessions in which secondary school students learn the principles of the banking industry and the challenges of successfully operating a bank in a competitive environment while emphasizing their role as responsible corporate citizens.


About inJAz Bahrain:
The purpose of inJAz Bahrain is to inspire and prepare young Bahrainis to succeed in a global economy. With the support of positive adult role models who volunteer their time, inJAz Bahrain enables young consumers to understand business, citizenship, economics, entrepreneurship, ethics/character, financial literacy, and work-readiness. The programs also encourage confidence and motivate young people to achieve their personal, educational, and career goals. These learning experiences establish the foundation upon which today's students can acquire the skills and aptitudes necessary to succeed in a fast-changing world.

inJAz Bahrain is supported by 16 committed community leaders who serve on the board of directors. These professionals provide the organization with valued guidance, support and volunteers to deliver the programs. In addition, inJAz Bahrain works with a number of local collaborations and affiliations. These relationships ensure that efforts are not duplicated and that available resources are used in the most effective ways possible.

As non-profit inJAz Bahrain began serving the community in 2005. It is supported by funds generously granted by foundations and area businesses. Individuals also give to the organization, and they assist with fund-raising activities throughout the year. The organization is part of Junior Achievement Worldwide that has a presence in more than 123 countries around the world.

Queen Rania's official website
This website does not support old browsers. To view this website, Please upgrade your browser to IE 9 or greater
Your browser is out of date. It has known security flaws and may not display all features of this and other websites. Learn how to update your browser