Queen Rania Applauds the Work of Jerasa Charitable Society for Women in Jerash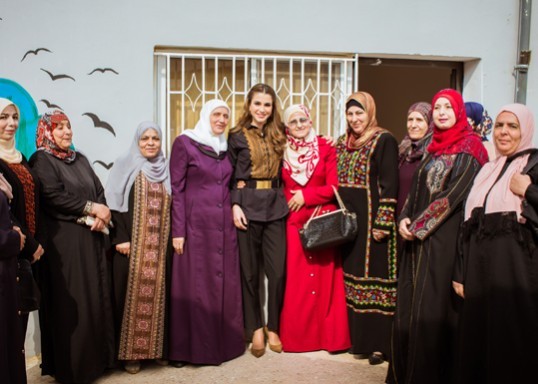 (Office of Her Majesty – Press Department – Jerash) Her Majesty Queen Rania Al Abdullah met today with the members of the Jerasa Charitable Society for Women in Jerash, commending their work, particularly in the area of providing solar energy units to power homes of families with limited income as a mean of reducing monthly electric bills.
Queen Rania was received by Mrs. Jalela Smadi, President of the Administrative Committee, and met with several board members who briefed Her Majesty about the society's mandate, achievements to date and future plans.
During the meeting, Mrs. Smadi said that through their work, the society was able to install solar energy cells to power 18 homes in the area, while receiving more than 50 further applications for solar panels installations. The Queen commended their efforts and encouraged them to continue investing in solar energy.
Her Majesty met with and spoke to several beneficiaries who benefited from the society's solar energy, solar heating and water harvesting loans. The beneficiaries were able to install these systems and benefit 48 families, with the support of the Jordan River Foundation (JRF). The beneficiaries were also able to dig 114 water harvesting wells in the area.
The Queen also listened to a brief on the work of the society's productive kitchen and the kindergarten facilities, currently teaching 178 children.
After the meeting, Her Majesty chatted with young volunteers from the Local Community Commission and Initiatives, who shared with the Queen a brief about their activities. With around 42 volunteers, the commission has worked with more than 1000 youths and executed 12 programs covering a variety of issues such as youth empowerment, refugees, English language skills, and a reading club.
Queen Rania also stopped by the society's Computer Lab, and attended part of a graphic design workshop. Her Majesty also observed a first aid training class on fire prevention and first aid basics, as well as a recycling workshop on how to recycle damaged home appliances and furniture.
The Society was established in the year 2000 and has benefited around 8000 individuals to date. The society's general assembly consists of 75 women and 7 board members from the area, and has received funding, grants, and revolving loans from Mercy Corps aid agency and the Ministry of Planning & International Cooperation.
Projects implemented by the society include a productive kitchen, awareness lectures, a computer lab, a revolving loan fund, and underprivileged families support. The society also aims to provide the community with income generating projects, conduct vocational training courses, offer cultural and social lectures and workshops, as well as provide financial aid and in-kin support for underprivileged families.

Queen Rania's official website
This website does not support old browsers. To view this website, Please upgrade your browser to IE 9 or greater
Your browser is out of date. It has known security flaws and may not display all features of this and other websites. Learn how to update your browser