Queen Rania visits Um Rassas
Queen encourages Um Rassas residents to engage in community activities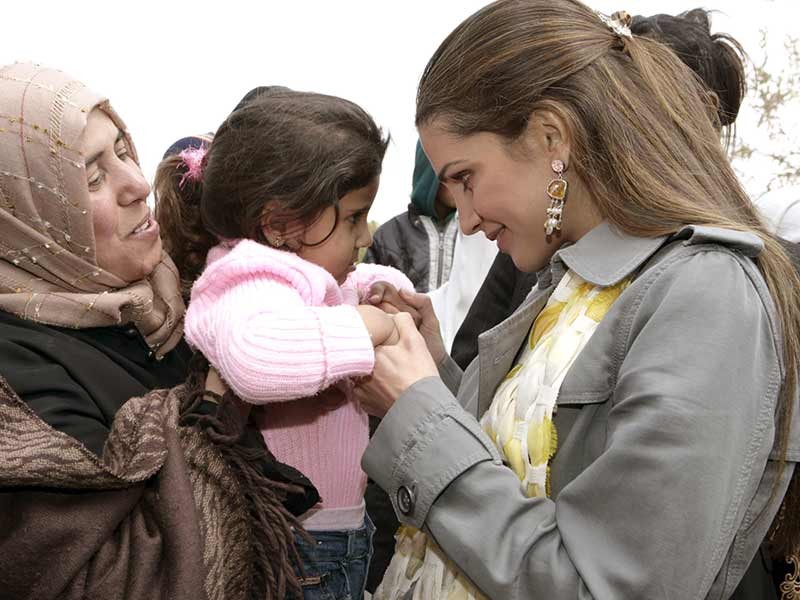 (Jordan Times, Linda Hindi - Um Rassas) Her Majesty Queen Rania encouraged residents of Um Rassas to become more engaged in community activities during a visit to the area, highlighting the success of a partnership between the Jordan River Foundation (JRF) and the municipality.

The JRF teamed up with Um Rassas community members and the municipality to identify income-generating projects to combat socio-economic problems as part of the Rural Community Cluster Development Programme in 2004.

They decided to take advantage of the area's long history — since the Byzantine era — of ostrich breeding, and an ostrich farm and livestock market were established under the management of Al Naam cooperative and the municipality.

A five-year agreement between the cooperative and the United Company to sell the livestock and ostrich products was facilitated through the JRF, with the municipality earning JD40,000 last year.

During the tour, Queen Rania dropped in at the cooperative and met with some of its members to draw attention to this achievement and encourage more community participation to achieve sustainable development.

She was informed that 50 of the cooperative's 101 members are women and in recent years, women have taken a proactive role in improving their families' livelihoods.

The 21 villages in the district house a population of 11,500 from the Bani Sakher tribe.

The area is identified as one of the Kingdom's poverty pockets and 240 families receive government aid.

The Queen also visited a local community centre operated by the Ministry of Social Development, which offers social awareness programmes, training and economic empowerment through microfinance, mainly to women and children.

A few local women started mini-projects at the centre funded by a community-based credit scheme and decided to form a society.

The group, which now has 30 women members, discussed their ideas with Queen Rania and requested seed funding for their projects.

"We want to be able to work from home; we have many different skills like making cheese, yoghurt, sewing and cultivation," society member Salwa Ayed Maish told The Jordan Times.

Queen Rania asked them to form a committee and submit a business plan to the municipality for funding.

The district is served by 28 schools, two belonging to the Armed Forces, a relatively high ratio to population compared to similar rural villages.

According to the Ministry of Planning's poverty assessment report, the public schools in the area, however, lack sufficient facilities including desks, playgrounds and washrooms.

Queen Rania also visited Um Rassas Secondary School for Girls and a primary school for boys during yesterday's tour.

Um Al Rassas, part of Al Jiza District in the Amman Governorate, is located 32km southeast of Madaba and 80km away from Amman.

Queen Rania's official website
This website does not support old browsers. To view this website, Please upgrade your browser to IE 9 or greater
Your browser is out of date. It has known security flaws and may not display all features of this and other websites. Learn how to update your browser