Queen Rania states world is lacking multicultural knowledge, tolerance and respect
Jordan's Queen Rania calls on companies to bridge East-West divide through Corporate Multicultural Responsibility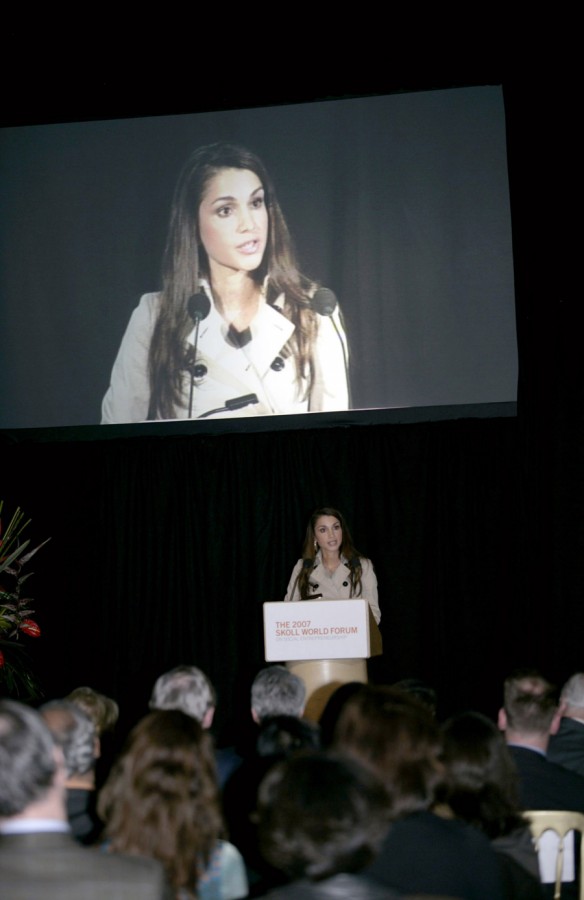 (Office of Her Majesty, Press Department – Oxford) Recognizing the growing divide between East and West, Her Majesty Queen Rania Al-Abdullah urged business leaders to reinvigorate a trend of Corporate Multicultural Responsibility, during a speech she delivered at the Skoll World Forum in Oxford, England.
Drawing on the development of corporate social responsibility in recent history, Her Majesty called on corporations to take an active role in bridging the divide between East and West.
"Our post-global society is poverty stricken—with a new kind of poverty," said the Queen, "Today, we live in a world plagued by a poverty of multicultural knowledge, a poverty of multicultural tolerance, a poverty of multicultural respect."
"We have all come to recognize that social inequality is wrong; we must also appreciate that social intolerance is wrong. Both hold us back," said Queen Rania, "We all have a role to play in promoting multicultural responsibility in our homes, schools, neighborhoods, universities, places of worship, and places of work."
Citing alarming statistics released by Gallop last year, Her Majesty said that 22 percent of Americans did not want a Muslim as a neighbor and one third said they would feel nervous if they noticed a Muslim man on their flight. "I am alarmed at the way in which the Muslim world and our Western counterparts are looking at each other with suspicion, fear, prejudice then turning away."
Such a growing trend of isolation is dangerous because, as Queen Rania noted "we all belong in some sense to East and West… let us not forget that East and West are neighbors. And good neighbors do more than live alongside each other – they live together."
One remedy to tackle the rift between cultures is for corporations to increase cross-cultural awareness. "Companies must play a key role in bridging the East-West divide, in making us better neighbors… I call it Corporate Multicultural Responsibility," she said.
"CMR means insisting that all staff get as much time learning about global diversity as time management and communication skills—ensuring a truly global employee population. CMR means that company strategies must reflect cultural challenges alongside market, distribution and pricing considerations. CMR means taking the time to break down cultural barriers… [it] means reaffirming the healing values of humanity within the company and encouraging employees to carry them to their homes and communities," said Queen Rania.
Her Majesty warned that "[Global firms] need to understand other cultures, or they risk losing out in the scramble to tap enormous, lucrative new markets."
Her Majesty said that in the weeks and months ahead, she plans to expand on these ideas "with the aim of championing a culture of trust and respect between Islam and the West."
The Skoll World Forum on Social Entrepreneurship is an international event, which this year brought together international icons such as Muhammad Yunus, the 2006 Nobel Peace Prize laureate, Grameen Bank founder and microfinance pioneer. At the event, Yunus spoke of the importance of "social businesses" where companies can create feasible economic models that do good for people.
Among the more than 700 social entrepreneurs, thought leaders, policy makers, corporate representatives, financiers, philanthropists and students attending the forum, was Jeffery Skoll, founder and Chairman of the Skoll Foundation. Queen Rania referred to the crowd as "masters at imagining products and services that do not yet exist, and crafting solutions for problems that have been around for too long."
The Skoll Foundation's mission is to advance systemic change to benefit communities around the world by investing in, connecting and celebrating social entrepreneurs. By identifying the people and programs already bringing positive changes to communities throughout the world, the Skoll Foundation empowers them to extend their reach, deepen their impact and fundamentally improve society.

Queen Rania's official website
This website does not support old browsers. To view this website, Please upgrade your browser to IE 9 or greater
Your browser is out of date. It has known security flaws and may not display all features of this and other websites. Learn how to update your browser